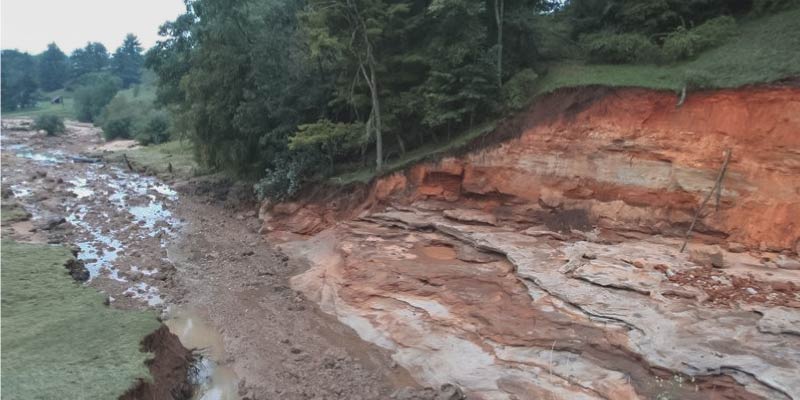 On March 24, six students from the Nelson Institute's Water Resources Management MS program (WRM) presented their findings from a two-year capstone project identifying ways to improve flood resilience in the Coon Creek watershed. The event was a culmination of the professional Master of Science program, which provides an opportunity for students to work with a client on a real-world water resources management issue.
"We have really enjoyed working on this interdisciplinary project that has such a direct impact on residents of the watershed and the rest of the state," said WRM student Jackson Parr. "We're hopeful our work will contribute to greater resilience to devastating floods that the region has experienced."
Approximately 50 people attended the virtual presentation, "Flood Resilience in the Coon Creek Watershed." WRM advisor Eric Booth selected the research topic following devastating floods in the watershed that resulted in the breach of three dams and damages in the millions of dollars.
"The students did an incredible job of immersing themselves into a really complicated topic that sent them working across multiple disciplines and getting to know the community as much as they could with virtual interviews and even a few weeks of socially-distanced fieldwork, all while living with the stress, uncertainty, and isolation associated with the pandemic. They have been an amazing group to work with," Booth said.
The students, Rajpreet Grewal, Cathryn Herlihey, Robert Rosner, Rachael Sodeman, Jackson Parr, and Kayla Wandsnider, took an interdisciplinary approach to researching flood resilience. This included taking infiltration measurements across different land uses in the watershed, assessing the changes in land management practices through GIS and determining the economic impacts of changes in land use, conducting interviews with watershed managers and members of the general public, analyzing the institutional landscapes as it relates to flooding, and identifying indicators of resilience within the community.
"I enjoyed making field measurements, talking with local stakeholders, and applying hydrologic and GIS coursework to the infiltration and runoff analysis for the project," said WRM student Robert Rosner.
During the March 24 presentation, the students fielded questions on the watershed hydrology, public infrastructure costs, the framework of a joint powers board, and where the resources to institute flood management projects might come from. Attendees included county officials from Vernon, La Crosse, and Monroe counties, representatives from the water resources community at the University of Wisconsin-Madison, and residents from the watershed.
Congressional representatives also attended the event, commenting that issues related to flooding and climate change are an ongoing concern at the federal level.
"You're kind of getting at a lot of the questions I've had about flooding and land use and resiliency," said Tim Hundt, Congressional Aide to U.S. Representative Ron Kind. "Thank you again for the work and we'll be using a lot of this information moving forward."
The WRM cohort is continuing work on the written report, which is expected to be published in summer 2021.
Learn how you can support the Water Resources Management program