Although it has been nearly a year since the dedication of the "Our Shared Future" heritage marker on Bascom Hill, the university is continuing to honor its commitment to the Ho-Chunk Nation through a variety of events and educational programing. The marker, which recognizes the University of Wisconsin-Madison campus as ancestral Ho-Chunk land and acknowledges the actions that led to the tribe's forced removal, has been traveling across campus, presenting many schools, colleges, and units the opportunity to increase indigenous engagement and learning.
For the Nelson Institute, hosting the marker at Science Hall set the stage for a four-part Our Shared Future lecture series, in which tribal leaders from across the state were invited to present on tribal histories and indigenous geographies throughout Wisconsin. Funded by a grant from the Educational Innovation Initiative, the lecture series aimed to engage students and community members in deep indigenous learning while also building respectful partnerships with Native Nations.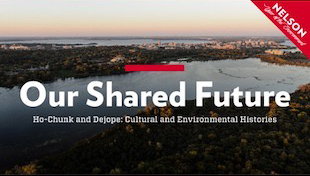 Jessie Conaway, who is a faculty associate for Native Nations partnerships at the Nelson Institute for Environmental Studies, said that the heritage marker dedication "was only a step in the right direction," and that engaging in shared goals and educational partnerships with the tribes was central to the marker's true mission.
Leading this front, Conaway said the idea for the Our Shared Future lecture series came from Bill Quackenbush, a member of the Ho-Chunk Deer Clan and Tribal Historic Preservation Officer for the Ho-Chunk Nation.
Quackenbush, who was instrumental in developing the proposal to invite tribal historic preservation officers to the UW-Madison campus, kicked off the Our Shared Future lecture series by presenting in Science Hall on March 11. The heritage marker was recently relocated to Science Hall, and with anticipation of the event building for weeks, excitement filled the building as faculty, staff, students, and community members gathered to celebrate the realization of a partnership that had been years in the making.
"It was a huge moment for the Nelson Institute because we have been a major player in [these partnerships]" said Conaway. "To see the fruits of our labor and to be able to host that in Science Hall with Bill Quackenbush of the Ho-Chunk Nation [was] an enormous joy for all of us."
Unfortunately, this was the last lecture of the four-part series to be hosted at Science Hall. Just a few days later, all in-person classes and nonessential work on campus came to a halt in response to the COVID-19 pandemic. Students headed off campus and university faculty and staff prepared to work from home, uncertain of when they would return.
While many lectures and events across campus were canceled, the Our Shared Future lecture series persevered, as Conaway worked with Nelson Institute staff to host the remaining three lectures virtually. In addition to administrative support, Conaway also had help from her class of Environmental Studies capstone students, who actively participated in the project.
For the past six years Conaway has taught the Environmental Studies capstone course, ES 600: Conservation with Native Nations in Wisconsin. The capstone is a community-based learning course that provides Environmental Studies juniors and seniors the opportunity to work in partnership with Native Nations while completing community projects with the tribes. This participatory structure, Conaway said, has had an immense impact on her students.
"It's really exciting. I love to see how my students are transformed by this experience," said Conaway. "Undergraduates need more fieldwork experience, they need more experiential learning, and they need more life skills… This course is an opportunity for them to develop all of those."
This year, Conaway's students are specifically working with Forest County Potawatomi, but by participating in the Our Shared Future lecture series, they had the opportunity to learn from a diversity of Wisconsin tribal leaders.
Following the initial event at Science Hall, the series proceeded with three webinars that featured conversations with distinct tribal members from across the state, including Wanda McFaggen of the St. Croix Band of Lake Superior Chippewa, Edith Leoso of the Bad River Band of Lake Superior Chippewa, and Robert Van Zile of the Sokaogon Band of Lake Superior Chippewa.
Capstone students were tasked with facilitating the webinars by introducing the guest speakers and later leading question and answer sessions with the tribal leaders. The speakers discussed topics including conservation, education, health, and cultural preservation, which Conaway said is distinctly valuable to Environmental Studies students.
"Through a conservation lens, it's a powerful education for them because there is so much common ground in conservation with what we're working on at the Nelson Institute and what the Nations in Wisconsin want to work on."
Conaway said that many of the capstone courses offered at the Nelson Institute are community-based, which "entitles a commitment to a community partner." For Conaway's own capstone course, every year she partners with a different tribe in Wisconsin, giving her students the opportunity to experience life-changing cross-cultural and educational exchange.
"These capstones are transformational for these students," said Conaway. "The students come in knowing almost nothing about Indian people… But they're really hungry for that knowledge and they see the value of it."
While Conaway has been engaging in tribal partnerships with her capstone courses since 2013, she said that the Our Shared Future events are creating opportunities to expand the impacts of these partnerships beyond just her students.
"Working with the Our Shared Future and working with wider audiences has really been good because it's given visibility to this work," said Conaway. "I'm happy that [UW-Madison] is investing in this through the Educational Innovations [Initiative], and I hope that we continue to do that, because the partnerships that come out of this are really powerful."
Looking to the future, Conaway said that she also wants to expand indigenous learning by developing curriculum that "holds indigenous voices front and center." With so many people working to drive these partnerships forward, Conaway remains hopeful that the impact will continue to strengthen, and that students, along with broader communities, will continue to benefit.
"We've gotten a lot of big stuff done with our work with the tribes… and it's because everybody's interested in it, sees that it's important, and wants to do it," said Conaway. "Our students are so hungry for this and it's so important for conservation both in Wisconsin, nationwide, and globally."