As global temperatures continue to rise, renewable energies such as solar and wind present some of the most promising ways to reduce carbon emissions and curb the effects of climate change. But while environmentalists have long touted renewables as sustainable alternatives to coal and oil, there is now also a strong economic argument to be made for the development of green energy. At a recent Sustainable Success webinar titled The Business of Renewable Energy, the Nelson Institute for Environmental Studies and its partners at the Wisconsin School of Business hosted a conversation with two field experts who shared how renewable energies are emerging as profitable economic investments, paving the way for a more sustainable future.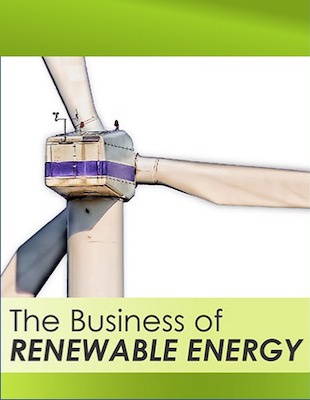 While humans have been utilizing renewable energy for centuries, it is only within the past few decades that the United States has made considerable steps towards developing wind and solar technology. The U.S. government first began pushing for the expansion of renewables with the Energy Tax Act of 1978, which incentivized green energy development through solar tax credits. However, it was not until the turn of the century that tax credits emerged as strong incentives for renewable energy development. At the Sustainable Success webinar, University of Wisconsin School of Business alumnus Andrew Kho shared insight into how tax credits have instigated an upsurge in solar and wind investment.
Kho, who is currently employed by Wells Fargo as head of the Renewable Energy and Environmental Finance Practice, said that there are three types of renewable energy investors- the tax equity investors, the cash equity investors (aka the sponsors), and the offtakes. The offtakes consist of the utility companies that invest in renewables for immediate use, making them the most direct and practical type of investor. However, Kho said that financial institutions such as banks, mutual funds, pensions, and social security funds are also investing in renewables through unique investor partnerships. Comprising of a tax equity investor, which capitalizes on the tax credits, and a sponsor, which capitalizes on the company's cash profits, Kho said that these partnerships are resulting in lucrative and proliferous renewable energy investments.
"[Tax equity investors] are very motivated because it's a good economic investment… The bank is taking the tax credits and the depreciation, but the sponsor (the renewable energy company) is remaining excess cash after paying all of its expenses," said Kho. "There's a lot of groups doing that and there's a lot of capital from all over the world going into it."
But after more than 40 years of renewable energy tax credits, these incentives are nearing their end. Wind and solar tax credits are being phased out, and while Kho said that there is a possibility the credits will be extended, banks are acknowledging that "there's a limited amount of time to make these investments." However, even when renewable energy tax credits are eliminated, Kho said he is confident that financial institutions will continue to invest in green energy.
"There's still a value stream from depreciation that tax equity groups like banks can find value in," said Kho. "There are [also] a lot of cash equity players that really like solar in particular. It's is a very dependable resource, it's a no cost resource, and the projects generally perform very well."
In addition to the global rise in renewable energy investment, there has also been an uptick in renewable development at the local level. Heather Allen, the interim executive director of RENEW Wisconsin, an organization that has worked for nearly 30 years to expand clean and renewable energy throughout the state, said that Wisconsin is experiencing a wave of solar and wind development. During the webinar, Allen said that this is due to the fact that the price of solar and wind has cratered in recent years, making it a viable economic investment for energy industries.
According to data from RENEW Wisconsin, the cost of wind has dropped 69 percent since 2009, while the cost of solar has dropped an astonishing 88 percent, making them both less than half as expensive as coal. Allen said that these price drops are due to two main advancements for renewables; first, wind and solar have become increasingly efficient at producing electricity, and second, wind and solar farms are faster and cheaper to build than ever before.
"[Wind and solar] produce more electricity per turbine and more electricity per panel now than they did 10 years ago. And, they're being built much faster and more cheaply," said Allen. "The economics work now, and utilities want to shift to renewable energy."
With these depreciating costs, Wisconsin is seeing a surge in proposed solar and wind development. According to RENEW Wisconsin's November 2019 report, there are currently more than 40 proposed wind and solar projects throughout Wisconsin, which would produce a combined total of more than 6,800 megawatts of renewable energy, enough energy to power more than 1.3 million Wisconsin homes.
But the approval process for solar and wind development in the state is extensive and time consuming. Before a project is approved a good location must be identified, landowners must be willing to host the project, extensive mapping and utility tracing must be conducted, and any solar or wind project that is 100 megawatts or larger must also go through the public service commission process, which Allen said takes several months.
"The process is slow and deliberative, which is good, because you want to be very methodical and thoughtful about creating new power projects anywhere," said Allen. "It's extremely complicated… Even if everything is lined up and working smoothly, it still takes a lot of time."
Recently, seven of Wisconsin's proposed renewable energy projects were approved, which according to RENEW Wisconsin will produce enough energy to power more than 106 thousand Wisconsin homes. Allen said that building large-scale renewable energy farms such as these is imperative to meeting the state's goal of 100 percent carbon-free electricity by 2050. While she said that "there's a need for every type of renewable energy solution," she also said that large-scale projects are an important way to expedite clean energy in the state.
"We can't let any solution be untapped as we fight for clean energy for Wisconsin," said Allen. "It's taken us 30 years to get 130 megawatts of solar operational in the state… But these [recent project approvals] added another 749 megawatts of solar."
Large-scale solar and wind projects are also important ways for Wisconsin utility companies to invest in renewable energy. Since the cost of renewables has plummeted, many of the state's largest utility companies, including We Energies, Alliant, Madison Gas and Electric, and Xcel Energy have all committed to reducing their carbon emissions by increasing their production of renewable energy. Allen said that the economic benefits of switching to renewables is the "number one influence" that has driven these commitments.
"[Wisconsin utilities] want to provide power at the best price for their customers," she said, "and wind and solar are among the very best ways to do that."
In addition to the economics, Allen said corporate America is also pressuring utilities to provide clean energy. As public opinion of renewables strengthens, Allen said that "businesses recognize that they need to be green for their customers" and that pressuring utilities to provide clean energy is "the most cost-effective way" for this to be achieved.
In Wisconsin, major business including Ikea, Target, Ashley Furniture, American Family Insurance, and several Wisconsin breweries are committed to powering their businesses with renewable energy. If the state is going to continue to attract big business, Allen said that clean energy development is key.
"Big businesses, Fortune 500 companies, want to locate in communities where they can access renewable energies to power their businesses," said Allen. "They don't want to come into a state that is largely powered by coal and have to explain that to their customers."
To summarize, Allen said that the combination of economics, public pressure, and corporate pressure are what is driving renewable energy development across the state, and across the world. As someone who works in the business of renewable energy every day, Allen said that there are many reasons to feel hopeful for a clean energy future.
"It's pretty exciting," said Allen. "In any other environmental issue, it can be very difficult to find wins these days. But with renewable energy we have wins every day of the week… It really is a positive solution for all of us."