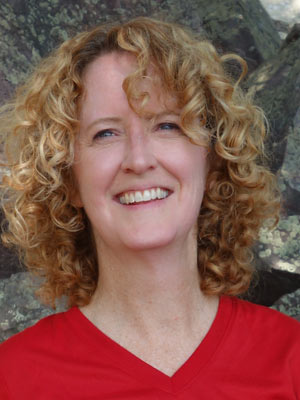 Using data for meaningful environmental impact is at the heart of Nelson Institute alumna Lea Shanley's work. As the executive director of International Computer Science Institute (ICSI), a non-profit research center based in Berkeley, CA, Shanley not only fosters important research in computer science, data science, artificial intelligence and more, but also makes it a priority to communicate this research to policymakers, like she did in her keynote speech at the University Consortium for Geographic Information Science on June 8. She also shines a light on the importance of interdisciplinary collaboration, something she learned during her time at the Nelson Institute.
"The Nelson Institute community is interdisciplinary, highly collaborative, and focused on both scientific and societal impact," Shanley said. "This inspired me to pursue an interdisciplinary research portfolio, build international research partnerships, and gain experience in science and technology policy."
Shanley is a graduate of the Environment and Resources program where she focused her research on Indigenous Data Sovereignty, "examining the technical, legal, regulatory, and ethical challenges of sensitive tribal government environmental GIS data in the context of the Federal-Tribal Trust Relationship."
"I was honored and thrilled to be accepted into the graduate program of the Environment and Resources program of the Nelson Institute, and to join the Environmental Remote Sensing Center and Land Information & Computer Graphics Facility," Shanley said. "I was very lucky to have had such a wonderful Nelson Institute advisor, Steve Ventura, who provided the support and patience I needed to be successful in this endeavor."
After Shanley graduated with her PhD, she began an illustrious career, including work on legislation to address climate change and service as the director of the Commons Lab at the Wilson Center in Washington, D.C.
"My greatest satisfaction comes from two professional accomplishments," Shanley reflected. "First, while serving as an AAAS [American Association for the Advancement of Science] Congressional Science Fellow in 2009, Senator Bill Nelson (FL) asked me to draft legislation that would help to address climate change. To identify what might be needed, I interviewed 60 federal agency staff and scientists from around the country about the critical needs and gaps in how our government supports climate observing systems. Based on these recommendations, I worked with the Senate's Space and Science Subcommittee to incorporate language into the NASA Authorization Act of 2010 (specifically Sec. 701) that mandated the first National Civil Earth Observation Strategy and Implementation Plan."
Shanley's work encouraged a paradigm shift in how the government prioritizes future Earth observation satellite missions, encouraging the White House Office of Science and Technology Policy (OSTP) to seek greater input on satellite mission and application prioritization.
For her second most satisfying professional accomplishment, Shanley cited her work as the director of the Commons Lab at the Wilson Center, which looks at emerging technologies, networks, and methods that mobilize public participation in science, technology, and policy.
"I discovered that many federal scientists were interested in engaging the public in their research, but weren't sure how to get started," Shanley said.
To meet this need, Shanley co-founded the Federal Crowdsourcing and Citizen Science Community of Practice (FedCCS). From 2014-2015, as a White House Presidential Innovation Fellow, Shanley worked with OSTP and the FedCCS to mobilize 125 staff members across 24 agencies to build Citizenscience.gov, the core components of which are the Federal Citizen Science Catalog and the Federal Citizen Science Toolkit. Today, this group has grown to more than 400 federal staff across nearly 60 federal organizations.
To further the use of crowdsourcing and citizen science across the U.S. government, Shanley and her colleagues also shaped a White House Memorandum on Crowdsourcing and Citizen Science, work that the Harvard Kennedy School recognized as a finalist for the Harvard Ash Award for Government Innovation.
While Shanley has worked on a variety of national and local projects, she said that she still comes back to the lessons from her time at the Nelson Institute and the connections she made as a graduate student.
"I have continued to collaborate with and seek the advice of Professor Ventura and my Nelson Institute classmates throughout my career," Shanley said. "In addition, as a Nelson grad student, I learned GIScience participatory action research methodologies that have enabled me to conduct and support research engaging citizen scientists for the Sustainable Development Goals, water security, health, agriculture, and disaster response."
Shanley shares the lessons she has learned with those at the ICSI, where she leads a "vibrant research community" that includes researchers from around the world who are at all stages of their career. She also shares these insights, including the importance of interdisciplinary work and communication, with the larger information science community through her speeches and keynotes, including her July 8 speech at the University Consortium for Geographic Information Science.
"As scientists and practitioners, we have an incredible opportunity and a civic duty to use our expertise to help inform public policy," Shanley noted. "Publishing journal articles and hoping that policy makers will read them is unlikely to affect change. We must communicate our research findings for a policy audience in a way that is easy for them to understand and act upon. Conversely, science and technology policy can help to support science and environmental monitoring. My keynote explored the challenges, opportunities, and strategies for working with policymakers and governmental organizations – moving from science to impact!"