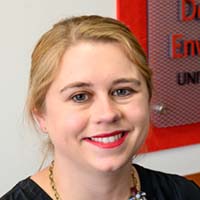 Andrea Hicks, who serves as a Nelson Institute affiliate, director of Sustainability Education and Research, Hanson Family Fellow in Sustainability, and associate professor of Civil and Environmental Engineering, has been named a 2022-23 Fulbright Scholar.
Hicks is a leading expert in using life-cycle assessments to determine the overall environmental impact of products or processes. She's put that expertise to use to research challenges ranging from sustainable aquaponics methods or filling gaps in personal protective equipment supplies in the early days of the COVID-19 pandemic to the feasibility of using carbon dioxide in the atmosphere to create more environmentally friendly plastics. She also works on a wide range of sustainability initiatives across campus and teaches several courses.
Hicks received widespread recognition for her work, including, among others, a National Science Foundation CAREER Award and several Scialog grants for negative emissions research and has been named a Negative Emissions Science Fellow.
Fulbright Scholar Awards are prestigious, competitive fellowships that provide opportunities for scholars to teach and conduct research abroad. Recipient scholars also play a critical role in U.S. public diplomacy by engaging and establishing long-term relationships between people and nations. The Fulbright Program was established in 1946 and has since been awarded to more than 400,000 students, scholars, teachers, artists and professionals of all backgrounds and fields.