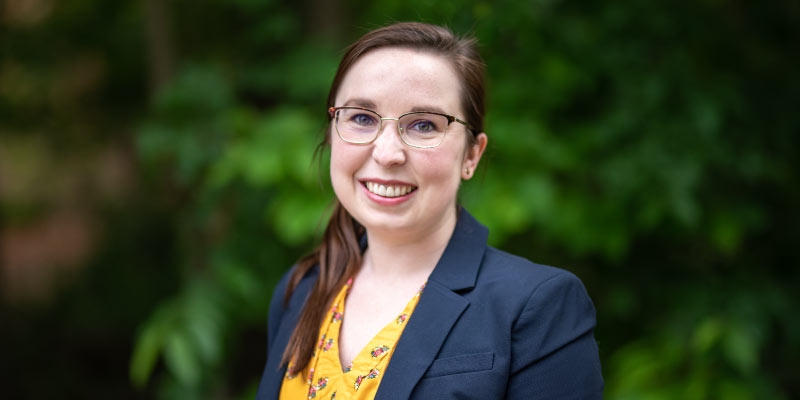 Each year, a few of the world's 808 whooping cranes are shot and killed. Considered critically endangered, these deaths generally occur in areas of the country where individuals are unfamiliar with the large, white and black bird. Whether the shooting is motivated by fear or novelty, the act is illegal and is just one example of the human–wildlife conflict that has become an area of study for Nelson Institute alumna, Sarah Weber.
Weber was a member of the first cohort accepted to the Nelson Institute Environmental Conservation Masters of Science (EC) program. A 15-month program designed to train conservation leaders in practical interdisciplinary skills, EC features in-person and online courses as well as a three-month professional leadership experience. While many students select their leadership experience within the first year of attending the program, Weber knew she would be working with the International Crane Foundation (ICF) on human-wildlife conflicts before she even started the EC program.
"I was a senior at American University in Washington, D.C and had done a number of different internships with a number of different organizations, such as the Smithsonian's National Zoo and World Wildlife Fund (WWF), and I was looking  for a way into that world," Weber said. "I was a journalism major and was looking for a bit more of a biology background to compliment my communications background. I decided that a professional program that focused on building those skills would be the perfect fit. I began right after graduating from college, but I think it was unique in that I knew I would be working with the ICF. They had asked the program leaders if there was anyone in the cohort with communication experience and they put my name forward and it worked out."
With her background in communication and her interest in human-wildlife conflict, Weber got to work on a behavior change campaign related to whooping cranes. Working with the ICF, Weber used her communication skills and the new skills she was gaining through the EC program to develop a campaign that educated people on the importance and rarity of whooping cranes in an effort to discourage shootings.
"Unfortunately, there are a number of shootings of whooping cranes that are migrating south," Weber said. "They are supposed to be going to Florida, but because of climate change they were going to places like Alabama and Indiana where they haven't been to in a long time. People are shooting them because they don't know what they are and that really sparked my interest in human and wildlife conflict."
This project became the catalyst for Weber's career working on human-wildlife conflict. After she graduated from the EC program in 2015, she started a full-time communications job with the World Resources Institute and then went to The Nature Conservancy.
"I got a lot of great experience with those organizations," Weber said. "But, then, about seven years in, I realized that the communication skills are important, but I'm more interested in policy and research. I decided to make a career shift by going back to school for my PhD."
Weber decided to attend George Mason University, just outside Washington D.C., where she is beginning her third year studying environmental policy and environmental science with a focus on human-wildlife conflict related to rewilding.
Rewilding is a conservation tactic that reintroduces native wildlife back into environments where they may have been removed due to human intervention in an effort to restore ecosystem processes that have been lost. An example of this includes the rewilding of red wolves in North Carolina and the Eurasian beaver in Great Britain.
"Because some of these animals have not been in these homes for sometimes hundreds of years, there is a lot of conflict," Weber said. "So, I'm trying to work on identifying the social and political barriers to rewilding success. This is based on what I was working on at Nelson and the great connections I made which have translated to my work."
In addition to her work with human-wildlife conflict, Weber has also been working with Conservation Measures Partnerships (CMP) to promote the success of their Conservation Standards program. The Conservation Standards are a set of principles and practices that conservation professionals use to design, manage, and monitor projects. Weber was first introduced to Conservation Standards as a student within the Nelson Institute.
"I had no idea what the conservation standards were until I came to Nelson and took the class with Arlyne Johnson," Weber said.
Johnson, a senior program officer at Foundations of Success (FOS) teaches the Conservation Standards course as a part of the EC program. Although Conservation Standards is available to professionals around the world, this three-credit course is unique to the EC program. The Nelson Institute has also recently partnered with Foundations of Success (FOS), the CMP, and the Conservation Coaches Network (CCNet), to offer a course on "Step 3. Implement" of the Conservation Standards called, Conservation Essentials. This course is held virtually a few times a year and is available to professionals and graduate students in the conservation field. Scholarships are also available to those who qualify. While Weber isn't directly involved with this course, she has been helping CMP to share their success stories.
"I've been helping the partners with highlighting the successes of Conservation Standards and publicizing all the awesome projects they are working on," Weber said.
In the next year or two, Weber hopes to complete her degree and continue her work within the nonprofit world. She is also interested in exploring a policy fellowship or other policy related work. Regardless of the exact focus, she knows that she wants to do hands-on work that will directly and positively impact issues surrounding human-wildlife conflict.
"I will be in a practitioner role as I think that it's a good opportunity for me to get involved in the actual outcomes related to challenges like biodiversity decline," Weber said. "I think I can add to the world as a practitioner."
We invite you to learn more and support the Nelson Institute graduate professional programs.