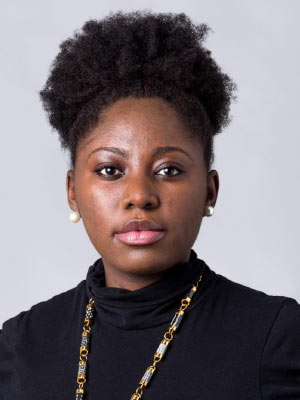 Nelson Institute alumni award winner Linda Vakunta has earned another impressive accolade: she was recently named one of Wisconsin's most influential Black leaders by the Madison-based news outlet Madison365. Published annually since 2015, the power list serves to celebrate achievements, amplify diverse voices, and showcase role models across the state. This year, Vakunta was one of 52 total honorees, a cohort that includes 13 members of the UW–Madison community.
Vakunta earned three degrees from the UW: a bachelor's in psychology, a master's in rehabilitation psychology, and her PhD in the Nelson Institute's environment and resources program. While a student, she cofounded Project 1808, a Madison-based nonprofit that promotes sustainable community development in Sierra Leone, alongside another UW postdoc. Vakunta served as Project 1808's executive director from 2009–19, until she was appointed to her current role as deputy mayor for the City of Madison. She recently cofounded of Bright Start Africa, a Madison-based organization that equips young people in Sierra Leone and Cameroon with 21st-century skills for self-sufficiency and community development. She is also the host and producer of Storie! With Linda, a podcast and YouTube series that documents and amplifies the work of individuals promoting African cultures around the world. 
In 2021, the Nelson Institute honored her with a Rising Star Alumni Award. "At the time when I was doing my doctoral studies, the majority of the world was still looking at the environment from a physical lens," Vakunta said, "but the Nelson Institute was changing the narrative in highlighting the people and social issues components."
Among the UW community members recognized on Madison365's list are six alumni, five staff, one faculty, and one student, representing six school and colleges as well as four departments, and programs. Madison365 also publishes annual power lists for Asian American, Latino, and Native American leaders. Vakunta is the third member of the Nelson Institute community to be honored: Dylan Bizhikiins Jennings, alumnus and environment and resources PhD candidate, and Christopher Kilgour, alumnus and Nelson Institute outreach manager, both of whom appeared on the 2021 Most Influential Native American Leaders list.
See this year's list of UW honorees and the full list of leaders from Madison365.