Nelson Institute Professor of Environmental Justice Monica White's book, Freedom Farmers: Agricultural Resistance and the Black Freedom Movement, has been awarded the 2020 Association for the Study of Food and Society (ASFS) Book Award in the First Book Category.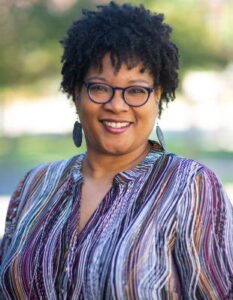 The ASFS is one of the oldest and largest organizations for food study scholars and awards three book awards annually including the first book, monograph, and edited volume awards. The first book award winner is determined by a panel of three judges who consider those books that showcase exemplary research methods, novel theoretical insights to the field of food studies, and examine underrepresented areas or populations.
"For Dr. White's book, the judging committee were in complete consensus in that the message of the book is both important and is powerfully delivered," said Beth Forrest, PhD, a professor of liberal arts and applied food studies at the Culinary Institute of America and president of the ASFS. "In the time of Coronavirus, the fractured food system and the frequent exploitation of labor has only become more evident. Dr. White's book serves as an excellent reminder, however, of the possibilities of the field being a place of not just of growing food, but sowing seeds of social justice, agency, and power."
Freedom Farmers highlights the work of southern Black farmers and the organizations they formed, including the contributions of activist Fannie Lou Hamer who launched the Freedom Farms Cooperative (FFC), a community-based rural and economic development project.
"It is an honor to have ASFS acknowledge the historical contributions of traditional Black rural farmers as well as connecting the historical work to contemporary questions of food access and sovereignty," said White. "We are filling in a piece of the agriculture food system history that has been overlooked."