During her 15-year career in communications and media production, Nelson Institute alumna Marika Suval developed an acute awareness of the planet's growing environmental problems. Whether reporting for public radio on environmental policies or highlighting the challenges faced by conservationists around the world, Suval took an active interest in the issue. Just a few years ago, Suval decided to apply to the Nelson Institute Environmental Conservation Professional Master's program, a step toward her goal of putting her media career in service of pressing environmental issues.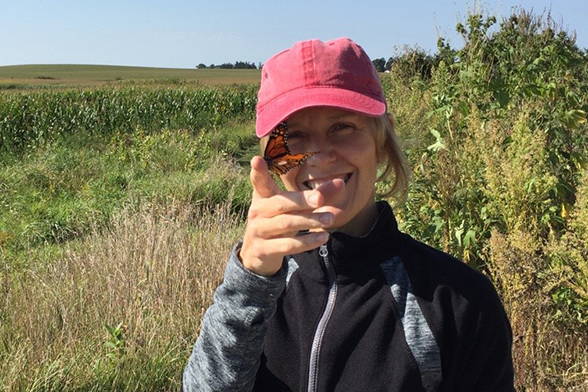 A 15-month curriculum designed to train conservation leaders in practical interdisciplinary skills, the Nelson Institute Environmental Conservation Professional Master's program features in-person and online courses as well as a three-month professional leadership experience. The program introduces professionals to a wide range of curricula, including conservation planning, land use policy, applied GIS, and strategic communications. Students also engage directly with a range of conservation organizations and practitioners, helping to solve some of the most urgent challenges in biodiversity conservation and environmental protection. "The master's in Environmental Conservation, given its compact time-frame, rigorous training and opportunities to work in the field, is ideally suited to a professional seeking to enhance their capacities and re-focus their career," said Suval.
About Marika: MS, Environmental Conservation (2018)
In addition to the convenient timeframe and focus on working professionals, Suval was also interested in the fact that the Nelson Institute remains one of the only programs in the country that offers an entire 4-credit course on the conservation planning tool, the Open Standards for the Practice of Conservation. This methodology is used around the world to help conservation teams think systematically about environmental challenges and solutions. Essentially, it provides an adaptive management framework that practitioners use to plan projects and monitor their progress toward measurable outcomes.
"Students work through an entire 4-credit course in the Open Standards with a leading conservation planning and Open Standards professional," said Environmental Conservation Program Coordinator, Meghan Kautzer. "This is about 9 hours per week with access to an expert consultant in the Open Standards."
In this case, the class was led by Arlyne Johnson, an honorary fellow and lecturer at the Nelson Institute with more than 25 years of experience leading research and conservation programs.
"This is not a class for the faint of heart," said Suval of the Open Standards course. "In just over two months, my team and I prepared a 75-page adaptive management plan, steeped in the Open Standards, for a prominent conservation organization. This class also provided the opportunity to hone skills such as team collaboration, project management, and technical know-how."
Kautzer said that the course introduces students to the foundational knowledge and experience in the Open Standards process which allows them to analyze and critique real-world conservation plans during and straight out of the professional program. Thanks to the flexibility of the Nelson Institute's online course structure in the spring, Suval was also able to take advantage of a Conservation Coaches (CCNET) training that teaches Open Standards practitioners how to coach teams through the Open Standards process. She then applied this training in South Africa, where she coached three program teams from the Endangered Wildlife Trust (EWT) in the Open Standards for the Practice of Conservation as a part of her Nelson Institute professional leadership experience.
"As an Open Standards coach, I facilitate a process in which teams interrogate their conservation strategies and develop effective monitoring measures," said Suval. "They commit to not only improve their own processes, but to also share their learning with peers and the larger conservation community, creating an upscaling effect."
During her time in South Africa, Suval kept a blog, noting the things she was learning and the impact her work was having on various conservation projects, including one that focused on the country's most endangered animal, the riverine rabbit.  And, although Suval felt that going to South Africa as a newbie to coach three seasoned conservation teams in the Open Standards methodology was daunting, she said she was aided by the broad, but deep training she had experienced during the  Environmental Conservation Professional program.
"It was broad, in the sense that it covered both traditional conservation topics like Conservation Biodiversity, Land Use Policy and Planning, Sustainable Development, Wildlife Management, and Monitoring & Evaluation Methods, and also non-traditional topics such as effective communication, legislative processes and conflict mitigation," said Suval. "It was deep in the sense that some courses, like GIS, covered enormous ground in a very short time."
In the end, Suval successfully completed her first stint as an Open Standards coach and graduated with her Master of Science degree this past summer. Today, she continues to focus on Open Standards coaching and consulting. Suval is consistently seeking out new opportunities to improve conservation and support the work of the Nelson Institute.
"I love coaching teams in the Open Standards," said Suval. "My goal is to continue doing so, working with teams around the world, especially in southern Africa where I'm from.  I'm currently working with a great team of conservationists and UW faculty & staff to develop an advanced online course in the Open Standards, focused on finer details of implementing strategies and monitoring them over time. The course will be offered through the UW."