Growing up in a rural, Liberian village during wartime made it difficult for Emmanuel Urey to secure an education.  From a young age, he dreamed of attending school, but he didn't have the opportunity until the war forced his family into neighboring Guinea, where he was able to begin elementary school at the age of 13. Despite these early challenges, Urey went on to attend college, earning two Master's degrees and graduating with his PhD in Environmental Resources from the University of Wisconsin-Madison Nelson Institute in May 2018. Today, Urey has returned to Liberia, where he is working to increase educational opportunities and land rights through his work with Landesa, the Salvation Army Polytechnic (T-SAP) school and his own nonprofit, One Life Liberia. Through it all, Urey is determined to use what he's learned and the connections he's made at the Nelson Institute to improve the lives of those in his "beloved country" of Liberia.
About Emmanuel: B.Sc. (Biology) from Cuttington University, Liberia; Master in Public Health (MPH) from Cuttington University, Liberia; Masters in Environment & Resources (M.Sc.) from the University of Wisconsin-Madison; Ph.D. in Environment & Resources from the University of Wisconsin-Madison
Located on the West Coast of Africa, Liberia is characterized by a mix of coastal plains, tropical rainforests and semi-deciduous forests. Inhabited for centuries by a number of indigenous peoples, the Grain Coast on the West Coast of Africa was not formally colonized by European powers, but in the early 1800s, the American Colonization Society began a movement to send freed slaves to live in what eventually became known as Liberia. The newcomers brought a system of freehold landownership that was foreign to the indigenous systems of land ownership. This resulted in a culture clash that has had a lasting impact on internal Liberian relations. Although Liberia eventually achieved its independence, the 20th century brought additional challenges as American and other international interests began making deals with the government to allow for resource extraction, particularly in regards to natural rubber and iron ore. Over the years, these challenges compounded, leading to a civil war that began in the late 1980s and continued for many years. Today, Liberia is a more peaceful place, but a number of challenges remain, including those related to land rights, resource management and education.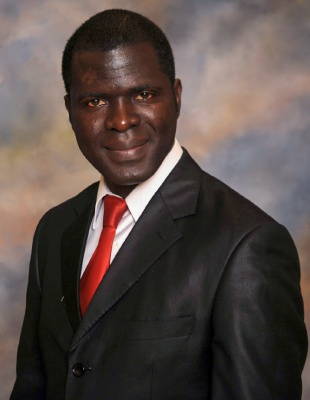 For Urey, addressing those challenges has been a personal goal, but early on, he realized that to make the biggest impact, he would need an education. Unfortunately, his village of Gomue did not have a school, which meant that he and his family, including his father and mother, were unable to secure an education. His father, however, had apprenticed as a tailor and was able to secure some land, thanks to this vocation. When Urey was very young, however, his mother died and Urey went on to live with his aunt. Within a few years, the civil war had broken out and Urey found himself in the middle of the fight. The rebels entered the village capturing members of Urey's family and, Urey himself, although he escaped. Pushed out by the war, Urey and his family fled to the bordering country of Guinea, where there was a local school. Determined to seek an education, Urey convinced his family to allow him to go to school and at the age of 13, Urey began kindergarten.
"I just had started, but I was promoted, because I had very good grades so my teachers thought it was okay to accelerate my learning," said Urey, who was thrilled to finally have the opportunity to attend school. "About six months into my education in Guinea, my family decided to move back to Liberia. Things were very broken down from the war, so my father and I lived in the bush. It was then that I told him I wanted to go back to school, so he agreed and sent me to live with my Uncle Joseph Urey, whose last name I am using today, in another village. Before this time, I was using Emmanuel Yarkpawolo, my father's last name."
While this village had a school, the war was still raging throughout Liberia, making it difficult for Urey to get the education he so desperately desired.
"I went to school during a war time," said Urey.  "So, sometimes you would go to school and there would be no class because the war was too close to you. Sometimes you could hear the gun sounds. Sometimes, we would go to school for two or three days and then they would push the rebels further and then there would be no school the next week. I went through all that and was able to acquire the education I have today."
In fact, despite these challenges, Urey proved himself to be a talented student, moving from grade to grade at an accelerated pace and eventually making it through high school, thanks to support from his family, the local Salvation Army and the members of his church. In 2005, just 10 years after starting kindergarten, Urey passed the West African Examination, which is similar to the ACT, and was accepted to Cuttington University, a private university in Liberia. Once again, Urey proved to be a quick learner, graduating in three years with a degree in biology and chemistry after taking 22 credits per semester due to good grades.
"I wanted to become a medical doctor, because I wanted to help people," said Urey. "I grew up in this community and I saw how people suffered, but during college I went to visit a rural hospital and I didn't like the hospital environment. It was too late for me to change my major so I said I would finish that and then go into public health.  I like to think more about community health and prevention anyway."
After graduation, Urey went on to complete a Master's in Public Health. After several failed attempts to secure a job or voluntary services with the Ministry of Health, Urey took a job with the newly established Land Commission. Just before his official employment, Urey read a newspaper advertisement recruiting Liberian professionals for a study tour on leadership at the Les Aspin Center for Government, Washington DC, a branch of Marquette University.  Urey applied and was accepted to the program. On this trip, he learned of the University of Wisconsin-Madison. Through conversations with UW-Madison alumnus, Mark Marquardt, Urey learned of the Nelson Institute's Land Tenure Center and became interested in exploring a second Master's degree through the Nelson Institute in order to learn more about land and resource management and how that could apply to the issues faced by Liberians. In 2011, Urey began his studies at UW-Madison with sponsorship from the U.S. Millennium Challenge Corporation (MCC/USAID) and with the help of his advisor and Nelson Institute affiliate professor, Matt Turner.
"He was like a kid in a candy store when it came to courses," said Turner of Urey's desire to learn. "We worked together to determine which classes would keep him on his desired path. He had such a strong interest in land tenure and how people use the land. He made it clear that he wanted to look at land tenure in Liberia and how deforestation and other issues would have social impacts, particularly how this would impact the various populations living in Liberia."
Urey added, "The thing I like about the Nelson program is that it is so broad. It's very interesting and gives you the leverage to choose what you want to learn about. You don't have to stick to one academic ideology, so I took many courses with people who had many different backgrounds."
Urey ultimately focused his research on Liberia, investigating how the administration of indigenous land rights are evolving and how palm oil palm crops have impacted land claims, particularly in regards to indigenous land.
"Land tenure reform can be an amazingly long process," said Turner. "But, his thesis played an important role in accurately describing the indigenous land tenure system which has influenced the shape of new land tenure reform initiatives"
Turner is also impressed by Urey's tenacity and his willingness to participate in difficult conversations surrounding land tenure and indigenous rights.
"One of his many good qualities is his amazing persistence," Turner said of Urey. "There have been so many hurdles for him and he has overcome them all. It's one thing to do research, but it's another to name government practices and officials, call them out on corruption and know that's not a safe route. But, Emmanuel is not on a standard path. He has a deep belief in social justice and that shows in his graduate work and everything he does."
While working on his Master's in Environment and Resources at the Nelson Institute, Urey also connected with Gregg Mitman, a Vilas Research and William Coleman Professor of History, Medical History, and Environmental Studies and a Nelson Institute affiliate. With a strong interest in the history and legacy of the Firestone Plantations Company in Liberia, Mitman proved to be a great collaborator and mentor for Urey.
In fact, Urey continued on at the Nelson Institute, completing his Ph.D. in Environment and Resources, with Mitman serving on his dissertation committee. Together, with the help of Sarita Siegel, Mitman and Urey created, The Land Beneath Our Feet, a documentary that follows Urey as he shares never-before-seen footage of Liberia's past with his Liberian community and discusses how the 1926 corporate land grabs have continued to  impact land rights in Liberia.
In May, 2018, Urey graduated from UW-Madison and returned to Liberia, taking what he learned at the Nelson Institute and applying it to the challenges present in Liberia. In terms of land tenure and land rights, Urey is working as a consultant with Landesa, which "champions and works to secure land rights for millions of the world's poorest, mostly rural women and men to provide opportunity and promote social justice."
As a consultant to Landesa, Urey is responsible for supporting the Liberian government and civil society organizations in regards to land reform in Liberia. Upon arrival in Monrovia in early June, Urey's first challenge was to help pass a Land Rights Bill that has been stalled in the corridors of the National Legislature for more than four years. Findings from Urey's Master's thesis at UW-Madison informed the drafting of this land rights bill that explicitly recognized the land rights of millions of rural Liberians. The bill, described by international civil societies as one of the most progressive land laws on the African continent, was difficult to pass.
"I made it clear during my interview with Landesa that a key priority for me was to help push this bill into law and to create a national radio program to educate people about their land rights," Urey said.
On June 19, 2018, civil society organizations were invited by the Senate Committee on Land and Natural Resources to make a presentation on the land rights bill. Urey attended to defend the land rights bill. This time, his efforts were successful and the bill was passed by the House of Senate and the House of Representatives.  On September 19, 2018, President George Weah signed the bill into law.
Urey was also able to start a radio education program through collaboration with the Liberia Land Authority, the Liberia Broadcasting System and with funding from Landesa. Today, Urey hosts "Land is Life", a bimonthly radio program broadcast on the first and third Wednesday of every month devoted to educating rural Liberians on the rights under this new law.
Additionally, Urey is working to address the larger education gap throughout Liberia. He feels strongly that an educated population is the key to change and that providing increased access to both primary and secondary education will help Liberia to grow and prosper.
"I am passionate about education because I am a product of what education can do," said Urey.
In fact, Urey launched his non-profit, One Life Liberia, in an effort to provide funding for additional primary schools in Liberia. While education opportunities have improved since the civil war, Urey says that there are a limited number of government sponsored schools throughout the country, which means access is limited as many children would need to walk two or more hours to attend school. Therefore, Urey is piloting the idea of community run schools by building a primary school in his hometown of Gomue, thanks to funds from One Life Liberia.
While the required $20,000 to build the school has come mainly from One Life Liberia donors in the United States, the project itself is being led by Gomue residents and the surrounding communities.
"We have worked with the community to acquire the land and start the building as well as the two offices," said Urey. "The school is a community project so we are trying to use, as much as possible, local materials. So, the wood and everything we are using is local. The only thing we have imported into the community for the project is cement, steel, nails and the roofing sheet.  The rest is local material. We are also trying, as much as possible, to make it stand out. In Liberia schools are often without libraries, proper bathrooms and playgrounds, which makes education difficult for the children. This school will have those things and be an example for what a good education institution looks like for young children."
To enable access to the school by motor vehicles, Urey is working with the villagers to build roads by hand.
"In the future, we want school supplies and some of our donors who want to visit the school to be able to do so. So, building a motor road is essential to the running of the school" Urey said.
At this point, about 100 children are awaiting the completion of the school, which broke ground on February 9, 2018. Mitman, who has become strongly tied to the community through his work with Urey and the film, the Land Beneth our Feet, was in attendance for the groundbreaking and was even gowned and given the title "Da Garlon" (the Town Chief) during the groundbreaking. Today, the school is still in the building stages as additional funds are needed to complete the project, but in the meantime, Urey and the community are working to develop a plan for the school to fund itself once it is built. So far, the community has secured 25-acres which they plan to use as an agriculture center where they can produce products that will be sold to fund the school.
"To support the school, we are planning to use palm oil," Urey said. "We are in process of talking about getting an oil palm processing machine and we are looking to use that to help support the school. On our own, we will keep trying as much as possible to support the school."
Urey is also hoping to expand the school over time to offer educational opportunities to those students who are currently outside walking distance to the school.
"There are five villages near it that have parents who have expressed interest," Urey said. "For some, this will be a long distance, so eventually, as our agriculture project grows, we can get a mini-bus to pick up the kids and drop them off to their parents. In the long term, some parents have expressed an interest in creating a mission school where there will be beds for their children to stay at school. This will require a lot more supervision and more professionals. That is complicated to handle, but right now, the students will walk to school."
In addition to self-sustaining agricultural programs, Urey is planning to use solar energy to power the school. This is particularly important to him as he wants to ensure that lights are available at night so that the school can offer evening adult literacy classes. Thanks to Strides for Africa, Urey has already secured funding for a solar power smart pump that will provide running water for the school.
"The school is growing and I hope it will be one of the best schools in Liberia," Urey said. "This will serve as an example and we will be able to show it to our development partners and the government to showcase what can happen when a community organizes education and how this could expand to other people."
In addition to his work in primary education, Urey is also working to improve university level education in Liberia. In fact, in July 2018, Urey was named the President of the Salvation Army Polytechnic (T-SAP) in Monrovia, Liberia. Once a vocational school, T-SAP recently received approval from the National Commission on Higher Education to begin offering Associate degrees.
For Urey, things have come full circle, as he worked for T-SAP before coming to the United States. In 2009, after graduating from his B.Sc. program, Urey was looking for a job in education. He believed so deeply in the mission of the school, that he was willing to take any job they had to offer.
"I started working with the school first as a property custodian, which is basically a warehouse caretaker," said Urey. "Basically, they had a warehouse where they stored all of the tools for the vocational school. The leader of the school, who attended the same church as me, knew I had a special interest in working with the school so he called me and said the only job he had available was the property custodian job. The salary was 50 U.S. dollars. I gladly took the job."
For a month or so, Urey took care of the warehouse, but soon, he says the coordinator realized he was capable of more.
"He saw my writing and was impressed, so he actually promoted me to his secretary and made me deputy coordinator for the school since he was coordinator," Urey said. "He increased my salary based on that to around 70 U.S. dollars. Later, I was also able to teach a math course at the school so that put my salary up to 140 dollars. By 2010, we discussed the idea of taking the school to a college level. So, we started to work on the curriculum."
In 2011, however, Urey had decided to attend UW-Madison, so he left the vocational school, but he remained in contact with his colleagues there.
"Just after graduating, I came back to Liberia and became a consultant for Landesa, but meanwhile, the school had elevated themselves, so they were looking for someone with a Ph.D. to help run the college, so the former Coordinator of school asked me to help lead the school. I encouraged him to advertise the position and seek qualified applications. The leadership of the Salvation Army in Liberia advertised the position but encouraged me to submit my resume, which I eventually did," Urey said. "There were interviews conducted, and eventually I was awarded the position of the President in July of this year. So, I am doing that in conjunction with my consultancy job. It keeps me busy, but they are okay with me keeping the consultancy job, because the school is starting at zero, with no money, so they are not able to pay me, but I am happy to do the job, because it allows me to do the work I believe in. I believe in hard work, I believe in honesty, I believe in integrity, and accountability. As President, I have the opportunity to instill these beliefs in others."
As President of the college, Urey also hopes to expand the curriculum and provide opportunities for Liberians to learn more about land rights and land resources through an environmental program.
"My goal in this new position is to focus on technical areas," Urey said. "Beginning this September, we will be offering electronics, electricity, building construction, and automotive technology.  The school will also offer teacher education and theology. Next year, I plan to introduce Environmental Science focusing on renewable energy. This is where I will need collaboration with the Nelson Institute."
In fact, Urey has already reached out to Nelson Institute Director, Paul Robbins, to discuss plans for this collaboration, which Urey hopes will make the college standout, while providing what the people of Liberia need.
"The plan is to work with the college to make it comparable to no other college in Liberia," said Urey. "The school should become quite competitive and the motto we have created for this school is "education with integrity," which is important because we don't just want to educate, we want the integrity to go beyond the education. We really want our students to be able to carry that integrity beyond school."
Urey says that while technical education is important, learning the importance of hard work, honesty, integrity and collaboration are also key lessons, and something he felt was a meaningful part of his experience at the Nelson Institute.
"I'm so thankful to the Nelson Institute and the influence of Matt Turner and Gregg Mitman and the example of Director Paul Robbins and their commitment to the environment," said Urey.  "Now, as a leader, I will be using some of what I learned from them to help me lead. It's a good community and I love Madison. My family and I had a great time there and its allowed me to do what I'm doing today."