Along the bike paths of Iowa, mixed in with the lush green grass and the wildflowers, is the unassuming, but essential milkweed plant. The host plant of Monarch Butterflies, this green, leafy vegetation has been declining throughout the pollinator's migration route. But during large biking events throughout the state of Iowa, you're likely to see cyclists trying to change that fact by tossing seedballs – clay and soil mixed with native nectar plant seeds, including milkweed—into the grassy areas along the roadside.
This effort is led by Milkweed Matters, an organization that supports pollinators by increasing their habitat in roadsides, an often forgotten slice of land. Started by Kelly Green Guilbeau in 2014, Milkweed Matters has spread more than 130,000 seedballs across Iowa, but for Guilbeau, there is still more to do. In fact, last summer she began a new, very personal conservation project, joining the Nelson Institute environmental conservation professional program as a graduate student.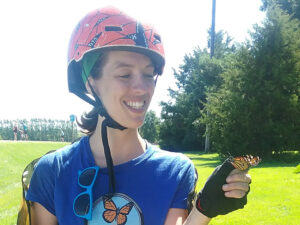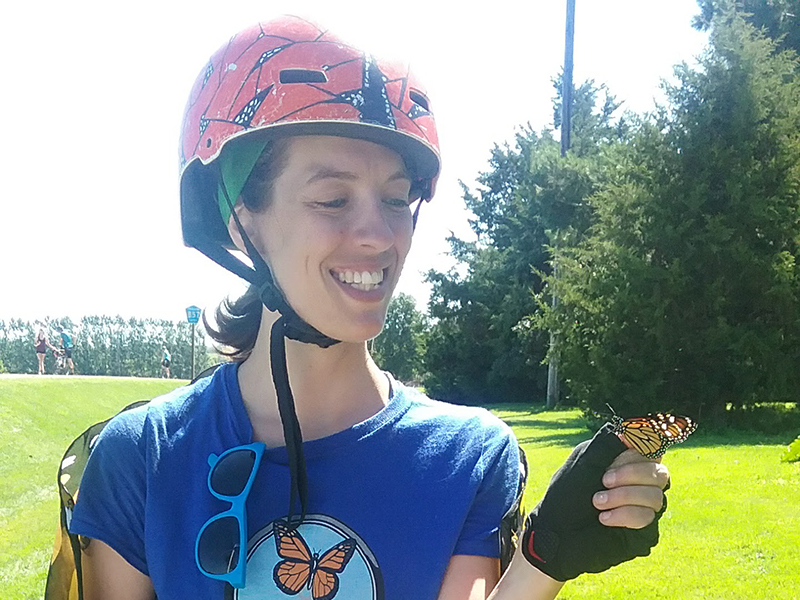 The 15-month Nelson Institute Environmental Conservation Professional Master's program is designed to train conservation leaders in practical interdisciplinary skills and features in-person and online courses as well as a three-month professional leadership experience. The program introduces professionals to a wide range of curricula including conservation planning, land use policy, applied GIS, and strategic communications. Students also engage directly with a range of conservation organizations and practitioners, helping to solve some of the most urgent challenges in biodiversity conservation and environmental protection.
The program welcomes students from a wide range of disciplines and for Guilbeau, who began her career as a clinical mental health counselor, this program offered the perfect opportunity to merge the communication skills she had gained as a counselor with her personal interest in conservation.
"Conservation efforts are happening all around the world and I wanted to make the switch professionally to be a part of that," said Guilbeau. "My background in counseling may be unique, but it helps me to constantly reflect on my ethics and professional development. It has also been beneficial in understanding the conservation values and needs of diverse audiences, communicating scientific content succinctly, and addressing any perceived barriers to inclusive engagement in conservation efforts."
About Kelly: B.S. in psychology from Louisiana State University, followed by an M.Ed. in clinical mental health counseling from the University of New Orleans, M.S. Environmental Conservation, Nelson Institute, UW-Madison
While Guilbeau's background in counseling offers insights, she is no stranger to the world of conservation, having worked to develop the communication and outreach aspects of Milkweed Matters. In fact, the strong focus on soft skills such as these is one of the aspects that drew Guilbeau to the Environmental Conservation program.
"The program does a great job of putting both social science and hard science into the context of conservation," said Guilbeau. "The program helped me to articulate my thoughts and ideas, plus taught me ways to effectively share that knowledge in a meaningful way with those who hold power."
In addition to lessons in rhetoric and policy, Guilbeau also appreciated the program's hands-on aspects and the guest speakers who were willing to pass on their knowledge to the cohort. In particular, Guilbeau was captivated by the Open Standards course she took last fall. Nelson Institute remains one of the only programs in the country that offers an entire 4-credit course on the conservation planning tool, Open Standards for the Practice of Conservation. The Open Standards methodology is used around the world to help conservation teams think systematically about environmental challenges and solutions. Essentially, it provides an adaptive management framework that practitioners use to plan projects and monitor their progress toward measurable outcomes.
During this course, Guilbeau said she and her cohort teamed up with five different organizations around the world and helped to incorporate the Open Standards into their management plans. Guilbeau's team was paired with the Pacific Northwest Coast Landscape Conservation Design, which works to create a blueprint for landscape-scale climate resiliency in the region. In short, they seek to connect regional-scale landscapes and the communities who live and work on those lands. Guilbeau connected with this group's mission and Landscape Conservation Design in general, as it aligns well with her mission at Milkweed Matters.
"Both of these projects are really about connecting landscapes and people," said Guilbeau. "Roads may be what fragments or divides the land, but if we add beneficial habitat to roadsides, they can become something that connects instead. In addition, connecting people to these projects might motivate them to see new ways they can be a part of the solution."
After working with Environmental Conservation Program Coordinator, Meghan Kautzer, Guilbeau was able to secure a three-month professional leadership experience during the summer of 2019 with Tom Miewald, a Landscape Conservation Planner with the U.S. Fish and Wildlife Service and coordinator of the Pacific Northwest Coast LCD. They will work together on increasing stakeholder engagement by refining the project's communications and outreach strategy and analyzing results from a Social Network Analysis. Guilbeau hopes to use this opportunity to bring together her skills in communications with the things she has learned as a part of the EC program.
"When learning about these large landscape-scale projects, I saw a need for a deeper stakeholder experience," Guilbeau said. "With my experience in communications and values-based engagement, and now with my knowledge from this program, I believe I can help this project to more effectively identify who is at the table, what their values, needs, and perceived barriers are, and ultimately, create a better experience for those involved with the project."
Guilbeau is particularly interested in bringing new and marginalized voices to the landscape conservation design conversation and she is thankful to the EC program for helping her to expand her ability to connect with people from many different backgrounds. She hopes to use these lessons not only during her summer project, but also in the future as she continues her work with Milkweed Matters and explores new conservation challenges.
"Our entire cohort is entering into this field at such an essential time and the course work reflects that," said Guilbeau. "It's so smart that they teach us about ethics, how to listen, and how to reflect. These are that skills that give us the foundation to address any challenge."