For Environmental Observation Informatics (EOI) student Charlotte Peters, a career in environmental justice was a goal since she was a child. Now, she is one step closer to that goal.
At the surface, Peters' background is in geography with a minor in ethnic and racial studies from the University of Wisconsin— La Crosse. Her path to get there, though, diverges from the status quo.
Most of Peters' adult life was spent working as a mid-level manager in manufacturing, a job she found little interest in or stability. Alongside that, she raised two biological children, in addition to six other boys from first grade until their early twenties. The market crash of 2009 ignited her career shift and her decision to obtain her undergraduate degree in her mid-forties.
"My career path has been a bit different than most, but I'm loving the journey and learning a lot along the way," Peters said.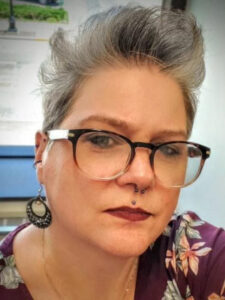 Peters applied to Nelson's EOI program as a part of her undergraduate capstone project knowing she wanted to refine her skills in pursuit of an environmental career. The decision to apply came after a speech given by Paul Robbins, dean of the Nelson Institute. Robbins was the keynote speaker at a symposium Peters presented research at, and she was immediately persuaded to apply by his enthusiasm for the program. "He spoke briefly about the program and then gave this amazing talk and all I could think by the time he was done was that I had to get into a class he was teaching," she recalled.
Peters is interested in behind-the-scenes work, like data analysis, research, and project creation. After spending time in the program, she feels confident in her abilities to deliver on projects.
"Through the EOI program, they exposed us to so many different programs, packages, platforms and ways to do research that there isn't anything someone could throw at me and I'd say, 'I don't think I could do that.'"
The Environmental Observation Informatics MS program guides students in disciplines like environmental conservation, remote sensing, geographic information systems, and informatics. The 15-month program incorporates elements of programing, digital image analysis, geospatial data science, policy, and ethics of observational data, all tied together by a final professional leadership project.
Working with the City of La Crosse, Wisc., Peters' final leadership project focused on merging two country-specific indexes, a "social vulnerability index" which is used to facilitate disaster relief, and a "neighborhood atlas" which measures exposure to health risks based on socioeconomic factors into a single index. The final merged index will be included in the county's ten-year comprehensive plan.
The EOI program supplied Peters with the necessary skills and tools to take data from the Centers for Disease Control for these indexes and segment it into boundaries that are both meaningful and digestible for the City of La Crosse.
Parts of Peters' background in racial and ethnic studies shine through in her final project, as she worked closely with mapping urban and rural spaces opposed to mapping of environmental factors. She explains that as satellite imagery becomes a more common tool, the definition of "environment" can be used more loosely. "My environment was the urban environment. I looked at green spaces within the urban environment, but people use this tool to look at all kinds of things, not just trees and plants."
Peters loved working to create these maps, as they are universally digestible. "Maps speak to everyone. There are no language barriers with a map as long as you can see a color and understand what the colors represent. Pretty much anyone can look at a map and see what's going on."
After completing her project, Peters was hired by La Crosse County in the Zoning and Planning Department to assist on the County's ten-year comprehensive plan. Her role focuses on data collection and map building to support the plan.
Peters hopes to transition into an environmental justice focused role in the near future. She acknowledges the connections and hands-on experiences that the Nelson Institute has provided her and is confident that she can take the reins in any position that lay ahead of her.
Learn more about the Environmental Observation Informatics MS and how you can support the program.