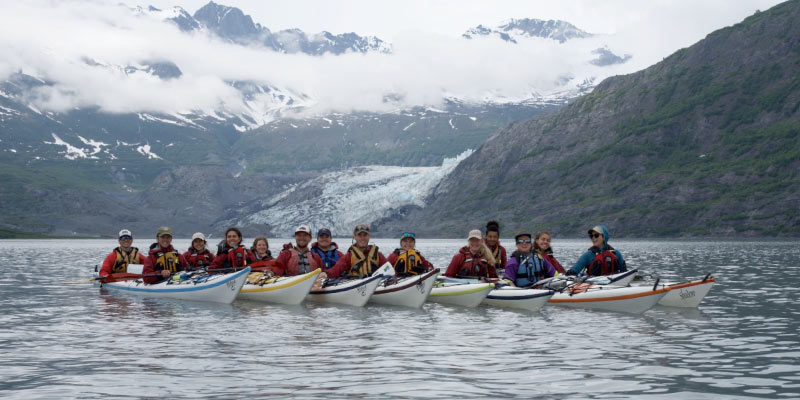 Nelson Institute undergraduate student Zebulon Grove sees a hopeful future for sustainability in business practices. From his time spent working at a major freight company, volunteering on a demonstration farm, and even navigating the Alaskan waters by kayak for a month, Grove has found his passion in emphasizing sustainability in major business practices for his future.
Grove's path to discovering his career aspirations, like most students, was not linear. He came to UW–Madison with the intention of being a mechanical engineer designing sports cars. When realizing it was not for him, Grove applied to the Wisconsin School of Business in the spring of his freshman year. Waiting for his admissions decision over the summer, he took a month-long Knolls course in Alaska where he completed 14 days of backpacking and 14 days of sea kayaking. The group of 12 students were completely unplugged, without phones or electronics, connecting with and learning about the environment.
"I went into this summer so scared," Grove said. "But I had the most amazing time of my life."
Grove returned from his trip to see that he was denied admission to the business school.
"I had a brief moment of 'what am I going to do?'" Grove recalled. "But then I realized, I just did this month-long program in nature and had enough experience to back my interests. I knew exactly what I wanted to do. I wanted to protect the environment I care so much about."
Following that moment, Grove began thinking of ways he could incorporate his business interests with environmental studies. He settled on pairing the major with economics, and thus began a new chapter in Grove's academic journey.
The first class Grove took with the Nelson Institute was the Economics of Climate Change taught by emeritus professor Bradford Barham. Grove was drawn to his eloquent delivery of lectures and dedication to students, so much so that Grove intentionally took another class taught by Barham outside of the Nelson Institute, Latin American Economic Development.
"Having a professor like him as my first exposure to the Nelson Institute was amazing and solidified that I was where I was supposed to be."
Grove is now entering his final semester at University of Wisconsin–Madison, where he'll graduate with a double major in environmental studies and economics with a certificate in developmental economics. His learning and experience in both fields extend far beyond the classroom.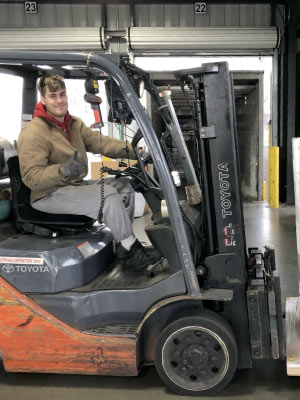 For the past two summers, Grove has worked at Old Dominion, a competitor to shipping companies like FedEx and UPS, shipping freight across the United States, Canada, and Mexico. As an operations intern, Grove manages the efficiency and logistics of their shipping terminal. During the school year he assists as a forklift driver, among other responsibilities with the company. After graduation, Grove hopes to expand his role within the company into managing a larger area.
These roles have led Grove to his desire to change the future of freight; one of the largest carbon-emitting industries in the world. His focus on supply chain and sustainability has further helped him realize this interest.
Grove sees a major lack of focus on sustainability in the trucking industry. When it comes to finding efficient and sustainable solutions in the transportation sector, he sees an opportunity to explore beyond the "standard solution" of electric and self-driving trucks.
"The transportation industry is one of the largest carbon emitting industries out there." Grove said. "I think there are practical ways to solve that issue while staying profitable, and I want to play a part in finding that solution."
Having a passion for sustainability came from a number of Grove's experiences. Last fall, Grove worked for the Savanna Institute — led by fellow Nelson graduate Keefe Keeley — on a demonstration farm in Spring Grove, Wisconsin. The nearly 500-acre farm researches and implements sustainable alternatives to monocropping, planting a field of only one crop, and ally cropping, planting rows of trees for crops to grow between. His role focused on managing and preparing for their current summer initiative of planting hazelnuts, chestnuts, sassafras, corn, and soybean.
Grove described the farm to be an "all-encompassing ecosystem, with orchards and organic corn and soybean crops, forests, and newly added livestock". There, Grove worked to manage the species found on the farm. Holding a variety of tasks, Grove was focused on identifying and mitigating invasive species, determining what trees needed to be removed, clearing land for the incoming livestock, tree identification, planting of cover crops such as wheat and rye, and shadowed the breeding of tree species. His time with the Savanna Institute helped to emphasize the importance of giving back to the planet and sustaining nature.
As he wraps up his final classes before going into the workforce, Grove reflected on the impact he hopes to make in the future.
"I think that it's really important that businesses start to implement sustainability initiatives, and I want to be at the forefront of that in an industry that has not really taken sustainability into account."
Learn more about the environmental studies major and how you can support the program.