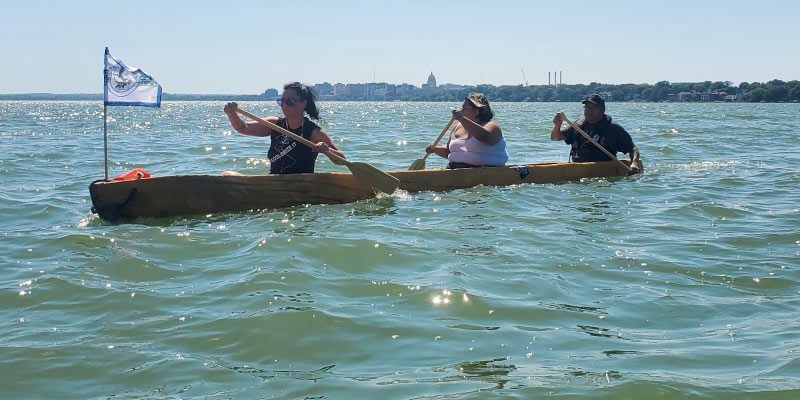 On June 20, 2022, a small flotilla could be seen off the southwest shoreline of Teewąąšikhomįik, He Who Lies There (English name, Lake Mendota). The air was still, as was the water, while the group of boats — several kayaks, a small motorboat, and a dugout canoe flying the Ho-Chunk flag — hovered 27 feet above the place where a 1,200-year-old dugout canoe was found nearly one year ago to the day. The canoe from the depths and the boats above offered onlookers a quiet, but not at all subtle reminder: we are still here. "Wisconsin didn't start in 1848," says Jessie Conaway, a faculty associate in the Nelson Institute for Environmental Studies. "This is living history. Native Americans are not in the past."
The stop was part of a weeklong experience: the Ho-Chunk Nation Dugout Canoe Journey, which gave generations of Ho-Chunk members a unique way to connect with their ancestors. "Native colleagues have taught me that boats carry culture," Conaway explains. In re-creating a traditional boat, one also revitalizes traditional tools, processes, and language: the songs once sung, and the stories once told. "The places we're paddling in, these are cultural spaces that have their own stories and associations. It's a lot more than a boat."
Conaway, a professional paddler and lifelong "water educator and protector," was asked by the Ho-Chunk Nation's Tribal Historic Preservation Officer, Bill Quackenbush, to lend her expertise on the trip. She and her 17'9" Nigel Dennis sea kayak provided on-water support as the group paddled the ancestral waterways from the north shore of Teewąąšikhomįik to Kechunk ciinak, (Turtle Village) on the Rock River.
"We began up in Waunakee celebrating our UniverCity Year partnership that my students and I helped to facilitate between Ho-Chunk Nation and Waunakee," Conaway says. "On Mendota, we did a brief ceremony to ask for safe passage, and then we launched." Though the journey's dugout canoe was newly constructed by Quackenbush and his team, the paddlers had a chance to visit the ancient dugout, which is currently undergoing preservation at the State Archive Preservation Facility — conveniently located along the Yahara River between Mendota and Monona.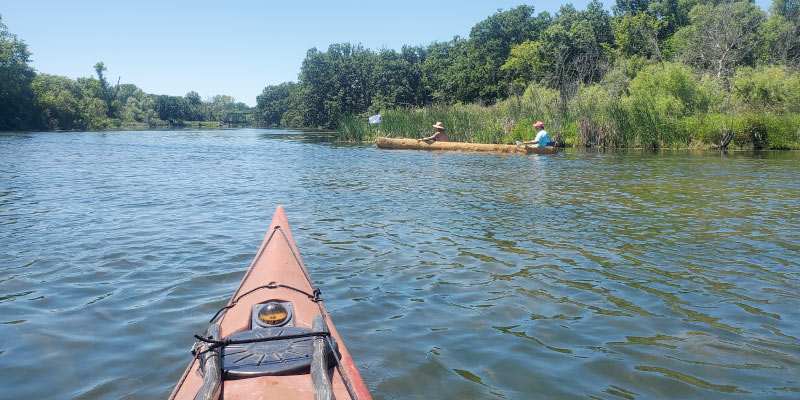 Their route continued through Teejop (Four Lakes) as the paddlers wound their way through the Yahara and Rock Rivers — "the heartbeat of Ho-Chunk ancestral territory," says Conaway. Each stop along the way met with cheers and smiles from Ho-Chunk Nation and non-tribal citizens alike. "The whole entourage would be there on the bank. Looking at those faces from the water — their faces looked like the sun emoji!" Conaway remembers. The journey culminated at Kechunk ciinak, where the Rock River joins with Turtle Creek in Beloit, Wisconsin, a traditional Ho-Chunk village.
One of the most meaningful stops for Conaway was at a 12,000-year-old Ho-Chunk cultural site on the Yahara River between Lakes Waubesa and Kegonsa. "We hovered over by this ancient fish weir, and Bill talked for a long time about this place. I'm learning history on the water from them, and Bill's in a dugout canoe talking about it. This is unforgettable," Conaway reflects. "You could hear a feather drop on the water."
See photos from the journey on the Ho-Chunk Nation's Facebook page.