For Nelson Institute faculty associate, Jessie Conaway helping people to connect with and protect the natural world has been a lifelong goal. As a career outdoor educator, Conaway has spent both her personal and professional time working with community members of all ages on environmental initiatives and outdoor education. From her time as an American Canoe Association kayak instructor trainer and youth experiential educator to her current roles as a Nelson Institute faculty associate for Native Nations partnerships and an Indigenous Arts and Sciences research coordinator with the Earth Partnership, Conaway is committed to engaging with communities on environmental challenges.
"I am a career outdoor educator. I decided early on in high school that I wanted to be in outdoor education," Conaway said. "So, I pursued that path in environmental education and adventure education. I attended the National Outdoor Leadership School and Minnesota State University, Mankato where I earned my Master's in experiential education, which was the top tier for that career path."
After attending graduate school, Conaway spent time teaching at the University of Wisconsin- La Crosse and the La Crosse School District in outdoor education. During that time Conaway met conservation biologist, adjunct professor in the University of Wisconsin-Madison Department of Forest and Wildlife Ecology, and Nelson Institute alumnus, Curt Meine.
"He told me, we need more people in the social sciences to come into environmental studies and that was really what I needed to hear," Conaway said. "I had wanted to take the next step and earn my doctorate, but I was really hesitant about what that would entail. But after hearing from him, I started my application to the Nelson Institute."
Conaway was accepted to the Environment and Resources PhD program where she focused her research on watershed protection near the ancestral homeland of the MaskiiZiibi, Bad River Ojibwe Nation.
"I've been involved with Native Nations since I moved to Wisconsin in the mid-90s," Conaway said. "I was involved in my personal life as a young mom with the Mole Lake Band of Lake Superior Chippewa water protection work against the Exxon mine. I also started to be in places in Ojibwa country where I was learning from spiritual leaders. I was also introduced in Lac Courte Oreilles to a spiritual leader and teacher named Mary Ellen Baker and so I spent multiple summers with her in her teaching lodge and that was really a strong start to my education in Indian Country."
This work is political, it's high stakes, and we understood that and stepped up and it shows. We're at a great place and we feel we are in the right place at the right time.

–Jessie Conaway
Conaway was interested in continuing to work with Native Nations through her research at the Nelson Institute, so she reached out to Bad River Band of Lake Superior Ojibwe member and then Nelson Institute affiliate, Patty Loew to learn more about the watershed and homeland protection the Tribe was engaging in.
"I became involved with Bad River through Patty Loew and committed to working with the Tribe on community water stewardship through my work at Nelson in 2011," Conaway said. "I did community mapping and developed a program called Bad River Youth Outdoors. Then, when Paul Robbins joined Nelson as director (now Dean), he had the priority of working with Native Nations, so that became a really helpful partnership and I was able to continue that work as a graduate student, then a post-doc, and now the position I am currently in at Nelson."
In her current role at the Nelson Institute, Conaway works directly with Native Nations on a number of projects that are most often associated with the Native Nations_UW program, Earth Partnership, and the UniverCity Year program. 
Native Nations_UW is an inititative that began in May 2016, when the Provosts of the University of Wisconsin-Madison, University of Wisconsin Colleges, and University of Wisconsin Extension charged the Native Nations_UW (NN_UW) Working Group. This group partnered with the Native Nations in Wisconsin on a strategic plan that will lead to more respectful and reciprocal partnerships and allow for combined efforts on health services, preserving the environment, developing local economies, strengthening families, and expand educational opportunities. Conaway served as the chair or co-chair for phase one of the Native Nations_UW program since she came on in 2016.
"This is a humongous honor to be a part of this," Conaway said. "This all began with the centennial summit. The Tribes had not been invited to campus in 100 years (1914) and we worked with campus to host a debut summit, which I helped to organize as a graduate student. We had over 50 people there from the Nations and we had focus groups. We took notes in the focus groups and built out our priority areas for this initiative based on these focus groups."
Conaway also helped to brand the initiative.
"We had called it UW/ Native Nations for that first summit, but I switched it around, for our brand we need to say the Tribes first, so it became Native Nations_UW," Conaway said. 
Conaway said the initiative was supported by the individual work that had been done on campus prior to the debut summit, but that this particular initiative took it to the next level by committing to an institutional level relationship with Native Nations. Today, the Native Nations_UW initiative is going strong, having just finalized phase one. During this phase, UW-Madison faculty, staff, and students have collaborated with Native Nations throughout Wisconsin on a variety of projects in seven key areas while also increasing communication through establishing a Tribal Advisory Council with monthly meetings and two in-person events each year. 
"The process was really strong," Conaway said. "It's been about elevating the macro-objectives like asserting Tribal sovereignty, educating ourselves internally about the Tribes' cultures and languages, and working with UW leadership through annual cultural responsiveness trainings. That's built a lot of momentum going from 40 people to 200 over three years of offering the trainings. My foundation of being connected to Ojibwa people and my credentials of being a career outdoors woman and an herbalist and harvester, helped me to build relationships with the Tribes when I started graduate school and later entered into this position in 2016. We share a commitment to environmental education, and environmental stewardship that includes traditional harvesting."
In addition to her leadership work with Native Nations_UW, Conaway is also involved with Earth Partnership within the Department of Planning and Landscape Architecture, which "promotes native habitat restoration as a process for community learning and land stewardship." Her research with Earth Partnership is called Connecting STEM to Native Science, which brings tribal youth and Elders together with university educators for week-long events where STEM skills are taught in a cultural way. 
"We just got our fourth National Science Foundation grant," Conaway said. "We're publishing our first research article paper this month and I'm really proud of this work as well. We've learned that Native students have gained skills and confidence through these Indigenous Arts and Sciences (IAS) programs, and that they transfer those into their STEM classes in school, and also thinking forward toward environmental careers."
This also fits in with another Earth Partnership project Conaway is involved with called Native Education Pathways, which connects Tribal youth with UW-Madison and pathways to higher education early on through youth education.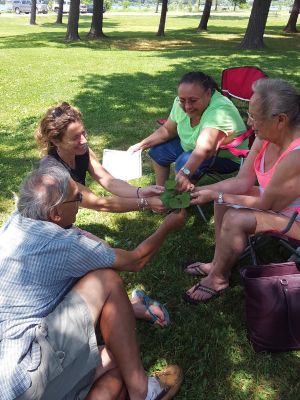 Outside of Earth Partnership and Native Nations_UW, Conaway has also worked with the UniverCity Year program on Native Nation education and relationship building in both Monona and Waunakee. UniverCity Year brings faculty, students, and members of Wisconsin communities together to address local challenges through engagement, university research, and state-of-the-art problem-solving approaches. Launched with the Wisconsin Idea in mind, this program bridges university resources with community knowledge to improve sustainability, resilience, livability, and the general well-being of Wisconsin communities throughout a three-year partnership.
In both cases, Conaway has helped to connect the municipality with Native Nation leaders and students in her capstone course to develop programs around cultural awareness, land acknowledgement, and community education. Through the UniverCity Year program, Conaway and her students have seen great engagement on important work. 
"We can get work done quickly that's tangible," Conaway said of her work with the UniverCity Year program. "A lot of work takes multiple years, but this is an example of tackling something that is needed right away."
Throughout this project, Conaway has partnered with the Ho-Chunk Nation, specifically working with Michelle Cloud, the IAS Grant Manager for the Ho-Chunk Nation Education Department, who serves as the Nation's Principal Investigator for the NSF projects. Cloud, a member of the Ho-Chunk Nation, also serves as an advisor on Conaway's spring 2021 capstone course connected with UniverCity Year, and has known Conaway for several years. 
"She is so respectful in her approach to working with Native communities," said Cloud. "She is enthusiastic and clearly enjoys the work she does with Native youth and educators. I really can't say enough good things about her."
Whether Conaway is working on UniverCity Year, Earth Partnership, or Native Nations_UW, she said the one constant is the support she receives from the Nelson Institute.
"I'm so thankful for the support that Nelson and Dean Paul Robbins have given me to support these initiatives," Conaway said. "For NN_UW phase 1, Nelson emerged as a main pillar of support. Having the travel budget to visit the Tribes is key. Visiting people in their homelands has made a big difference. This work is political, it's high stakes, and we understood that and stepped up and it shows. We're at a great place and we feel we are in the right place at the right time."