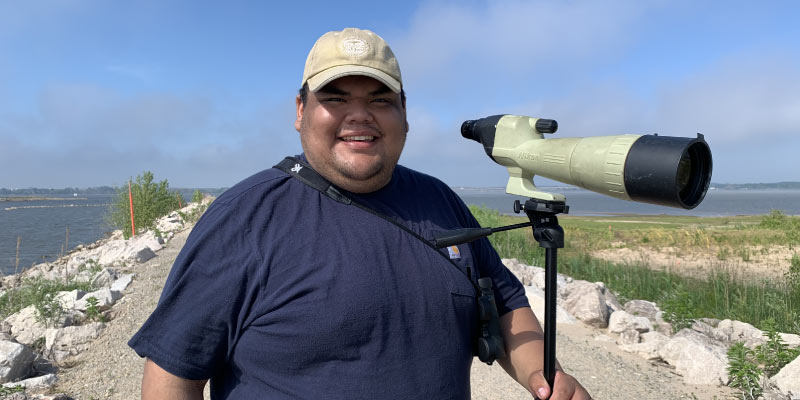 While growing up in San Diego, California Pharaoh Graham begged his parents to take him to the zoo. He loved visiting the aviary and learning about the birds. When he went away to college, he sought out new opportunities to learn about birds, eventually joining the Student Conservation Association which inspired him to explore a variety of internships that included everything from doing shorebird monitoring in Colorado with the US Fish and Wildlife Service to monitoring spotted owls through UC Davis to a seasonal job monitoring Snowy Plovers and California Least Terns with the San Diego Zoo Institute for Conservation Research – now San Diego Zoo Wildlife Alliance. Today, Graham is continuing to follow his passion for bird conservation through the Nelson Institute Environmental Conservation (EC) Professional Master's program.
Designed to train conservation leaders in practical interdisciplinary skills, the EC program spans 15-months and features in-person and online courses as well as a three-month professional leadership experience. For Graham, this was the perfect fit.
"I was born and raised in San Diego, but decided to go to Gonzaga University in Spokane, Washington for my undergraduate. There, I solidified my interest in wildlife through some internships," Graham said. "When I returned home to San Diego I began working with the San Diego Zoo on plover research and wanted to expand my knowledge, so I looked up some degree programs. I didn't want to do the traditional route as I wasn't interested in doing a thesis. I wasn't looking to become a professor, so I was happy to see the Nelson Institute's professional programs."
After discovering the Nelson Institute programs online, Graham reached out to Meghan Kautzer, the coordinator for the Environmental Conservation MS program to learn more. In her role as the program coordinator, Kautzer works closely with students to dig deeper into their personal strengths, values, goals, and professional skills. She also helps students to plan their three-month professional leadership experience and is trained as a global career development facilitator.
"I spoke with Meghan and we set up a call while I was in the field," Graham said of his initial interaction with Kautzer. While at first he wasn't sure if this program was the right step for him, he was excited about the opportunities Kautzer shared and decided to apply.
"An invaluable strength of the professional programs at the Nelson Institute is the cohort model – we welcome a team of incredible students each summer that learn and grow together, becoming lifelong professional colleagues and forming deep personal friendships. Pharaoh represents all that makes that cohort model so powerful," Kautzer said. "He shared whatever he could with the team and actively sought to learn from others; he is joyful, kind, critical, thoughtful, and a true leader. Year after year, we are lucky to have a group of such talented professionals as the students in our cohorts."
Graham is now in his final semester of the program, and says he is so glad he joined the program. He is especially grateful to Kautzer who he says has been supportive from the beginning.
"Meghan is the fairy godmother for everyone," Graham said. "She's such a good resource and she knows everybody."
With Kautzer's assistance, Graham has flourished in the program, gaining new skills while seeking out opportunities to work on avian endangered species management, which is the main focus of his wildlife conservation efforts.
"I was interested in it all and I wanted to absorb everything I could," Graham said of his time with the program. "I loved our policy class with Kathleen Falk where we learned about land use and planning. I also really liked [senior program officer at Foundations of Success and adjunct professor] Arlyne Johnson's Conservation Planning class because we got to work with an actual organization and with our other cohort members."
Graham, who will graduate in August, is currently completing his professional leadership experience, which includes studying the piping plover with the U.S. Fish and Wildlife Service. Piping plovers are endangered birds that are found along the shores of the Great Lakes. They prefer to nest on isolated beaches between May and July. Graham is spending this summer monitoring the birds nesting patterns through a camera trap program and working on a guidance document that will outline the best practices for monitoring plovers via cameras.
"We work with a variety of organizations and tribes on conservation," Graham said of the project. "Right now, we're using cameras to monitor the birds, but my project is to develop a document that will create more consistency in how this research and monitoring is done. For example, what settings you should use and what cameras are best, and how to use cameras for nest monitoring, predator management, and human disturbance."
Graham is being mentored by Reena Bowman, a fish and wildlife biologist with the U.S. Fish and Wildlife Service who has a background in habitat restoration and recovery projects that benefit threatened and endangered species.
"Pharaoh's professionalism, enthusiasm, and initiative has been a great asset to the US Fish and Wildlife Service," said Bowman. "Once completed, Pharaoh's project will contribute towards the recovery of federally endangered Great Lakes piping plovers"
Graham is set to complete the project soon and is looking forward to using the knowledge he gained in the EC program as he sets out on his next adventure in bird conservation.
"I love working with wildlife but I have a special place in my heart for birds since nearly every position I've held in the field has involved birds," Graham said. "The Nelson Institute program was a good fit at the right time and I'm really excited about the work I've done. I'm not sure yet what my next job title will be, but I know I want to continue to work with wildlife in some capacity."