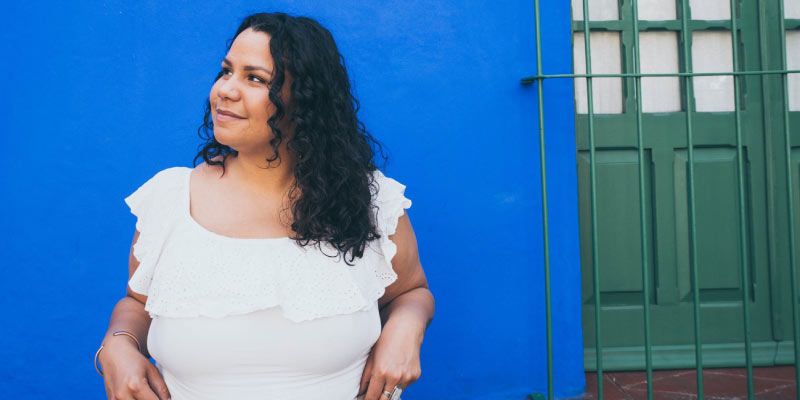 The Nelson Institute strives to be an inclusive community working to identify equitable and socially just environmental solutions. As a Nelson Institute alumna, Board of Visitors member, and the National Director for Public Allies of Milwaukee, Ashley Lee hopes to use her experiences to help the Nelson Institute community expand these efforts by engaging students and young people from diverse backgrounds.
Lee, who is the National Director of Alumni Mobilization and Engagement for Public Allies of Milwaukee, a national movement committed to advancing social justice and equity by engaging and activating the leadership capacities of young people, is looking forward to connecting the Public Allies community with the Nelson community.  
"Coming to the University of Wisconsin-Madison and having the exposure to specifically environmental justice issues, but also environment as a body of study and a potential career, really changed my life and my idea of where I would end up," Lee said. "So, when I assumed my role at Public Allies of Milwaukee, one of the things I wanted to do was connect our young people to the Nelson Institute as a space for them to engage with issues in the environment and environmental justice."
As a Board of Visitors member, Lee plans to identify a variety of opportunities for the two communities to engage, with Earth Day being a key networking event. 
"Every year we attended Earth Day," Lee said of her time at Public Allies of Milwaukee. "And in attending Earth Day, it really opened up my understanding of the depth and breadth of work the Nelson Institute is actively engaged in as well as who was missing from the space still. The content was so good, and rich, and deep, but I wanted to see more young people, I wanted to see more Black and Brown folks from communities like Milwaukee represented and engaging with the content."
To reach a wider audience, Lee has partnered with Emily Reynolds, the Nelson Institute director of community engagement and alumni relations, who is the lead coordinator for the Nelson Institute Earth Day event, to identify new opportunities to engage all students and community members. 
"There's a long-term dream to have a track for Earth Day that engages young people, including Madison high schools and high schools across the state, and other colleges across the states," Lee said. 
She also plans to begin working with Monica White, an associate professor and the Gaylord A. Nelson Distinguished Chair in Integrated Environmental Studies, who is leading the Nelson Institute Office of Environmental Justice and working on a collaborative project with Historically Black Colleges and Universities (HBCUs). 
"I will be helping to get that up and running and I will be making some critical connections with black farmers in the south and schools in the south," Lee said. "That's just a part-time thing, but when I think about creating more inroads to academia and understanding what's happening and taking those learnings and applying them to my work, that's probably the thing I am most excited about for 2022. To have the opportunity to work alongside Dr. White and dive back into Nelson in that way, with someone who really inspired me as an undergraduate student is really exciting."
In addition to these partnerships, Lee also plans to support the Nelson Institute Community Environmental Scholars Program (CESP), a three-semester program designed for students who want to link their passion for the environment with a commitment to the community. Lee is an alumna of the cohort and scholarship-based program, which provided her with the opportunity to become a founding member of the Greenhouse Learning Community located in Leopold Residence Hall, on the University of Wisconsin-Madison campus. This community continues to provide participants with the tools and knowledge needed to be stewards of sustainability. Lee is among CESP alumnus who are supporting efforts to raise awareness and dollars for the program. See the "Support the Community Environmental Scholars Program!" story to learn more. 
"CESP is my home in Nelson, so seeing CESP continue to thrive and really reconnect to the root of bringing in BIPOC (Black, Indigenous, People of Color) who come from different communities is important to me," Lee said.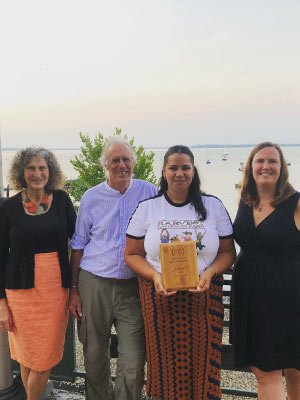 She also shared that she is honored to have the opportunity to engage with all of this work through her role on the Board of Visitors. 
"I felt really beyond honored," Lee said of being asked to join the Board of Visitors. "I felt a responsibility to change the face of the Nelson Institute and who engages with Nelson Institute and has access to content. I would say generally, when we talk about sustainability and stewardship, I would hope when people think of Nelson the face that comes to mind reflects diversity. I hope it reflects Black and Brown folks, people from poor communities and countries who are on the line here. When we talk about climate change we know who will be most impacted by that and in every conversation that we have, I will be asking the questions around what does it look like, who are we talking about, who will be impacted, and as we do this work I want to make sure we are doing so from a frame that is decolonized and honors the sustainability work communities of color have been doing since inception."
Lee continued, "I've always believed that it's really important to take up space in these seats of power where these decisions are made, where we are talking about what we are focusing on, or problem solving around how we reach the people we've been unable to reach, and it seemed like a great place to do that through the Nelson Institute Board of Visitors." 
Learn more about CESP and support the program.