BS in Zoology, Biological Aspects of Conservation, Environmental Studies Certificate (2002). MS in Conservation Biology & Sustainable Development, Educational Psychology (2007). PhD in Educational Psychology, Learning Sciences Area and Environment & Resources (2011).
Nelson Institute alumna, Elizabeth Bagley, is at the forefront of developing sustainability and climate change solutions by connecting the public to the world of complex ecosystems.
Earning her bachelor's, master's and doctorate degrees at University of Wisconsin-Madison, Bagley first became interested in pursuing a career in environmentalism after taking a series of classes her sophomore year including African 210: African Storyteller, a biocore class examining the Eagle Heights prairie, and Professor Cal Dewitt's course focusing on the metabolism of the city.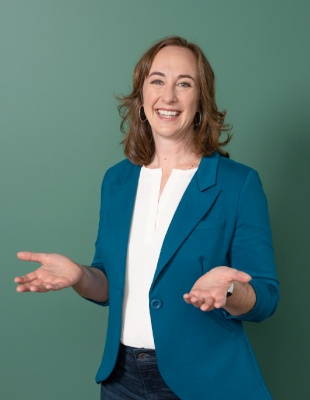 Her passion for the environment only grew when she decided to spend her junior year studying abroad in Kenya where she taught science to seventh-grade students, monitored sea turtle nesting sites, and transplanted coral reefs.
After receiving her undergraduate degree in Zoology and Environmental Studies, Bagley pursued graduate school.
"I returned to the UW for graduate school because I wanted to learn more from Cal DeWitt. I enrolled in the Conservation Biology & Sustainable Development program, and within a year, I added an Educational Psychology degree and ended up sticking around for a doctorate," she said.
After graduating, Bagley began her career teaching middle and high school science. Since then, she's worked for Leapfrog creating science-based content for children, and the California Academy of Sciences, a museum and research institute, where she directed sustainability efforts.
Most recently, Bagley accepted a position as director of Drawdown Learn at Project Drawdown, a nonprofit organization focusing on climate change solutions.
Our mission is to help the world reach "Drawdown"— the point in the future when levels of greenhouse gases in the atmosphere stop climbing and start to steadily decline, thereby stopping catastrophic climate change — as quickly, safely, and equitably as possible," she says.
Bagley's work expands on her extensive background in environmental education.
"I design experiences, initiatives, and tools to connect people with researched, relevant, and relatable information about the most impactful climate change solutions we can take to help people and the planet thrive together," she says.
Bagley emphasizes her method of teaching as making invisible concepts visible and meeting people where they are at.
For example, she explained how she's used weighted cubes to mimic the carbon footprint of a hamburger, weighing four pounds, compared to spinach, weighing close to nothing, to encourage people to make small shifts in their diet to include more plant-based foods.
She's even worked with Google's sustainability team to create Your Plan, Your Planet, an interactive resource encouraging people to learn how to reduce their food, water, and energy waste, ultimately making invisible concepts visible for millions of users.
"So many people have told me they learn something new from this program every time I introduce it. For example, there's little tips and tricks that people can learn so they waste less food," Bagley said.
By using these examples, and making the invisible visible, Bagley helps individuals understand how their personal actions impact the environment. She speaks at corporate events, conferences, and workshops around the country to teach people about sustainable solutions.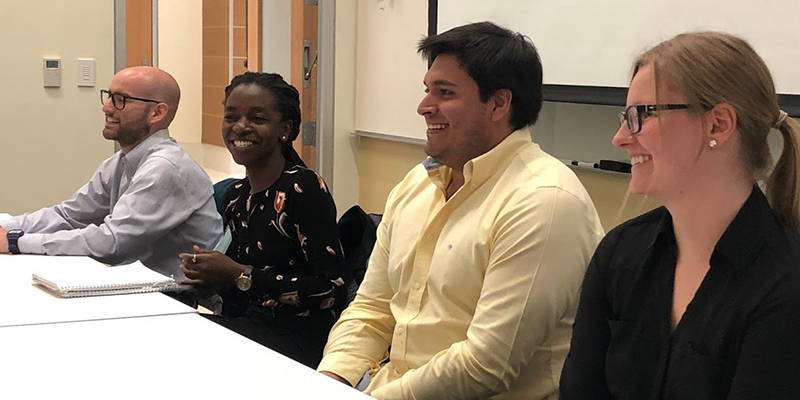 Additionally, she was recruited by LinkedIn to create a video course promoting sustainability efforts in the workplace. The Employee's Guide to Sustainability addresses how companies and their employees can implement approachable sustainability solutions in both work and home settings. She even gives a shoutout to Professor Cal Dewitt for helping her understand complex cities from an environmental standpoint.
"Thousands of people already have watched it," Bagley said. "I've gotten notes from people in Asia, Africa and all over the world thanking me for the content.
Bagley credits the Nelson Institute for setting up her successes.
"I am deeply grateful for the experiences I had during my time at the Nelson Institute. I appreciate the interdisciplinary nature of the program and the out-of-the-box thinking that the students and faculty bring to problem solving," she said.
Bagley also mentioned that she's close friends with many other Nelson alumni, citing them as fabulous change makers.
Most notably, Bagley wants to remind people of the impact that sharing your own experiences can have on others.
"Sustainability isn't always top of mind for people, so the simple act of sharing your experience might inspire them to take the next step on their sustainability journey, increasing your collective impact on the well-being of people and the planet.
She says, "I know this can be overwhelming, but remember that we're all in this together. Every action, big or small, makes a difference. I like to remind myself that we're living during an incredible moment in human history. As the people fortunate enough to live on this planet right now, it's up to us to write the next chapter of life on Earth."
In addition to Bagley, Project Drawdown, has another Nelson Institute connection — Jonathan Foley, executive director. Foley previously served the UW-Madison campus from 1993-2008 during which time he launched the Climate, People, and Environment Program (CPEP), founded the Center for Sustainability and the Global Environment (SAGE), and served as the first Gaylord Nelson Distinguished Professor of Environmental Studies.