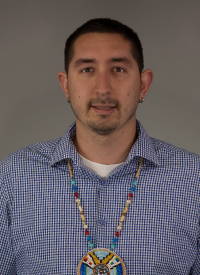 Congratulations to Nelson Institute alumnus Dylan Bizhikiins Jennings, who was recently appointed to the Wisconsin Natural Resources Board by Governor Tony Evers. Jennings, a member of the Ojibwe Marten clan, graduated from UW–Madison with a bachelor's in environmental studies and master's in environmental conservation. He is currently a HEAL Earth Partnership doctoral fellow on campus, and also serves as the associate director of the Sigurd Olson Environmental Institute at Northland College, a private, liberal arts college in Ashland, Wisconsin, that focuses on the environment and sustainability.
Jennings has been appointed to the board alongside Jim VandenBrook, a fellow UW alumnus and executive director of the Wisconsin Land and Water Conservation Association; and Paul Buhr, a veteran dairy farm owner and operator. Started in 1967, the Wisconsin Natural Resources Board sets policy for the Wisconsin Department of Natural Resources on topics like PFAS, wolf population management, and more. Board members, who serve six-year, staggered terms, are appointed by the governor and confirmed by the senate.
"Our Indigenous communities have longstanding environmental knowledge that I believe can help address some of the environmental issues we are encountering today," says Jennings. "I look forward to working with the board and with the Wisconsin Department of Natural Resources. I'm also very proud to come from an extensive network of Nelson Institute staff, faculty, and alumni. I intend to tap into all of these wonderful resources to better understand the issues and to help create policy."
Read more about Jennings from his 2020 Nelson Institute Rising Star Alumni Award.