When Riley Palkert came to the University of Wisconsin–Madison in 2017, she was confident that she wanted to pursue a major in interior architecture. Her mom was an interior designer, and she was attracted to the field's use of both creative and analytical thinking. But throughout her college education, Palkert has also developed a strong passion for sustainability.
After taking an environmental studies course her freshman year, Palkert said she became awakened to the vast importance of sustainability. The course covered a range of sustainability topics, including land use, waste, and industry impacts. It was this course that motivated Palkert to dive deeper into this field, and ultimately, to pursue a sustainability certificate from the Nelson Institute in addition to her interior architecture major.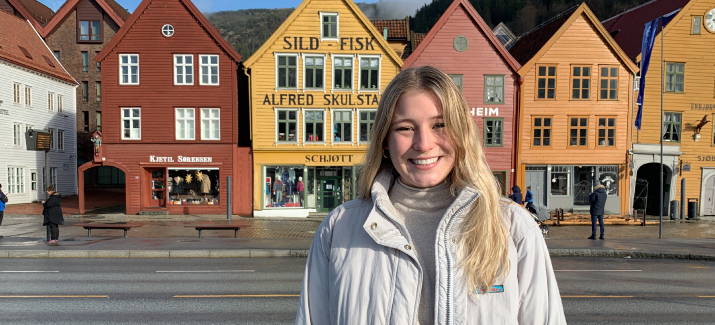 But studying sustainability was not something Palkert anticipated when first arriving at UW–Madison. She said she was only briefly introduced to sustainability topics in high school, and while they interested her, she had no idea sustainability would become such a central focus of her academic career — and potentially, the focus of her professional career as well.
"It was really eye-opening when I came to college and took some of these [sustainability] classes," said Palkert. "I would love to [work in] sustainable architecture… That is the motivation behind my certificate."
Palkert said she decided to pursue a sustainability certificate after learning that architecture and the built environment has the largest environmental impact of any industry. This realization was disturbing for Palkert, so much so that she even considered giving up architecture altogether.
"I was really upset by this and actually considered changing my major," said Palkert. "But I soon realized this also meant that implementing sustainable building strategies would have an equally large impact on lessening environmental degradation and climate change."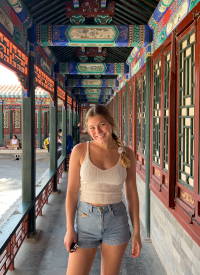 Palkert said her sustainability certificate has given her the opportunity to explore how design can be used to address environmental challenges, such as reducing carbon emissions, but also social challenges, such as reducing housing inequities and building social cohesion. In her own words, "design and architecture can really bring a community together" — something that she had the opportunity to experience firsthand during a three-week study abroad trip to China.
In a small group of only 15 students, about half of which were interior architecture majors, Palkert toured through Shanghai, Taizhou, and Beijing, which she said provided a unique cultural experience.
"It was eye-opening to see how different it was compared to western culture," Palkert said. "I find it so valuable to gain other perspectives and see things differently — how other people might see them. Whether it's literally across the world or right next to you. I think that's important."
Palkert said that wellbeing and spirituality was a central focus of the Chinese culture she experienced. From the food they ate and their pastime activities, to the design of the buildings and layout of the cities, the trip expanded her understanding of community living and prompted her to think more deeply about how architecture could be used to progress social sustainability goals.
But Palkert's cultural exploration didn't stop at China. During her 2020 spring semester, Palkert studied abroad in Copenhagen, Denmark, a city known for its energy-efficient infrastructure and progressive green policies.
Palkert described Copenhagen as a "design hub" for sustainable architecture, with extraordinary buildings and ahead-of-the-curve environmental policy. Some of the most stand-out features included a building with a ski hill on top (just one of the city's many innovative uses of rooftop space), an adaptive reuse project that transformed existing silos into office space, biking culture and infrastructure that was integral to the city, and policy aimed at reducing light pollution.
While Palkert unfortunately had to leave the program early due to the COVID-19 pandemic, she said that the trip had a vast impact on how she viewed the world, especially when paired with her studies in China.
"It was cool to compare [Copenhagen] to China, and both of those to here," said Palkert. "You can see [how they differ] through the culture and also right away through the architecture."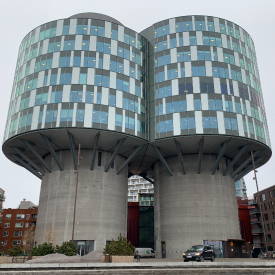 In addition to her studying abroad experiences, Palkert said the classes she took through the Nelson Institute have served as a great introduction to many sustainability topics, which will serve her well in her future plans to pursue a master's degree in architecture and eventually, explore a career in sustainable architecture.
Palkert especially enjoyed Environmental Studies 126: Principles of Environmental Science. The course was instructed by Tim Lindstrom, a recent graduate of the Nelson Institute's Environment & Resources and certificate in Energy Analysis and Policy programs. By examining campus programs related to energy, food, and waste, the course teaches the underlying principles of environmental science. It challenges students to ponder questions about the air they breathe, the energy they consume, the food they eat, the goods they purchase, and the waste they create — all with the goal of helping them care for themselves and all other occupants of the planet.
While many students choose to take Environmental Studies 126 at the beginning of their college careers, Palkert said the course is valuable for all students, regardless of their year or academic background. She was a senior when she took the class in fall 2020, and said the course ended up being "really helpful" by providing her with a broad overview of sustainability topics — something she had not received in her more specified sustainability courses.
Additionally, Palkert said the class was directed by a great teaching team, which consisted of Lindstrom along with two teaching assistants.
"They were super helpful and there for you if you needed them," said Palkert. "I just felt really comfortable asking them questions and asking them for help, which I think is really important."
Palkert will graduate with her bachelor's degree this spring, at which point she plans to take a gap year before applying to graduate schools. She has her eyes set on master's programs in New York and Seattle, both far away from her hometown of Maple Grove, Minnesota.
Until then, Palkert will finish off her final semester in Madison, where she looks forward to spending time on the UW–Madison campus, taking one more set of classes, and completing the volunteering requirement for her sustainability certificate.
In addition to 12 credits of coursework, the Nelson Institute's sustainability certificate program requires that students complete a sustainability-related community service project, giving them the unique opportunity to work in an applied, real-world setting. For Palkert, this will be the final step in completing the certificate program. She has secured a volunteering position with Slow Food UW, a student organization that seeks to provide quality food at an affordable price for all.
Working at Slow Food is an opportunity for Palkert to put what she has learned in the classroom to practice. Her coursework has progressed her understanding of the world's sustainability challenges, and this semester she looks forward to developing the skills to address these challenges in a meaningful way.
To conclude, Palkert reflected upon her education with gratitude and satisfaction. When asked to offer a bit of advice to current and future students, she jumped at the opportunity to recommend the sustainability certificate.
"The sustainability certificate works well with any major," said Palkert. "People are realizing that it's important and a lot of companies are pushing for that… It can be applied to so many different things."