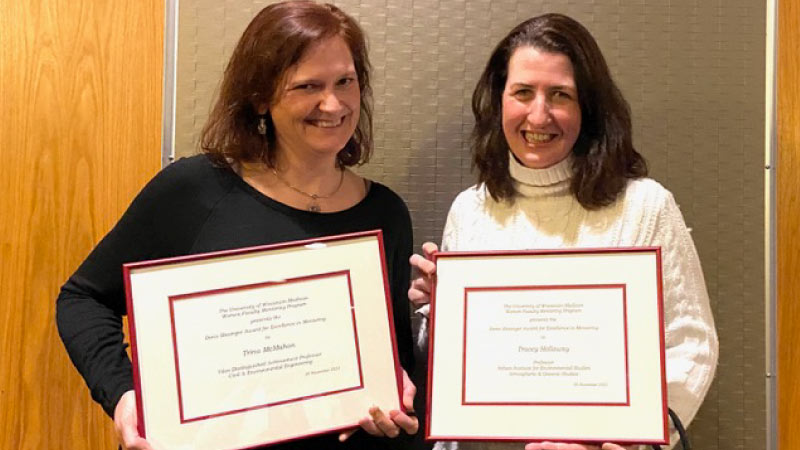 The Slesinger Award for Excellence in Mentoring, which honors those who provide excellent mentoring to women faculty, has been awarded to Nelson Institute professor Tracey Holloway. 
Jointly appointed in the Nelson Institute and the Department of Atmospheric and Oceanic Sciences, Holloway is a leader in energy and air quality research, serving as the Team Leader for the NASA Health and Air Quality Applied Science Team (HAQAST). She is also dedicated to supporting women in science through the Earth Science Women's Network (ESWN) which she helped to found, Science-A-Thon, and Science Moms. Through this work, as well as her campus interactions, Holloway says she is proud to serve as a mentor to fellow scientists. 
"I am so honored to receive the Slesinger Award. It is really hard for me to put the depth of my feelings into words," Holloway said. "My life has been shaped by many supportive and kind people: my parents and grandparents, academic advisors, peers and friends, and numerous colleagues here at UW-Madison. I know first-hand the personal and career benefits of a focused conversation, well-timed advice, or just someone to listen. I prioritize these activities, so that I can be a source of support for others. The Slesinger Award gives me a clear sense that these activities have made a difference."
Holloway, along with Vilas Distinguished Achievement Professor, Trina McMahon, were presented the award during the annual Women Faculty Mentoring Program Reception for Newly Promoted & Tenured Women. Recipients of the award also have the opportunity to direct a $2,500 award to a UW-Madison initiative or program through the Women's Philanthropy Council. 
"I remember when I first joined the faculty at UW-Madison, and I attended the annual reception of the Women's Faculty Mentoring Program," said Holloway. "That year, Professor Molly Carnes was awarded the Slesinger Award, and I remember thinking how wonderful it was that the university celebrates and rewards the mentoring process. Most of us are taught that our success is up to us – sink or swim. But a culture that celebrates mentoring sends a different message, that we're in this together, and no one person can succeed without support."
Holloway shared that mentoring has always been an important part of her life. After starting a peer-mentoring program in high school, Holloway went on to serve as an academic mentor in college and after graduate school she began the Earth Science Women's Network, which was recognized recently with a Presidential award for STEM mentoring from the National Science Foundation.
"I see mentoring as a combination of friendship and problem-solving, in the context of work," Holloway said. "I love working at the University of Wisconsin: The students, the opportunity to pursue research, the impact we can have on the world. It's really a dream come true to be a professor here."