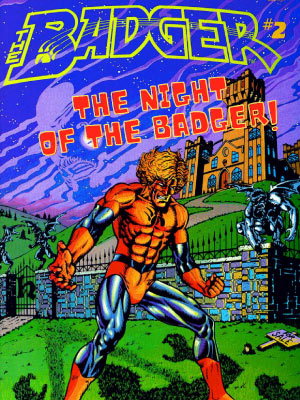 With more than 25 years of experience in the comics industry, Mike Baron '71 has conjured up futuristic worlds, split personalities, phantoms, weather wizards, executioners, psychopathic scum —  and countless characters who could fill Camp Randall Stadium …. or destroy it.
There is a Madison where effigy mounds have supernatural powers, the Kohl Center doubles as a staging ground for a ninja fight, and ghost-like figures really do exist in Science Hall.
This Madison exists in the world of writer Mike Baron '71, who for nearly 25 years has incorporated UW- and Madison-based ideas into his original comic book, The Badger. From the comic's imagery and language (UF-DA!), complete with Point beer and bratwurst references, it's clear the Midwest has always been dear to Baron's heart. Badger is one of numerous works and credits accumulated in his writing arsenal since he broke into comics in 1981, including several novels, scores of original and franchise comics, and two industry Eisner Awards.
Baron remembers the moment he wanted to become a writer. Standing on Main Street in Mitchell, South Dakota, the teenage Baron held in his hands a copy of one of John D. MacDonald's Travis McGee novels. Baron had always loved MacDonald's writing, and on this day, he had a simple, but effective, insight. "I thought, 'This guy must be getting paid to do this,' " says Baron. "MacDonald was writing for a living, and I was buying his stuff. That's what I wanted to do."
He began writing seriously when his family moved back to Madison between his junior and senior years of high school, writing essays and articles for the school newspaper at Madison West High School. "I had literary heroes like John D. MacDonald and Carl Banks, who wrote the Uncle Scrooge comics," says Baron, "but also real-life heroes like Elizabeth Dowling at West High School."
Baron carried his writing into his years at the UW, choosing to study political science. Admitting that his major choice has helped him in his writing, Baron confesses to a desire to have studied the novel more seriously during his UW years. He has enjoyed much success throughout the years writing comic books and has had the opportunity to work with many talented comic artists, but the "lone proprietorship" of the novel has always been appealing.
"I've been struggling with the novel for a long time," he says. "I could have had it licked 20 years ago if I'd have applied myself. But comics got in the way." Soon after graduating in 1971, Baron moved to Boston, where he began to meet people who gave him ideas about life in the comics industry, and, indeed, comics got in the way.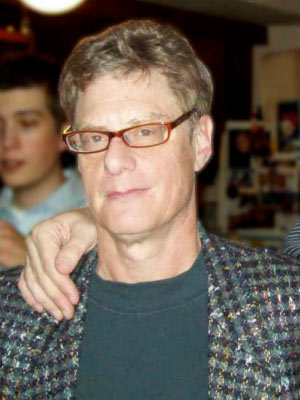 MAKING A SPLASH
Baron first realized an opportunity to write comic books while working for the newspaper Boston After Dark (now the Boston Phoenix) in the 1970s. "I was writing short stories all the time and was trying to write novels," says Baron. "I had always loved comic art, but when I started soliciting cartoons for the Boston Phoenix's editorial page, I started meeting artists."
Soon after, Baron began writing and drawing comics and carried his work with him when he moved back to Madison in 1977. At the time, staff at Madison Newspapers, the publisher of both The Wisconsin State Journal and the Capital Times, was striking, and had started up its own union paper, the Press Connection. The paper's editor, Dave Wagner, called Baron and introduced him to Steve "The Dude" Rude. When Rude and Baron met on the Memorial Union Terrace steps, Rude showed a portfolio of his drawings. "As soon as [Rude] opened his portfolio, I stopped trying to draw," says Baron. "This has happened to thousands of aspiring artists."
Rude and Baron quickly began collaborating on ideas, and eventually pitched one to Milton Griepp and John Davis, owners of Capital City Distribution. It was an eccentric concept, in which a salesman goes door-to-door selling encyclopedias to people who are starving. The idea was not well-received.
"They said to me, 'We want a costumed crime fighter, a superhero,' " says Baron. So Baron did exactly that, eventually working his way with Rude to Nexus, the story of Horatio Hellpop, a costumed executioner who seeks out and kills mass murderers. It was Baron's first big hit in the comics industry, debuting as a three-issue black-and-white miniseries, followed by 80 issues in color.
"Comics are like any other branch of the entertainment industry," says Baron. "You make a splash with an original property and take advantage."
Taking advantage of his new property, Baron wasted little time once Nexus was up and running to pitch another idea about a fifth-century druid weather wizard named Ham, an idea he had been working on with Madison artists Jeffrey Butler. But again, Baron was told by Capital City that they needed a costumed crime fighter.
Baron hatched the idea for his next protagonist on a walk through Madison. "Walking down the streets, all you see is Badger sports and Badger pubs," says Baron. "I just thought to myself, 'This crazy person would obviously call himself the Badger, and he would be a multiple personality.' I had always been fascinated with that." The pitch was accepted, and Baron began work on his newest comic. "Nexus enabled Badger," says Baron, "but Badger is so different. They really have their own audiences."
Badger is the story of Norbert Sykes, a Vietnam veteran and abused child who suffers from multiple personality disorder, a direct result of his life's traumas. Besides Badger, Sykes' other aliases included Pierre, Gastano Grover DePaul, Max Swell, Emily, Leroy, and Alice.
"You see lots of Max," says Baron, "and sometimes Pierre, but Pierre [a mass murderer] is very unwelcome." But, undoubtedly, Badger is the most frequented of Sykes' seven personalities. With opportunity abounding, Baron began incorporating some Madison-based ideas into his storylines.
"I was never at a loss for words," says Baron. "There was lots of local tuff that begged to be included, like effigy mounds and the story of a [Native American] curse turning a guy into a turtle, Paul Bunyan, lots of jokes about cheese." But it was in issue 21 that Baron's most pointedly UW storyline came to life.
THE PHANTOM OF BASCOM HILL
Always haunted by the Sterling Hall bombing — the 1970 tragedy in which a van packed with explosives detonated outside Sterling Hall, killing physics researcher Robert Fassnacht and damaging numerous UW buildings — Baron decided to incorporate the story into issue 21, "The Phantom of Bascom Hill."
"It was about the culture rift that was going on, even right now, actually," Baron says. "This left vs. right mentality, essentially [it was about] a peace protestor gone nuts who goes around beating up conservative professors."
Phantom is the story of Doug, an undergraduate at the University of Wisconsin protesting the Vietnam War. In an attempt to bomb a navy lab on campus, Doug misjudges the timer and is still inside the building when it goes off, killing a student and badly burning himself. Doug eventually takes up residence beneath the campus, coming out to attack professors and students, with much of the story set in Science Hall.
After a fight with Badger, who eventually convinces the phantom to turn himself over to authorities, the two reconcile their differences because, as Baron notes, "in the end we're all Americans, and we're all in this together." Baron's ability to make serious issues funny (and vice versa) and incorporate real-world issues is well-displayed in "Phantom" and several other storylines.
In another, "The Shattered Mirror," Baron delves into Sykes' past in an effort to confront some of the traumas that plunged him into his disorder. "Some issues were very serious," says Baron, "and in 'The Shattered Mirror' I tried to deal seriously with multiple personality." Baron often uses multiple personality disorder for comic effect, and some have criticized him for making light of the disorder. But he notes that many people affected by it have written in to say how much they like the series. "Many of them have said they are astonished to find something that deals with their disorder," says Baron, "and that it's very therapeutic."
Baron's ventures between serious and comic issues can be attributed to a piece of advice from a former professor, which has resonated in his writing since his UW days: "You make them laugh a little, you make them cry a little, you scare the hell out of them, and that's entertainment." With Nexus and Badger off and running, Baron continued his trek through the industry, continuing to develop his original works and eventually gaining the opportunity to write some famous franchise characters.
A SLIPPERY SLOPE
Baron continued his success throughout the 1980s and soon was asked to write several franchise comics — characters and series that are owned by a publishing company but may turn out new issues by multiple writers and artists under the direction of the company. Mike Gold, then-editor at DC Comics and still Baron's editor today, asked him to write 13 issues of The Flash. Baron also went on to write 65 issues of The Punisher for Marvel and a number of Star Wars comics for Dark Horse.
"I'd never thought of writing Flash until Mike Gold asked me to. But once he asked me, I took it very seriously. Punisher I loved. I had known of the character and the answer [to write Punisher] was instantaneously 'Yes.' "
In the mid to late nineties, Baron turned his focus away from his franchise characters and instead toward marketing his own properties and new ideas he had been working on. The result was not what he intended. He nearly worked his way out of business.
"Comic books are highly desired jobs, and if you fall off that slippery slope, there are a hundred qualified guys there to take your place. Now I'm two or three generations of editors behind, meaning they don't know who I am."
The popularity of comic books has grown tremendously over the years, amplified by the recent explosion in comic book-based movies. The opportunity for a writer to get back in the swing of the industry can be difficult. "The trick is to think of some obscure character that they haven't revamped,' says Baron. "Well by now, they've revamped everybody. Just thousands and thousands of characters. It's a dog-eat-dog world in the comics industry."
As comic books and their popularity have evolved and expanded, so to have the media in which they're delivered, and not all comics can be held in your hand anymore. The future of the paper comic has been a source for great debate, but for Baron, there's no question that the paper comic is here to stay.
THE PAPER PACT
The internet has forever changed the future of publishing, and the fat of the paper comic for some is as uncertain as that of the daily newspaper. For Baron, though, the effect of a paper comic book is unmatched by anything that can be put on screen.
"I call it the paper pact," he says, "and it means the suspension of disbelief that occurs when you hold a three-dimensional world in our hands on a two-dimensional page. That's the magic of comic books. People like to be able to hold the page in their hands and see the art and lines and coloring process."
Net (or online) comics indeed are a fast-growing industry, but Baron notes that many Net comics that look like regular comics are being turned into trade paperbacks. "There's also something called the collector's urge," says Baron. "People like to file them and have them on hand. There will always be a printed color comic book because the collectors demand it." Whatever the future of the comic may be, Baron isn't completely shunning any one medium. Badger was recently released with two new stories in paperback, the one-shot "Badger: Bull" and the mini-series "Badger Saves the World," and Baron is currently writing Black Ice, published on comicmix.com. Throughout his up-and-down journey in the business and all the adventures with his scores of characters through the serious, the hilarious, and everything in between, Baron's goal has been simple, but effective: "I just hope it's entertaining."
This story originally appeared in the Summer 2008 edition of Badger Insider magazine.
---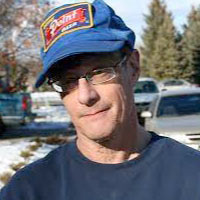 Baron on Baron, 15 Years Later
By Chelsea Rademacher
Badger Insider interviewed Mike Baron back in 2008. Here's what he's been up to since then.
When we left off …
The 2008 story ends with Baron working on a new comic: Black Ice on comicmix.com. How'd that turn out? He can't remember it. "Black Ice? Geez. I'm drawing a blank there," Baron says. "I think Black Ice is out of the picture."
Dream come true?
Did he ever get around to writing a novel? Yes – in fact, he's written 13! His first, Banshees, was published in 2016, followed by three books in the Florida Man series ("Those are just to make you laugh," he says), and nine novels in the Biker series (2019–present). If he went back and told his 2008 self that his dream would happen … "Well, I was cocky and stupid in those days, so I would have said, 'I'm not surprised!' " Baron laughs. "But really, it took me 30 years to learn to write a novel."
Predicting the future … again.
In 2008, Baron predicted paper comics would be around forever. Now … he's not so sure. "The industry is in danger," Baron says. "I think the main reason is the rise of video games. We have a whole generation that never got into the comic habit."
In the next 15 years.
And what's next? He's currently working on the 10th installment of the Biker series, and already has some ideas for number 11. He's also outlined a historical novel about a disgraced Scottish heir who travels to South Africa and makes a fortune in diamonds, then travels to Colorado in 1866. "That's a thumbnail description; there's so much more," Baron says. But no matter how the future shakes out, he's keeping true to his motto, which he learned from UW professor Jerry McNeely: "You make them laugh a little, you make them cry a little, you scare the hell out of them, and that's entertainment."