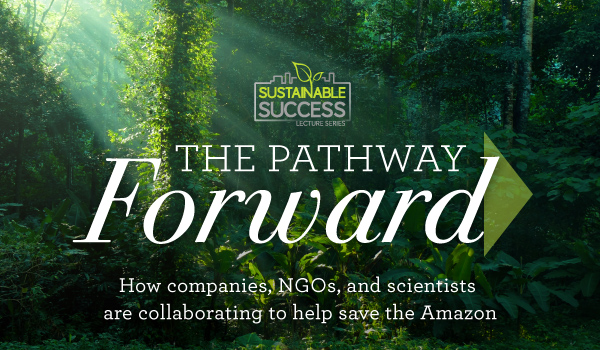 Explore how a new collaboration is helping to address deforestation and its links to meat and leather supply chains during the Sustainable Success Lecture on February 24, 2022, from 5:30-6:30 p.m. CT. Register today to attend the 2022 lecture, "The Pathway Forward: How companies, NGOs, and scientists are collaborating to help save the Amazon", which offers both in-person and virtual options. This lecture will highlight the development of VISIPEC, a free, cloud-based supply chain traceability tool that can help companies achieve the goals of their zero-deforestation and sustainability commitments. 
This event is a part of the Sustainable Success Lecture Series, an annual event hosted by the Nelson Institute for Environmental Studies and the UW School of Business Grainger Center for Supply Chain Management which features speakers from the private and nonprofit sectors who focus on environmental sustainability and its financial and environmental benefits. This particular lecture will feature speakers from the Nelson Institute Gibbs Land Use and Environment Lab (GLUE) as well as partners at the National Wildlife Federation and Minerva Foods.
"Unsustainable expansion of cattle pastures is a major threat to the Amazon, and during this event we will describe how our collaboration has developed innovative tools and science that shed light on how to strengthen forest conservation while also encouraging more sustainable business models," said Holly Gibbs, an event speaker who also leads the Nelson Institute Gibbs Land Use and Environment Lab (GLUE) and is a professor with the Nelson Institute for Environmental Studies and Department of Geography at the University of Wisconsin-Madison.
Gibbs will be joined by Taciano Custodio, the global director of sustainability at Minerva Foods and Simon Hall, the director of the Tropical Forests and Agriculture Program at the National Wildlife Federation.
"Our commitment to the sustainable future of the planet's food supply begins with our 15,000 producing partners, in the farms," said Custodio. "We act together to mitigate climate change and eliminate deforestation from our entire supply chain. Part of these efforts include our pioneering spirit in the adoption of VISIPEC as an indirect supplying farms risk assessment tool, fully integrated with our procurement system in the Brazilian Amazon. 
Custodio continued, "Our partnership for the sustainability of beef production in South America, adopting low carbon emission practices, and eliminating native vegetation loss and biodiversity loss, is a great milestone to be disseminated for all value chain actors, from producers to consumers."
The National Wildlife Federation is also pleased to support these efforts and highlight the ways in which business and science can work together to create change.  
"We are very excited to showcase how we are successfully bridging science and business to help tackle one of the most significant challenges of our time", said Hall. "Deforestation is exacerbating both the climate crisis and the biodiversity crisis. This project has helped us better understand complex cattle supply chains, and has brought forth unparalleled data and insights, new innovative tools and approaches, and meaningful partnerships that are helping to enhance traceability, strengthen deforestation monitoring, and advance more sustainable business practices, which benefit everyone." 
We invite you to learn more and register for the event at https://nelson.wisc.edu/sust-success. For those interested in attending the event in-person, the event will take place in the H.F. DeLuca Forum Room at the Wisconsin Institute for Discovery, 330 N Orchard St., Madison, Wis. We also invite you to join WARF-D2P Entrepreneurons for an event and reception from 4-5 p.m. on February 24, prior to the Sustainable Success event at 5:30 p.m. More details coming soon.