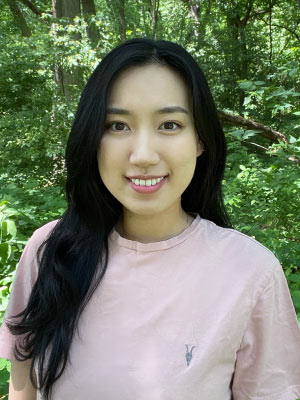 When Nelson Institute Environmental Conservation (EC)  graduate student, Siyeun Kim, was accepted to the program nearly two years ago, she wasn't yet sure where her career would take her. Having received an undergraduate degree in conservation biology and a certificate in both global health and environmental studies from the University of Wisconsin-Madison, Kim knew she wanted to focus on the environment, but she wasn't sure what aspect. Through the courses and the connections made within the EC program, Kim strengthened her knowledge and understanding of the One Health approach, which works to create positive outcomes for people, animals, plants, and their shared environment, a topic that turned out to be incredibly timely given the growing importance of wildlife interaction and pandemic prevention.
"A lot of people go into graduate school knowing exactly what they want, but for me, it was the opposite," Kim said. "When I graduated with a bachelor's degree, I didn't have a clear vision of what I wanted to do. But with the EC program, I got to interact with people from different experiences and expertise. I also took various classes that helped me to gain new perspectives. The combination of those helped me learn the importance of understanding the relationships among humans, animals, and the environment. It motivated me to learn more about the One Health principles and environmental health."
For Kim, the EC program offered the perfect combination of hands-on experiences, networking, and classes. The 15-month Nelson Institute Environmental Conservation Professional Master's program is designed to train conservation leaders in practical interdisciplinary skills and features in-person and online courses as well as a three-month professional leadership experience.
"I really enjoyed the land use policy and planning course because I didn't have a lot of knowledge in policy. It was fascinating to learn about the stakeholders and process involved in land use planning procedures and how it works to incorporate social and environmental effects," said Kim. "Also, the GIS course was informative and practical as I learned to make useful maps and conduct spatial analysis, and the Conservation planning course was also rewarding because I got to learn more about the Conservation Standards and the Miradi software program."
In addition to the courses, Kim participated in the Asiatic Black Bear reintroduction program in South Korea during her first fall with the EC program. Kim worked with the National Institute for Ecology, National Park Service, Center for Endangered Species on the reintroduction project. The Asiatic Black Bears are highly endangered species with a high risk of extinction in South Korea. In response to the dwindling population, the reintroduction project began to establish a self-sustaining wild population of Asiatic black bears, recover and establish suitable habitats, and foster coexistence between humans and bears.
"Even though I'm from South Korea, I was not familiar with the history or the policy regarding the endangered Asiatic Black Bear. Through this experience, I learned a lot about both conservation measures in Korea," Kim said. "It was also practical because I got to apply the skills and knowledge I learned directly from the EC Conservation Planning course. I also learned professionalism and communication skills throughout the project. This project was also valuable and meaningful to me because the project was based in South Korea, which is where I am from!"
In addition to the Asiatic Black Bear project, the EC program provided Kim with several networking opportunities. Through Nelson Institute contacts and the support of EC staff, Kim was able to connect with a variety of professionals and programs, including Nelson Institute professor and the director of the Global Health Institute, Jonathan Patz, who became Kim's academic advisor. Patz is a world-renowned global health expert who, among his many accomplishments, was a lead author for the United Nations Intergovernmental Panel on Climate Change (or IPCC)—the organization that shared the 2007 Nobel Peace Prize.
"A core value of our program is creating connections. We are able to incorporate introductions to local communities, Q&A panels with international practitioners, or world-renowned experts as faculty advisors," said EC program coordinator, Meghan Kautzer. "It's a pleasant surprise what networking connections seem to 'click' for our students, inspiring them on their personal journeys or bringing awareness of opportunities they never knew about. Initial conversations with our students often include the phrase 'you don't know what you don't know!' Students work closely with program staff to discover those very things, to see how they fit in. Siyeun discovered her path after connecting with Dr. Jonathan Patz through the EC program."
Patz helped to introduce Kim to a variety of organizations working on One Health initiatives, including EcoHealth Alliance, a nonprofit dedicated to protecting wildlife and public health from the emergence of disease. Kim became interested in the organization's work and received a prestigious internship with EcoHealth Alliance where she is completing her professional project.
"I've been focusing on learning more about zoonotic diseases, which are especially pertinent today since we are in the middle of a pandemic most likely originating from animals," Kim said. "Right now, my research aim is to estimate and characterize the global consumption for wildlife and understand the relationships between these consumption behaviors and zoonotic disease emergence. We are trying to do a complete literature review by the end of the summer. The EcoHealth Alliance is also providing workshops that are relevant to the One Health approach and conservation. They are going to teach us technical and practical skills in scientific research and communication. I am so grateful Dr. Patz introduced this organization to me. I am excited to be a part of the internship."
Kim shared that it was through this unique combination of experiences that she felt she was able to find her passion for One Health.
"I came into this program wanting to learn more about myself and what my passion is," Kim said. "I now know my interest and passion lies in environmental health. I want to be a One Health practitioner."
Kim also says that she encourages anyone who isn't yet sure what they want to do to explore the Nelson Institute EC program and to reach out to other professionals to gain insight and experience.
"I encourage people who are unsure of what they want to do in the beginning to join and participate in different activities and talk to different people," Kim said. "At EcoHealth Alliance, I talk to lots of different scientists, and I have asked them about their paths which were very helpful. It turns out many people weren't sure what they wanted to do and talking to people helped me to build who I am today."