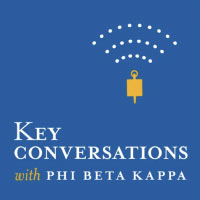 As a 2019-2020 Phi Beta Kappa Scholar, Nelson Institute Dean Paul Robbins has been sharing his research with undergraduate students across America. Through the Phi Beta Kappa Society Visiting Scholars Program, Robbins traveled to colleges and universities to join students and faculty members for classroom discussions and seminars until the COVID-19 pandemic resulted in the transition to virtual visits.
"I was nominated for the Phi Beta Kappa 'tour,' and jumped at the chance," said Robbins. "All through 2019 and early 2020, I had a wonderful opportunity to tour campuses all over the country before the onset of COVID-19, meeting students and faculty."
Robbins said that the experience allowed him to see how different institutions worked, from tiny elite private colleges to big public universities. "We discussed a number of topics, including our recent work in India on biodiversity, as well as current trends in demography; population growth is ending rapidly," said Robbins. "This last topic seemed to capture people's imagination. Apparently, few students know or acknowledge that half the countries of the world are now below the replacement rate and starting to shrink. You could see the light go on over everyone's heads when we had that discussion. A great tour."
At the end of the program, scholars sit down with Fred Lawrence, Secretary/CEO of Phi Beta Kappa, for the Key Conversations podcast where they discuss their research and area of expertise. Robbins spoke about the extent to which the natural environment effects everything within a population. Listen to the podcast on the Phi Beta Kappa's website, radiopublic.com, or any other podcast streaming service.