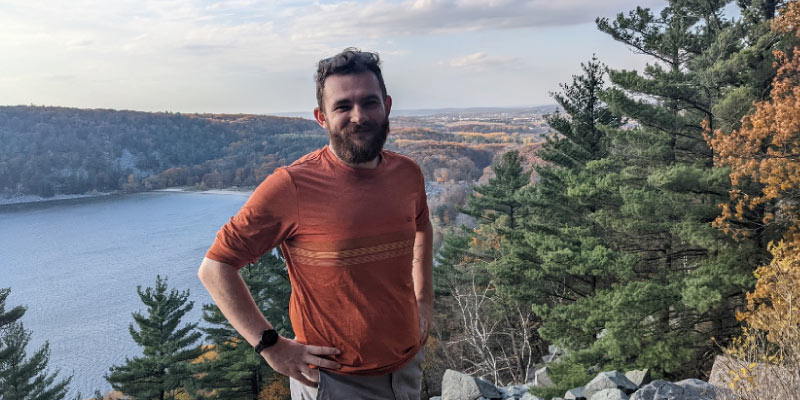 What if we could predict when climate disasters were going to strike, and how they affect the surrounding areas? Thanks to researchers like Evan Meeker, that may be possible! Meeker double-majored in physics and astrophysics at the University of Minnesota Twin Cities, joining Minnesota's Conservation Corps (CC) after graduating. With the CC, he spent a year doing natural resource management — including restoration projects, planting trees, invasive species removal, and disaster relief — before spending another year as an environmental technician with the National Guard. 
Meeker's work with the National Guard introduced him to geographic information system (GIS) technology, and was so enthralled with it that he completed a graduate certificate program in GIS at Antioch University. Then, while interning at Woods Hole Oceanographic Institution, Meeker switched paths to focus on climate science. "I learned a lot more about climate models and working on the physical earth system and fell in love with it," Meeker says. "I knew this was the career I wanted, so I applied to grad schools and now I'm here in Wisconsin." Meeker is now working towards a PhD in atmospheric sciences, and his research overlaps with the Nelson Institute's Center for Climatic Research. Meeker is also a 2023 recipient of the National Defense Science and Engineering Graduate Fellowship through the U.S. Department of Defense, giving him a head-start in his graduate research.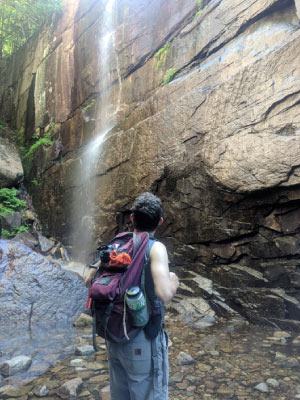 What is your current field of study?
I study large-scale climate dynamics, specifically climate predictability. I'm working on trying to figure out how predictable certain climate events — like the current El Niño — are, and how predictable the climate state will be in its aftermath. I also research climate extremes, such as marine heat waves. 
How did you become interested in this field?
If I had to pick one moment, it would be in 2018 when I went on disaster relief after Hurricane Florence hit the Carolinas. I spent around a month there mucking and gutting flood-damaged houses to prevent the growth of dangerous molds. Seeing first-hand the impacts that extreme climate events had on people made me want to use my background in physics to have a positive impact on society and maybe help mitigate the effects of those events.
Is there anything you've learned about the climate that you wish other people knew?
Climate touches everything and has wide-reaching impacts, but the number of people studying climate science itself is relatively small. To get the full picture, you have to work with people who are experts on a physical ecosystem, or people who have studied economics for their entire career, or people who understand agriculture, to give a few examples. You can't know everything, and you won't be able to get all of the answers from one specific person. It's something that everyone needs to work together on. 
Can you tell me about the fellowship* you were awarded?
The National Defense Science and Engineering Graduate (NDSEG) Fellowship is a three-year fellowship offered through the U.S. Department of Defense (DOD). It covers tuition and provides a stipend to conduct research. Anyone whose research aligns with the interests of any military branch can apply. My specific fellowship is through the Office of Naval Research.
What are your research goals with this fellowship?
My proposal and current research is on a type of model experiment called a pacemaker experiment. I pick one region in a climate model and set it to certain observational values. Then, I look at how surrounding areas evolve in response to adapt to those conditions. Specifically, I'm looking at how certain conditions in the North Pacific (which are pre-set in the climate model) affect the rest of the world. What I'm most interested in learning is whether the climate state in the North Pacific might tell us when an El Niño is about to occur, or how strong the impact of the El Niño will be. This has global implications in the U.S. or South America; the hottest temperatures ever recorded have been in the last few months, which is partially due to the El Niño that's happening now. There are clearly large impacts and being able to predict that ahead of time can help policymakers make decisions on both regional and local levels, such as reducing water usage prior to a drought, or planning to make more cooling centers available ahead of a heatwave. 
Are you working on any other research?
My master's thesis is on marine heatwaves — specifically, an extreme marine heatwave that occurred in the North Pacific from 2013 to 2015. This heat wave was so well-known that it got its own nickname, "the blob," because it was a big blob of warm sea-surface temperatures that stuck around for years. Studying this heatwave is what led to my interest in the North Pacific and the impact that extreme events like this have downstream, and whether it makes other events in the future more predictable.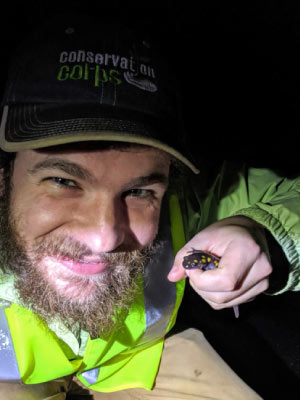 What inspired you to go back to school?
My work in the Conservation Corps and as an Environmental Technician convinced me of how important understanding climate change was, but I hadn't done anything directly related to climate science before my internship at Woods Hole. I didn't have high hopes when I applied to their internship program, but decided to go for it anyway. To my surprise I was accepted, and without that experience I don't think I would have discovered my love for the field, been able to apply to graduate schools, or do the research I'm doing now. It's a bit cliché, but if you never go for the shot in the dark you're never going to get it, and taking that shot really changed my life. 
What's the biggest takeaway from your educational journey?
If you aren't sure you want to go to graduate school, or if you're not sure what you want to do, don't be afraid to take some time to figure that out. The time that I took between my undergrad education and now has helped me learn more about myself and figure out what I wanted to do, and it's allowed me to be more successful. Don't be afraid to take a gap year — in fact, I encourage it. And also, if you aren't a perfect straight-A student, this is still possible. If you show people that you really care, and participate in experiences that demonstrate your work ethic, you can still do this sort of stuff. 
What advice would you give a younger version of yourself?
Do not be afraid to go to office hours, even if you don't have questions — but especially if you do — and start a conversation. The professors are there because they want you to succeed, so make sure you're taking advantage of that resource while you have the opportunity. It wasn't until I found some good mentors that I started to like what I was doing and know what I wanted to do in college. 
Do you have any advice for people studying climate science?
Find your niche. There's a lot of opportunity in climate science right now, because climate touches everything. In addition, a lot of people are interested in studying climate, so there's competition for the opportunities. A good way to make yourself stand out is having something in particular that you care about. It doesn't have to be as specific as "I'm interested in large-scale climate dynamics and climate predictability in the North Pacific," but might be, "I'm interested in how climate change affects dragonflies," and you'll be a lot more interesting than someone who just wants to study climate change in general. You don't have to find your niche right away, especially during your undergraduate education — that's what some of the elective classes are for — and it might not be something you knew you cared about, so be on the lookout! My bonus advice, especially in the climate field, is to stay positive. There's a lot of worry surrounding climate change, and it's a difficult field to stick with if you don't have a positive outlook. We're not going to "solve" climate change in a day, a year, or even a decade, but making a difference in little ways can still be rewarding. So, stay positive, and find your niche. 
Outside of your career, what's one goal you hope to accomplish in the next 10 years?
I'm a huge fan of hiking, and next year I hope to hike the Superior Hiking Trail. It's about 300 miles along the North Shore of Lake Superior. My long-term goal is to someday hike the Appalachian Trail. It's a commitment, but it's something I would love to do. 
*UW-Madison graduate students Rebecca Hall and Hrishikesh Tupkar were also 2023 recipients of the National Defense Science and Engineering Graduate Fellowship.