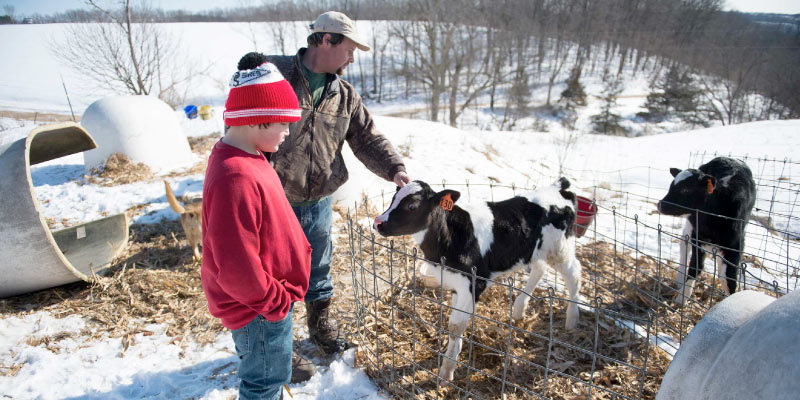 About 80 miles northwest of Science Hall sits 538 acres of farmland. It's Parker Hill Century Farm, owned and operated by the Parker family since 1899. After seeing family members fall ill after working with chemicals, the farm became a certified organic operation in 2007. Parker Hill Century Farm is one of nearly 1,800 members of Organic Valley, an independent cooperative of family farmers. Founded in 1988, Organic Valley has grown into one of the largest organic consumer brands in the world
Headquartered in La Farge, Wisconsin, Organic Valley has a history of partnership with UW–Madison. They've provided financial support to the entities like the UW Organic Collaborative and the Center for Integrated Agricultural Systems, as well as engaged in multidisciplinary research on topics like pasture health and the environmental impacts of organic agriculture. This year, Organic Valley is forging a new partnership with the Nelson Institute for Environmental Studies' environmental observation and informatics (EOI) master's program.
The EOI program is a professionally focused master's program where students focus on coursework and complete an independent project with a professional organization. New cohorts start each June and complete 32 credits over 15 months. In partnership with scientists at Organic Valley, the EOI program is recruiting a student to complete the program with a final project that will help Organic Valley measure their pasture production through satellite data. 
"As farmers, we understand the day-to-day requirements of pasture management. We look forward to working with researchers [who will] put the information that satellite technology can provide into the hands of farmers."
— Greg Brickner, Organic Valley
Perennial pastures offer more than just good food production — they also sequester soil carbon, ensure biodiversity, and protect soil and water quality. "These are the reasons Organic Valley began the project of using newly available satellite imagery to help our farmers make wise decisions in pasture management," says Greg Brickner, a UW alumnus and Organic Valley's grazing specialis
The student paired with this project will interpret and analyze high-resolution satellite imagery, develop and validate statistical models, and communicate results to scientists and farmers. The end goal of the project is to provide reports to farmers that include estimates of forage biomass and quality as measured from satellites.
"The student will get the technical training to do the remote sensing and modeling work — and the application and communication training to provide a valuable product to farmers," says EOI program manager Sarah Graves. "I also love that this opportunity highlights the value of the Nelson network." The partnership grew from a final project in the Nelson Institute's other professional master's program, environmental conservation. Through a casual conversation following an exit seminar, advisor Carl Wepking got in touch with Brickner, who thought the EOI program was the perfect match for Organic Valley's satellite project.
"As farmers, we understand the agronomy and day-to-day requirements of pasture management, but depend upon private and public researchers to move the technical part of our project forward," says Brickner. "We look forward to working with researchers interested in putting the information this technology can provide into the hands of farmers."
This partnership project offers a unique opportunity to learn the fundamentals of environmental remote sensing and relevant programs while also boosting their professional skills by working with a real client.
"Everything you do in the EOI program is something you can use to help land your next career step," says David Kolodziejski, a 2022 graduate of the program. "Every project can be used in your portfolios or LinkedIn profiles. The projects and materials can take you far."
The Organic Valley project will start with the June 2023 EOI cohort. To be considered, interested researchers must apply to the EOI program by April 1. This partnership has created a unique opportunity for an applicant with a background in agriculture, agronomy, agroecology, or a related field, either through their undergraduate degree or work experience; an interest in collaborating with non-academic audiences; as well as familiarity with geospatial data and rotational grazing dairy farms in the U.S. However, students of all backgrounds are encouraged to apply to the EOI program, and admitted students will be matched with a project of their choosing or interest area. While EOI students are not provided funding packages, there is an opportunity to apply for a research grant through Organic Valley.
"A lot of students come into EOI wanting to explore different career paths, and our program provides the support and guidance to do so," says EOI program manager Sarah Graves. "Students who have identified their interests and need that extra bit of training get a lot out of this program. They hit the ground running and can immediately translate what they learn into real application and professional advancement." 
For full details, visit nelson.wisc.edu/eoi-ov. If you have questions about the EOI program or the application process, contact Sarah Graves.