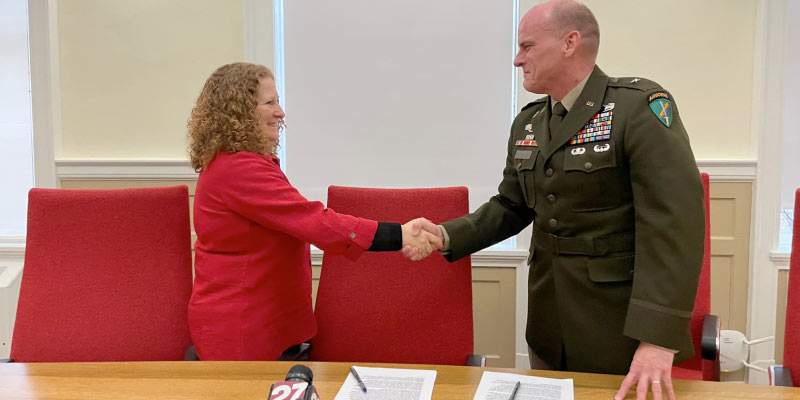 On Wednesday, Dec. 14, Bascom Hall hosted an intriguing trio: leaders from UW–Madison leadership, the Nelson Institute for Environmental Studies, and the United States Department of Defense (DOD). The group convened to sign a memorandum of understanding (MOU) to launch a new partnership between the UW and the DOD. The partnership will take the form of a two-year pilot program focused on the environmental issues that the U.S. Army Civil Affairs and Psychological Operations Command (Airborne) regularly face.
"Environmental factors often lead to conflict, and conflict often leads to environmental degradation," Brigadier General Dean Thompson of the U.S. Army's 353rd Civil Affairs Command said at the signing. With its interdisciplinary leadership and expertise, the Nelson Institute will serve as the campus lead for the partnership. 
"UW–Madison's leadership in environmental studies positions us as an ideal partner for the U.S. Department of Defense," said Chancellor Mnookin. "Our interdisciplinary environmental research and education, combined with our experience partnering with governments, businesses and communities will assist in addressing the complex environmental problems faced by Civil Affairs personnel."
The types of support that Nelson and the UW will provide include training materials, workshops, and conferences; analysis and recommendations for environmental projects; and assisting with the integration of proven management practices and technologies.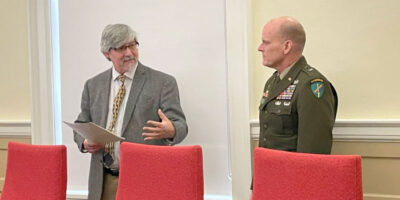 "This partnership fits perfectly within our work to advance a more environmentally, economically and socially sustainable world through innovation and collaboration," said Paul Robbins. In his remarks, Robbins also thanked Lieutenant Colonel Dale Kooyenga, a Wisconsin State Senator who was instrumental in securing funds and connecting the DOD with the Nelson Institute. 
Robbins also noted that UW–Madison has a proud history of supporting military efforts, specifically Civil Affairs officers. "It was here, at UW–Madison, that during World War II, a Civil Affairs Training School – or CATS — was established for the purpose of training officers in the key skills necessary for reconstruction and development," Robbins said. In October 1943, the UW housed 100 officers who took classes in fields deemed critical for Civil Affairs activity. The program lasted until 1944 when the CATS officers deployed to Europe as the war's end drew near. Also during World War II, the UW hosted recruits for the Women Accepted for Volunteer Emergency Service (WAVES) program, training women to serve in the Navy as radio operators.
"As befits our mission, Nelson's job is to catalyze cross-campus work in environment and sustainability that serves the Wisconsin Idea, the communities and people of Wisconsin, but also people and their natural environments across the country and around the world," Robbins concluded. "For all these reasons, we at the Nelson Institute for Environmental Studies are enormously proud to help lead the effort to coordinate training and knowledge support for Civil Affairs military government specialists at UW–Madison."
Read the press release by University Communications.
See a news clip of the signing, including an interview with Robbins.