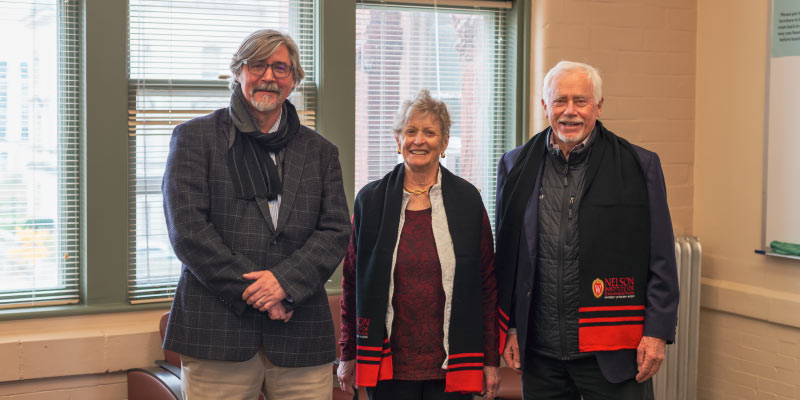 The Nelson Institute for Environmental Studies is pleased to announce the launch of the Global Ark Project Fund, thanks to the generous support of Kathy and Bjorn Borgen. Their $100,000 gift will serve as the seed funding for the Global Ark Project which will seek to reverse the tide of mass species extinction by diversifying the field of environmental studies, providing leadership training, and supporting conservation and restoration science activities.
The Borgen family are longtime supporters of conservation efforts and along with the Nelson Institute, invite those interested to contribute to the Global Ark Project through a matching gift opportunity.
Led by Nelson Institute Dean, Paul Robbins, the Global Ark Project was created in response to the 2019 United Nations report that one million species are nearing immediate extinction. The project will be a multipronged approach to solving this issue and more of today's most pressing environmental challenges.
"I've been involved in the ecojustice movement, but it's human based and humans can speak for themselves. We need to speak for the systems and those that can't speak."

–Kathy Borgen
"Given that a million species are on the brink of extinction and one third of all bird life in North America has vanished since 1970, investments into the future of conservation, preservation, and habitat restoration are critical," Robbins said. "That's why we created the New Ark initiative. Kathy's investment in this effort is critical for the next generation of environmental leadership."
The Global Ark Project will include a full state effort to biobank Wisconsin's genetic diversity, new projects on urban food and environment through the Nelson Institute Office of Environmental Justice, workshops, and collaboration with scientists from around the globe, and the continued recruitment of highly diverse conservation professional students who will be key to solving these challenges.
"The Nelson Institute really has captured my attention because the University of Wisconsin-Madison is an outstanding university with outstanding scholarship and people," said Kathy Borgen. "With that in mind when I'm funding, I look at projects from a position of trust and to the integrity in the people who are conducting the research. I'm willing to trust their judgment of what needs to be done and is critical to the project's outcome. When Paul states a goal, I figure the research is impeccable and the effort expended is efficient and is reachable. He's shared his goals for the Global Ark Project, and I agree with them as they are broad; encompassing the molecular level (Biobank), natural habitat level (Wildlife), and human level (EcoJustice), and they all interact."
Borgen, who has a degree in bacteriology and chemistry from Smith College and a master's degree in Theology from the Iliff School of Theology, is a director of the Borgen Family Foundation and a member of the Betty Ford Alpine Gardens Board of Trustees. Along with her husband, Borgen has supported conservation and environmental education efforts including board service for Walking Mountains Science Center in Avon, Colorado, Rachel's Network, which supports women environmental leaders, and the Colorado Chapter of the Nature Conservancy.
"I've been involved with environmental education for years and this work with the Nelson Institute is an extension of my interest in environmental education," Borgen said. "I grew up in the environmental movement carrying with me the intense grief of seeing the destruction happening to the earth. I never thought climate change would be upon us so quickly and that is frightening and deepens the grief. So, I've shifted my philanthropic priorities and made my overarching goal to work on addressing climate change. I will not fund, and discourage our foundation, from funding, any organization that does not have a well thought out strategy on how to address it. Then, I assess whether the people running the organization are really doing it.  The Nelson Institute goals and mine align, and it makes for a joyful partnership.
One of the key aspects of the Global Ark Project is to invest in student support that will attract and retain talented individuals who live in and around international conservation areas of concern. Borgen, who has been involved in a variety of ecojustice initiatives is pleased to be helping with this goal of building pathways to the UW-Madison for diverse populations. Perhaps just as important for Borgen, however, is the Global Ark Project's biobank which will provide a safety net for Wisconsin's diverse flora and fauna.
"I've been involved in the ecojustice movement, but it's human based and most humans can speak for themselves. We need to speak for the systems and those that can't speak," Borgen said of her interest in the biobank. "I remember Gaylord Nelson and I remember how active he was in the early years of the environmental movement. And I frequently still quote him when I talk to people about the environment. The one thing I think he encapsulated for a lot of people is his statement "The economy is a wholly owned subsidiary of the environment." I use that quote often with people who may be oblivious to what their economic prosperity rests on. It tickles me to see the surprise on their faces, and then their dawning agreement.
Borgen hopes that this gift will further the movement that Nelson started and the work that Borgen and her family have contributed to over the years. She said she is proud to support science and encourages others to give their time, talents, and when possible, financial support to projects like this that further our knowledge while improving the world.
"People in science are doing sacred work," Borgen said. "They are looking to discover how we as humans and the rest of the world interact, and that's beautiful. Every time we find more information, we put that piece into that infinite mosaic that is the universe. One thing that we can do is support that goal and work in areas we feel we have the most to give, not necessarily with money, but just where you can be most helpful.
Those interested in learning more about or donating to the Global Ark Project should contact Dan Fallon, Senior Director of Development, Nelson Institute for Environmental Studies.