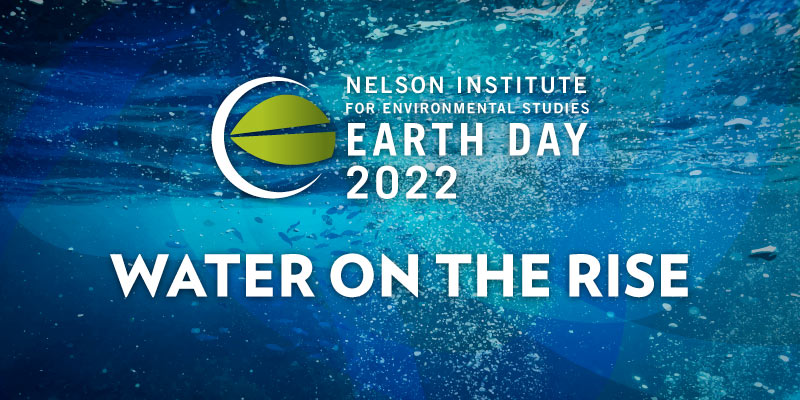 Explore the inextricable link between life and water during the Nelson Institute for Environmental Studies Earth Day learning event, Water on the Rise. This day-long community learning event, featuring both in-person and virtual experiences, will examine how communities across the globe are facing, responding to, and mitigating critical water issues. 
The online portion of the event will launch at 8:30 a.m. CT on April 21 and continue with a mix of virtual, hybrid, and in-person content that will culminate in the hybrid closing plenary "Reimagining our Relationship with Water" at 7 p.m. CT. The closing plenary will feature speakers Kelsey Leonard a water scientist, legal scholar, policy expert, writer, and enrolled citizen of the Shinnecock Nation, and Sandra Postel the director of the Global Water Policy Project and 2021 Stockholm Water Prize Laureate, for a meaningful discussion of these solutions and how they will impact our relationship with water.
"Right now, we have three existential crises happening at the same time – water depletion, biodiversity loss, and climate change. These crises are interconnected. And we don't have time to solve them in a piecemeal fashion. We need holistic solutions that address them simultaneously. The good news is, such solutions exist," shared Postel. 
"It's still important for us to celebrate Earth Day because of the vast and increasing challenges we face in relation to planetary health and well-being, especially due to the existence of our current climate crisis," added Leonard. "So, when we think about Earth Day celebrations at institutions of education and higher learning, it really is about inspiring a new generation of environmental leaders to be global citizens that are conscientious not only of the environmental harm and degradation in their own backyard, but in those far off and distant places that they may not be familiar with. Earth Day is an opportunity for us to break down boundaries to break down imagined borders, and to really engage in a holistic discussion of the planet."
In addition to the closing plenary, the day will feature sessions focusing on water and environmental justice, the relationship between water and electricity, climate change, biodiversity in the Okavango Delta, the impact of the Great Lakes Water Quality Agreement (GLWQA), the Colorado Compact, and more. 
"Water isn't a single challenge, it's a million challenges," said Nelson Institute Dean, Paul Robbins. "That In the arid west, longer droughts are coming; in other regions, flooding is on the rise; and everywhere are the problems of nitrates, lead, PFAS, phosphorus and other water quality issues. That makes this year's Earth Day an especially important one. By gathering scientists, managers, writers, modelers, and citizens together to tackle the diversity of issues facing us, a focus on water will make this forum a crucial one."
This year, Nelson Institute has partnered with Water@UW, a program that brings together water-focused faculty, staff, and students on campus to foster connection and communication among members of the UW-Madison water community. In addition to hosting a session during the Earth Day learning event, leaders from Water@UW will continue the conversation on Friday, April 22, 2022, at the annual Water@UW Symposium.  
"We're so excited to team up with the Nelson Institute this year for these paired events," said Caroline Gottschalk Druschke, an associate professor in the Department of English and co-chair of Water@UW. "This year's partnership allows us to connect with a global audience about a broad suite of water issues on Thursday, and to follow that up with a somewhat more in-depth, campus-focused event on Friday. Taken together, these events will fulfill Water@UW's focus on connecting the water community at UW-Madison and beyond."  
The global community is invited to join the Nelson Institute and Water@UW for these interactive learning opportunities that will explore the human relationship with water and what can be done to ensure equitable access to this life-sustaining resource. 
"I'm very grateful to participate," said Postel. "The first Earth Day helped launch the environmental movement. Today we're facing bigger challenges than we could even imagine a half century ago. We need to catalyze action in a big way again. We all have a role to play in saving the beauty and abundance that remains on this blue planet. My hope is that this Earth Day programming will inspire bold, collective action." Learn more and register.
Learn more about the Nelson Institute's Signature Public Events and how you can support the Earth Day program.