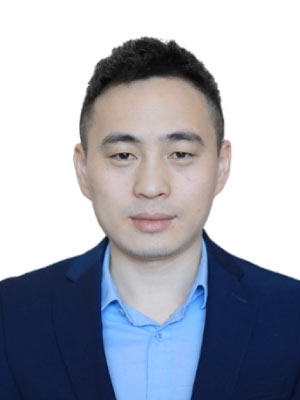 Yanhua Xie, a researcher at the Nelson Institute's Center for Sustainability and Global Environment, has been working to build agriculture irrigation maps at a level that has never been done before. Xie's passion for learning about land use, water use, and irrigation brought him on a journey to the Nelson Institute, where he has been working for nearly five years. 
Xie received his undergraduate degree in geographic information systems and a master's degree in remote sensing. After earning his PhD in urban land use at Indiana State, he pursued opportunities to aid research exploring the effects of urban development on irrigation and cropland use. 
In November of 2017, Xie joined a research team with the Nelson Institute as a postdoc to do work for a grant led by Tyler Lark, a researcher and lead scientist for the Center for Sustainability and Global Environment. Lark's team primarily works on issues surrounding United States agriculture and land use change.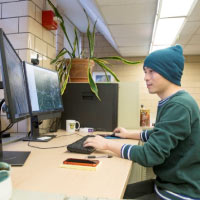 When Xie first joined the team, he was helping Lark on a grant with the National Wildlife Federation that looked at irrigation in the U.S. Today, Xie is a technical lead for the irrigation research on the team, conducting the analysis and mapping for the research. 
"Agriculture water use is a rather large issue," Xie said. "We want to help improve our knowledge of agricultural irrigation and make a difference. Food production, for example, is not possible without irrigation for some areas, so it's important for us to provide data on the specific location and technology of irrigation in these fields."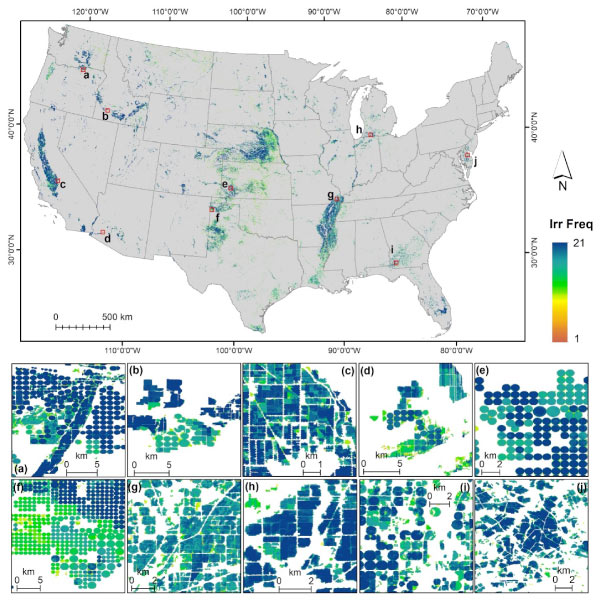 The first step of Xie's research was to understand where irrigation was being used in the United States. Xie generated maps that are the first of their kind and have been downloaded over 4,000 times. From government organizations to agricultural businesses to non-government organizations, the data in Xie's maps can help to inform important decisions regarding water and land use across the board. 
"Never before have we had a full picture of irrigation distribution in the United States," Lark said. "Yanhua's maps are the first field-level high-resolution pictures of where and when we use irrigation. Prior to this it has been a mystery, but now we can see for every acre across the country every year, whether or not it was irrigated." Now, Xie and his team can see how their findings interact with sustainability, how climate change and declining aquifer levels threaten food security, what the implications are for wildlife and other facets of the environment, and where opportunities are to save water. 
"Our previous projects focused on irrigation location over time," Xie said. "However, the actual water use can be very different from field to field depending on many other factors, one of which is irrigation technologies used." Currently, Yanhua's research is developing machine learning methods to identify irrigation system types for each irrigated field across the United States. His research will also look to understand and identify where an irrigation system could be replaced by a more efficient system in terms of water use. The hope would be to move toward improved technologies such as precision or drip irrigation and other approaches that result in greater "crop per drop" and fewer environmental losses.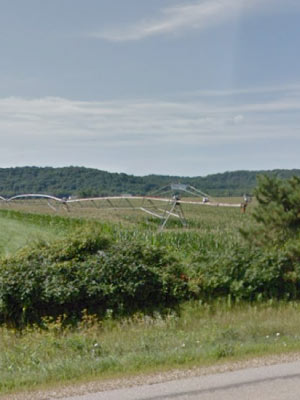 Xie's work on irrigation status across time and the evolution of irrigation technology has helped lead to many great partnerships, such as the United States Geological Survey (USGS) and NASA. Within these partnerships, Xie is developing maps to better understand water use and its applications across the country, from agricultural use to industrial use. 
Both Lark and Xie are excited to be partnering with the USGS because it will have nationwide impacts. The USGS creates a national water census and is using Xie's maps to help identify where irrigation is being used, then pairing that data with other models of crop water use and evapotranspiration, the movement of water from earth into the atmosphere. This will help the USGS to estimate the overall consumption of water by agriculture. 
"These are really great partnerships, and it's wonderful to have the opportunity to have our science go directly into a product that's used by people across the country to help make decisions and inform policy," Lark said.
Xie's research fits into the portfolio of the Lark's research team. His work helps to understand the full picture of irrigation and will help guide decisions about land and water use. Ultimately, his work will help promote agricultural sustainability and improve conservation outcomes across the country.  
"Yanhua's work is a great example of the groundbreaking research we do here at UW that benefit stakeholders across the country."
Learn more about the Nelson Institute for Environmental Studies and how you can support our programs.