Maicen Stuart has always had a passion for the natural world. Growing up in Bountiful, Utah, a small city just north of Salt Lake City, Stuart spent much of his youth hiking and exploring the mountainous terrain. But Stuart's greatest passion for the environment stretches beyond the borders of Earth. Since he was a young boy, he has had a deep curiosity and love for outer space. Now, as a senior at the University of Wisconsin–Madison, Stuart is exploring these passions by pursuing a double major in environmental studies and astrophysics.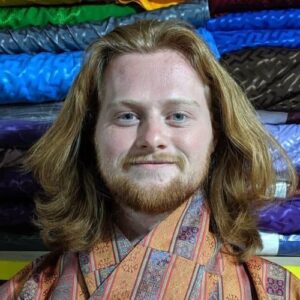 "I'm just in love with the world and everything about it," said Stuart. "I know that these two fields (environmental studies and astrophysics) are on complete opposite sides of the spectrum… But I want to do both, so why not go for it?"
Stuart is aware that most people find his majors to be an odd combination, and he said that many people are curious about how these subjects relate to one another or how he will use them in a future career.
However, Stuart is not overly concerned about figuring out a way to combine these subjects. While he does not know where his path will lead or what his future career will hold, he said that astronomy and environmental studies have more in common than what initially meets the eye.
"Both fields are similar in that they're the study of the natural world," said Stuart. "In one aspect you're looking down at the ground and the other you're looking at the night sky. I think that the study of both gives you great perspectives on each other. The study of stars and space makes you appreciate the world that you live in."
Landing upon environmental studies was not a quick or easy process for Stuart. When first applying to UW–Madison, he was intent on studying in the School of Engineering, with the dream of becoming an aerospace engineer. But Stuart was not initially accepted into the engineering program, and after a challenging first semester, he began to doubt his ability to get in.
Despite these doubts, Stuart pressed on. He worked hard and a couple semesters later he applied again. This time, the School of Engineering gave him the answer he was hoping for.
Yet, Stuart said something didn't feel right. For the first time, he began to seriously doubt his desire to study engineering.
"I spent so many years making sure that I would get into school and that I would get good grades so I could get into the School of Engineering," said Stuart. "But I forgot to think about if that was actually what I wanted to do — if that was how I wanted to contribute my time and my knowledge. And it turns out that it was not."
Stuart declined the School of Engineering's offer and began to think hard about what he actually wanted to study. Stuart said that two considerations guided his decision: First, he considered his passion, mainly being astronomy and physics. Second, he considered how he could positively impact the world. This is how Stuart landed upon the Nelson Institute.
Pursuing an environmental studies major has given Stuart the opportunity to learn about and find solutions to pressing environmental issues. Ultimately, Stuart said this is the kind of education he wants — one that is both personally fulfilling and has the potential to benefit the world.
"I thought about what the world needs, what sort of gaps there are, and what issues the world is going through," said Stuart. "I've always had a soft spot for wildlife, and so with climate change and biodiversity loss, that's something that I've always been interested in."
This propensity for curiosity and exploration has been a common thread in Stuart's academic journey. In the 2020 spring semester, Stuart studied abroad with The School for Field Studies (SFS) in Bhutan, a small country in the Eastern Himalayas that is known for its towering mountains, Buddhist traditions, and rich wildlife diversity.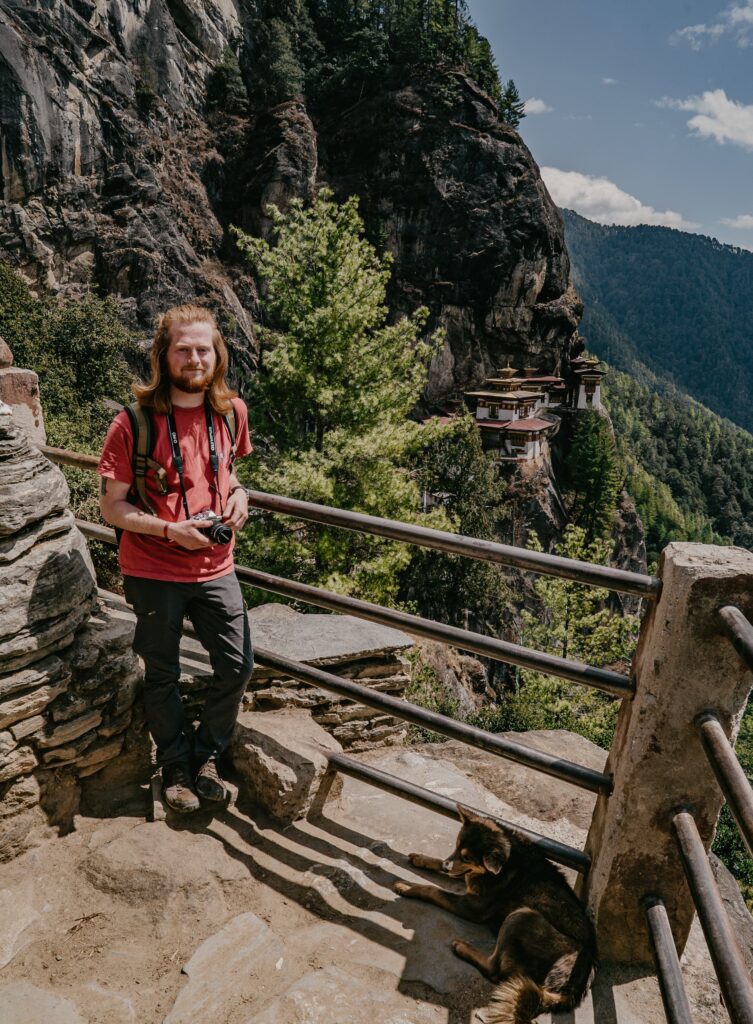 Stuart said he chose to study in Bhutan because he was enticed by SFS's "hands-on" environmental programming, as well the fact that Bhutan is a country far away, hard to get to, and that most people know little about — a "once-in-a-lifetime" kind of opportunity.
"I was really attracted by how unique it was," said Stuart. "The experience I got there was really something that I couldn't get anywhere else."
As one of 24 students in the program, Stuart said he was able to closely connect with Bhutan's professors, researchers, and community members, which transformed the way he sees the world. From religion, language, and politics, to mountain ecology and wildlife, Stuart had the opportunity to explore it all, and through this exposure, he developed a new perspective on the world and what it means to live in a society that prioritizes wellbeing.
"Ultimately, I think I just learned a lot more than I was anticipating in all aspects," said Stuart. "[Bhutanese governments] value their environment, they value their people, they value who you are as a person. It was really, really cool to see."
Stuart took several courses through the Nelson Institute that helped prepare him for the trip. In particular, he said Environmental Studies 306: Indigenous People and the Environment was perhaps his "favorite class ever taken."
The course was taught by Leah Horowitz, assistant professor of environmental studies at the Nelson Institute, and highlighted Native American perspectives and practices related to issues of sustainability and sovereignty. To culminate the course, students were required to write a 10-page paper on an Indigenous group of their choosing. Since Stuart enrolled in the course the semester before studying abroad, this gave him the unique opportunity to focus his paper on various Indigenous peoples of Bhutan.
"It was the most eye-opening course I've taken," said Stuart. "I got to do a bunch of research on Bhutan before I left, and it was an awesome, awesome, awesome course."
Unfortunately, Stuart's studies in Bhutan were cut short due to the COVID-19 pandemic, but he said he "hopes to go back one day." Until then, Stuart has his eyes set on graduating this spring, which will make him the first generation in his family to receive a college degree.
But Stuart dreams big, and for him, the educational journey is just getting started.
"I am 100 percent going to get a PhD," he said with confidence. "Whether that's in the field of astronomy or [environmental studies] I'm not sure yet, but a PhD is definitely in my future."
Stuart said he "loves both of these fields very much," and looks forward to exploring where they may lead. He expressed immense gratitude for his environmental studies education, and for the Nelson Institute faculty and staff who supported him in discovering a new sense of purpose in caring for the environment.
Addressing current and prospective students, Stuart said to "keep your mind open," and not be burdened by the idea that "you have to know what you want to do by the end of your college career."