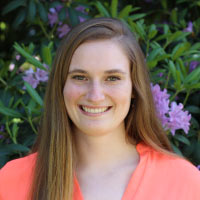 "Linking knowledge to action."
This is the phrase Environmental Observation and Informatics (EOI) graduate Grace Stonecipher says is the embodiment of her time at the Nelson Institute. "The courses really dove into that subject of 'Great, we can do all this science, but if we're not using it to actually make decisions, then what's the point?'"
Originally from Seattle, Stonecipher attended Yale University and earned a bachelor's degree in environmental studies. "That led me to get more interested in conservation and I did a study abroad program in Canada which I guess was abroad but still pretty close to home," Stonecipher laughed. "That [program] was all about conservation and thinking about how land management works and how do you incorporate the human side [with] the wildlife side."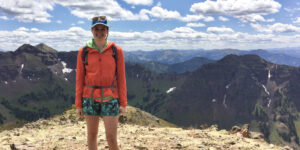 After graduating, Stonecipher worked for the Center for Large Landscape Conservation in Bozeman, Mont. where she combined the application of both policy and science to landscape scale conservation problems.
"That gave me a lot of experience about what conservation looks like 'in the wild' along with some of the difficulties of getting things done on the ground," said Stonecipher. "Then I became really interested in the applications of data to that type of work which led me to Nelson and the EOI program."
While at a conference on conservation biology in Toronto, Stonecipher was able to talk with Sarah Graves, program coordinator for the EOI program. In this role, Graves advises, trains, and engages with students working to become leaders in using observational data to address pressing environmental issues. "After talking to Sarah, I was like, 'wow, this is a cool program that brings in the conservation side of things while also teaching more of the hard skills.' So, it appealed to me more than just getting a graduate degree in geographic information systems (GIS) specifically because it brought in a lot of these conservation ideas that I had been grappling with already," said Stonecipher.
The Nelson Institute's EOI program is a 15-month program that focuses on the disciplines of environmental conservation, remote sensing and GIS, and informatics.
Stonecipher said that her professors made sure her classes stuck to the "linking knowledge to action" philosophy. "I took a class in environmental sensing techniques which exposed us to the way these techniques are being used in the real world. It helped us think about how to apply the hard skills we were learning and do actual science on the ground," said Stonecipher. "We had to pick one tool we wanted to learn more about and create a tutorial using that tool and I found that teaching other people how to use a tool really solidifies it for myself and so I think that was one of my favorite projects."
Taking an interest in map-making and cartography, Stonecipher also contributed to the Nelson Institute's Jordahl Lecture Series. The annual event defines the latest thinking in public lands acquisition, stewardship, and science, with Stonecipher's involvement focusing on creating a map of public lands in Wisconsin. Working alongside creators of the event, Stonecipher said, "We had to think about what type of story we were trying to tell and how to make a map that best speaks to these people who care deeply about public lands."
Another project Stonecipher worked on during her time in the program was with the National Park Servicethrough the Virtual Student Federal Service. This service, created by the U.S. Department of State, pairs students with a virtual internship program that helps cultivate skills sets for government agency work. "I was working with two women based out of Washington State who were in the National Park Service, in the remote sensing unit, and we were looking at landscape disturbances in Pacific Northwest National Parks," said Stonecipher. "That was definitely meaningful for me having grown up in Seattle and getting to apply what I was learning in graduate school to this on-the-ground project at these locations that I grew up hiking in."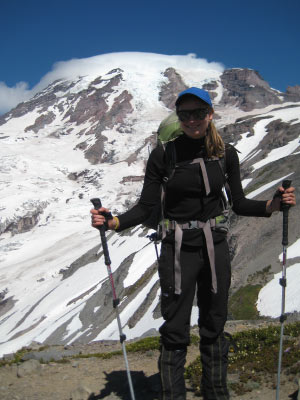 Stonecipher said the internship with the National Parks Service consisted of using remote sensing technologies to identify and label disturbances such as fires, avalanches, or landslides that "would go into a big data set to help park managers track how these disturbances change over time."
During the last three months of the EOI program, Stonecipher partnered with Conservation International in Washington, D.C. for her professional leadership project. There, she helped a team that worked on land degradation. "I helped to develop a restoration tool using Google Earth Engine which was a programing tool we learned a lot about in our classes, and I was really excited to dig into that further and set myself up for the summer to work on my coding skills," said Stonecipher.
After graduating from the EOI program, Stonecipher returned to a position with the Center for Large Landscape Conservation where she is now coordinating a project that looks at the capacity for implementing wildlife-friendly linear infrastructure across Asia. "Working on this project has shown me both how important it is to have good data and also how difficult it is to collect it."
Stonecipher said she appreciated the diversity of thought and backgrounds that the Nelson Institute attracted. "I had been surrounded by people in conservation for so long and suddenly my classmates had an undergraduate degree in informatics or statistics and had maybe less knowledge in conservation so it made a lot of our conversations more interesting because I could bring my background and perspective and they could bring theirs that might be more technical. So, I appreciated our classroom discussions in that sense."
"There was so much interesting work going on at the Nelson Institute and such a deep history that it was cool to be a part of that even for a small amount of time," said Stonecipher.
Learn more about the Environmental Observation and Informatics MS and how you can support the program.