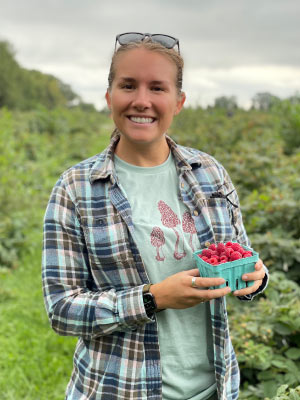 When the leaves start to change color in the fall and begin to bud in the spring, you can find undergraduate student Savannah Lipinski taking in the views along a University of Wisconsin-Madison Arboretum trail. "I go at least once a week through the arboretum just to watch it all change," Lipinski said. "It's one of the coolest things about Madison."
Lipinski came to the UW–Madison from her home state of Colorado — leaving behind the towering mountains for endless bodies of natural water. "I love the lakes and the fact that I can be in a city and go to a big school, but also have places where I can get away and connect with nature," Lipinski said.
Her connection with nature goes beyond how she spends her free time as she majors in geology and Jewish studies with certificates in environmental studies and physics. With four areas of study, it's a wonder Lipinski is able to get outside at all. "It's a lot," Lipinski said. "But there's also a lot of overlap."
For Lipinski, her majors and certificates form an interdisciplinary education experience that combines everything she is passionate about. The geology and physics degrees offer her a deeper understanding of the scientific aspects of the environment — taking away some of that existential dread she feels when learning about climate change — while her Jewish and environmental studies degrees provide a humanistic perspective that she can relate to her values as a Jewish person.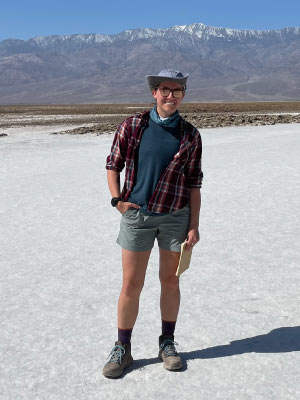 The environmental studies certificate is a 15-credit program that offers a unique opportunity for undergraduate students to learn about society's environmental challenges, study environmental science, policy, and humanities, and take part in environmental research, fieldwork, and case studies.
While taking a class with Professor Morgan Robertson, Lipinski learned how to tackle environmental issues on a small scale, which redefined the way she thought about global environmental issues. "It was eye opening for me to understand that it's okay to focus on a really small issue, because that's the only way to make change," Lipinski said. "The issues really boil down to community-based action."
This mindset drives Lipinski in all that she does. "One of the ways you can make change in the world is through whatever niches you're a part of and identify with," Lipinski said. "And the niche that I've chosen to go into is this Jewish perspective on the environment."
For the past few years, Lipinski has worked as an intern with the UW Hillel Foundation, an organization that supports the local Jewish community. She also conducts geology research with the Wisconsin Geological and Natural History Survey and has been a Dean's Ambassador for the College of Letters and Science, where she joins a group of students who meet monthly with Dean Eric Wilcots and discuss how to make the school a better and more welcoming place for students.
With a full plate of classes and work, Lipinski is also part of the Community Environmental Scholars Program (CESP), an opportunity designed for students who want to link their passion for the environment with their commitment to community. The program partners undergraduate students with community-based environmental organizations where they can obtain hands-on practice while fostering some good in the world.
Lipinski stumbled upon CESP as she was browsing the Wisconsin Scholarship Hub for environmental-related scholarships. With the deadline just around the corner, it was the perfect time to apply for CESP and she went for it — which she's glad she did. CESP helped foster many connections with people who share her passions and taught her new skills like communicating science in a coherent and professional way.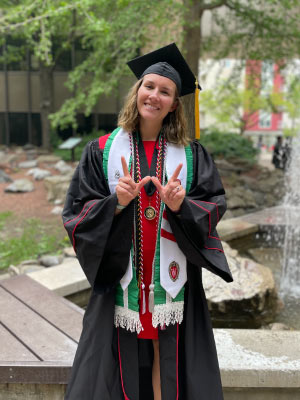 Through her CESP volunteering project, Lipinski worked with Hillel to create a sustainability guide for Hillels across the world as well as implement environmentally focused programming. "Getting to marry those two things that I'm really passionate about to make meaningful change was a really cool experience I got to have," Lipinski said.
As she graduates in May, Lipinski plans to go to rabbinical school where she hopes to eventually work for a Jewish environmental nonprofit. Like her experience with CESP, Lipinski aims to merge her environmental and Jewish interests together in her future career and advocates for other students to do the same with their passions. "I think if you desire to do something, then it's worth putting yourself out there and trying to make it happen," Lipinski said.
Learn more about the environmental studies certificate and how you can support the program.