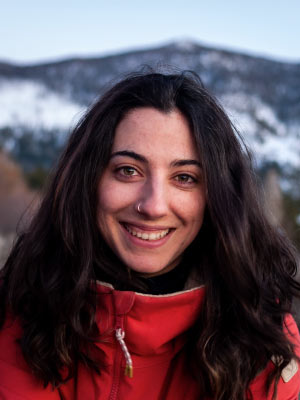 What happens to you when you're stressed? Do your eating habits change? Maybe you exercise less, or maybe you avoid being around your friends and family. The same goes for cattle. This is not news: that stress negatively affects animals. But what is new are the results from a study measuring the effectiveness of low-stress predator deterrent techniques on large-scale cattle ranches.
The finding comes from a recent study coauthored by Naomi Louchouarn, a PhD candidate in the Nelson Institute's environment and resources and researcher in the Carnivore Coexistence Lab; and her advisor, Adrian Treves, the lab's founder. Treves' lab has extensively researched various types of common predator deterrents, including fencing, lights, and flags, but for this study, Louchouarn and Treves investigated an age-old deterrent: range riders. "Cowboys or cowgirls," defines Louchouarn.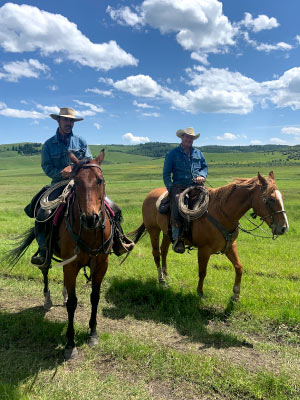 Range riding is a common practice on large ranches, like the one in Alberta, Canada, that the study utilized. "For people who don't really know about ranching, like me when I started out, we kind of assume that there are always cowboys and people out there watching livestock," Louchouarn explains. "But that's not actually true." Because the areas are so expansive, it's common for animals to get released onto public lands in the summer to graze without supervision, then get picked up in the fall. For much of the last century, predators like wolves and bears have been scarce on these landscapes, so the summer drop-off system worked fine. But as predators return, they find unsupervised livestock as an easy meal. Many organizations, including local and federal agencies, are now looking to hire range riders to supervise and protect livestock throughout the summer — under the assumption that range riding works. "Range riding has been in practice forever, because we know that there have been cowboys around forever," she says. "No one had ever studied it with an experiment, and no one had ever taken the time to define it in an experimental way."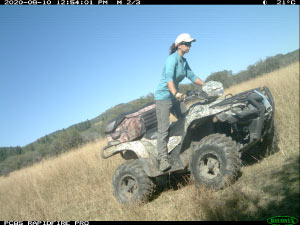 So Louchouarn and Treves did just that. They tested if range riders are effective at deterring predators from attacking livestock, and if so, what they're doing to be effective. "The reason that's useful," says Louchouarn, "is because then we can say whether this kind of range riding works or doesn't to protect livestock." And why that is useful — and what makes this study special — is that it gives scientists the first experimentally backed proof that range riding works, and a framework to conduct further experiments. 
The answer to the first question — is range riding effective — was a resounding yes. "Before our experiment started, there had been lots of predator kills on livestock, at least multiples each year," Louchouarn says. "During our study, there were none." Through trail cameras, the team knew that predators were nearby, yet they weren't coming near the livestock. "That tells us that this method is pretty effective." Though these results were only observational, Louchouarn's study set the stage to help other researchers and organizations conduct more studies.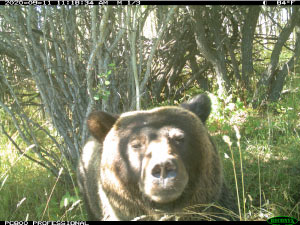 The type of range riding that they studied is called "low stress livestock handling" — in other words, deterrent techniques that cause less stress on the herd. Traditional forms of livestock handling — like being rounded up in a tight group — can cause a significant amount of stress on the herd and actually change the way they interact — which in turn makes them easier prey. For example, if the herd is kept in pens at high density, they start to associate being in a group with stress. "As soon as you release them out into the field," says Louchouarn, "they scatter." Easy prey. Low-stress handling, on the other hand, teaches them to associate herding with being safe.
Then there are tactics like hunting predators which, research suggests, can actually reinforce predatory behavior. "If you kill a wolf pack in your area that's been living there peacefully, instead of training these animals to not kill your livestock, you're making space for new animals to come in who might kill your livestock," Louchouarn says. Plus, if the range rider is focused on chasing down a predator, they leave the livestock exposed to other predators. "We want our riders focusing on handling domestic animals instead of the stealthy wild predators," she adds.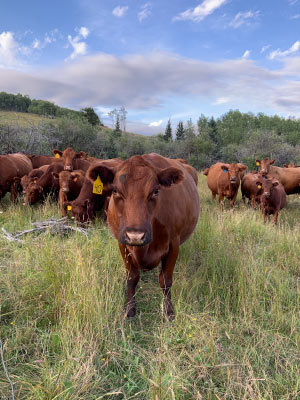 So rather than keeping cattle in fences or hunting and killing predators, this method asks the range riders to keep their focus on the wellness of the herd. Beyond keeping the herd together, why is managing stress so important? "Cows are so sensitive to stress," Louchouarn explains. "When they're stressed, they could get pneumonia or other diseases and die." They also start their lives stressed, getting weaned from their mothers almost immediately. "A lot of calves die. We're talking huge mortality rates, like 20 percent." Although a higher-stress mitigation tactic might get rid of the predator, the stress of those methods is likely to cause cattle deaths anyway.
Now for question number two: what are range riders doing to keep the herd together, happy, and stress-free? It's not chasing and circling like you might see in the hit TV series Yellowstone. "The rancher we worked with, Joe Engelhart" Louchouarn says, "he's not afraid to take his time while he's working his cows. When he'd move the herd, he'd honestly just get a couple cows up and get them moving. And then they would all sense that there was movement, and they would all just go, and then he would just watch them go."
If that sounds pretty idyllic, it gets better. Another rancher, Whit Hibbard, who first taught Engelhart about low-stress livestock handling and has embraced the practice for decades, did some personal experimenting on calf wellness to reduce mortality rates. Louchouarn recounts the story with a smile: "Right after weaning, he started getting his calves up on this hill, then he would chase them loosely down the hill. And when they start to run down the hill, they get excited, and they start to play. And by the time they get to the bottom of the hill, they're bucking and playing." Hibbard saw his calf mortality rates drop from 20 percent to less than 1 percent — just from a healthy dose of playtime.
Although their initial findings are promising, Louchouarn and Treves hope that their study is the impetus for more, similar studies. "The big picture takeaway for me is that we are lacking research in how stress in our animals and the way that we handle our animals affects their ability to survive and thrive when they're free ranging," says Louchouarn. "If one of the first steps to coexisting with predators is happier livestock, then that's a win-win."