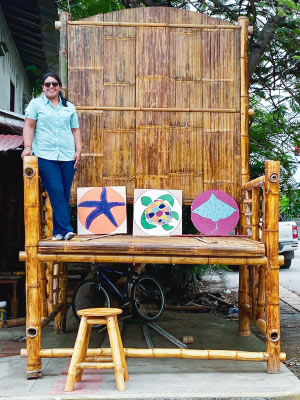 For Nelson Institute alumna Carolina Toapanta, the University of Wisconsin-Madison was not only a place of education, but inspiration. In fact, a trip to the giant, iconic terrace chair at the Memorial Union became the impetus behind the creation of a giant bamboo chair that now serves as a roadside attraction and symbol of hope for an artisan cooperative in Ecuador. Developed thanks to the leadership of Toapanta, who serves as the Executive Director of the Ceiba Foundation for Tropical Conservation in Ecuador, this cooperative, and the chair, are helping artisans impacted by the pandemic to safely sell their products while bringing additional resources to their communities.
A graduate of the Nelson Institute Environmental Conservation MS professional program, Toapanta has long been interested in finding ways to connect people with nature while promoting conservation efforts. Growing up, and later raising a family in Ecuador, Toapanta enjoyed the unique natural wonders around her home. But a few years ago, Toapanta became sick and was forced to sell her business and her home in order to complete the necessary treatment. It was during that time that Toapanta realized she wanted to turn her passion for community-based conservation into a career.
"I had one year that was dedicated to my treatment and during that year I thought of doing a master's program," Toapanta said. "When I found the Nelson program I thought, 'wow, this is what I really like,' because they had an emphasis on people and nature."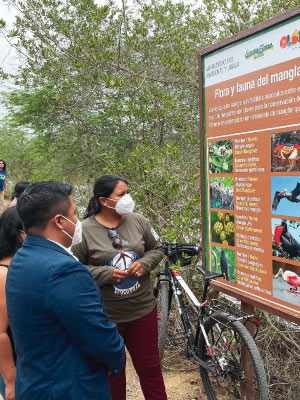 The Nelson Institute's Environmental Conservation (EC) program is a 15-month Master of Science degree program that prepares students to navigate and take a lead on solving environmental challenges. Students attend in-person and online courses as well as completing a three-month professional experience.
With a family at home, Toapanta said she was worried that Madison was too far away from Ecuador, but once she was accepted into the program, she made plans to bring her son and her mother with her since her husband was not able to join her.
"I was studying and being a mom and I was so grateful to be there, I really enjoyed it," Toapanta said of the experience.
Throughout the program, Toapanta made connections with faculty such as professor of geography and Nelson Institute affiliate, Lisa Naughton, who shares Topanata's interest in understanding how people relate to their environment. Toapanta also continued connecting with the Ceiba Foundation for Tropical Conservation, an organization she had worked with as an undergraduate student when she participated in their UW-Madison accredited field course in Ecuador. Ceiba is "dedicated to the conservation of tropical habitats and the promotion of sustainable livelihoods" and conducts most of its work in Ecuador with an emphasis on coastal areas and forests near the Andes. Through community collaboration, Ceiba helps to establish locally operated nature reserves, provide education, sponsor research, and empower local landowners and communities to be sustainable. While Ceiba works in South America, it is a Madison-based conservation non-profit, so it offered the perfect connection between UW-Madison and Toapanta's hometown in Ecuador.
Toapanta felt connected to the foundation, working closely with Ceiba president, Catherine Woodward, who also happens to be a UW-Madison alumna and faculty associate in Botany. After collaborating on Toapanta's master's project, Woodward and the Ceiba organization decided to hire Toapanta as a project manager for the Ceiba Foundation in Ecuador. Toapanta has since risen to Executive Director. In that role, Toapanta oversees conservation projects, volunteer programs, and works to establish partnerships with the government.
"She was hired right after she received her master's and being Ecuadorian and working in Ecuador, it has been so wonderful to see everything she learned as a graduate student in Madison and how it directly translates to her conservation work in Ecuador with Ceiba," Woodward said.
During her time with Ceiba, Toapanta has already been involved in a number of projects, but the chair and artisan cooperative project is one that has been close to her heart. The project was funded in late 2020 thanks to a grant from GIZ, a German international aid organization. The grant helped to fund the rural sustainable livelihoods project that fit well with a coastal corridor project Ceiba had been working on for over a decade. Essentially, the grant allowed Toapanta and Ceiba to support four coastal communities in developing equitable, sustainable ecotourism infrastructure as part of their COVID-19 recovery effort.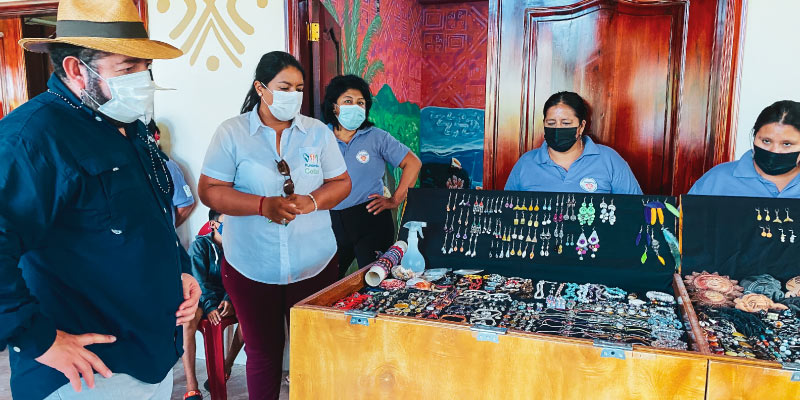 "Much of Ecuador's coast relies economically on tourism," shared Woodward. "The project included building an Artisanal Center where local artisans could sell their handicrafts, building a birdwatching platform in a mangrove forest, training local restauranteurs in safe food handling practices, training whale watching guides, and the list goes on. But one of Carolina's most brilliant ideas that came from her time at UW was for the members of the artisans' cooperative, who work predominantly in bamboo, to build a giant chair! I feel like the chair project is a neat symbol of all Carolina has achieved and the connection with UW-Madison."
The chair became a community project, with Toapanta and her mom joining in to help the locals to decorate the chair. They also collectively decided on a location for the chair that would not only call attention to the local artisan center, but also showcase the natural beauty of Ecuador.
"Behind the chair you can see a protected island with penguins, sea lions, turtles, and the ocean," Toapanta shared. "You can also see an important hotspot where whales give birth."
While the chair became a positive symbol for the community, the education and development work, done by the community and led by Toapanta, is the basis for the success of this project.
"We provided training, materials, equipment, to 144 people," Toapanta said. "We got to know what their main activities are, how they had been affected by the pandemic, and how they rely on tourists. We gave them help to open their businesses with masks. People weren't even aware of how to use a mask before we arrived. We did this work in-person with the Minister of Environment and local guides and ended with 298 beneficiaries."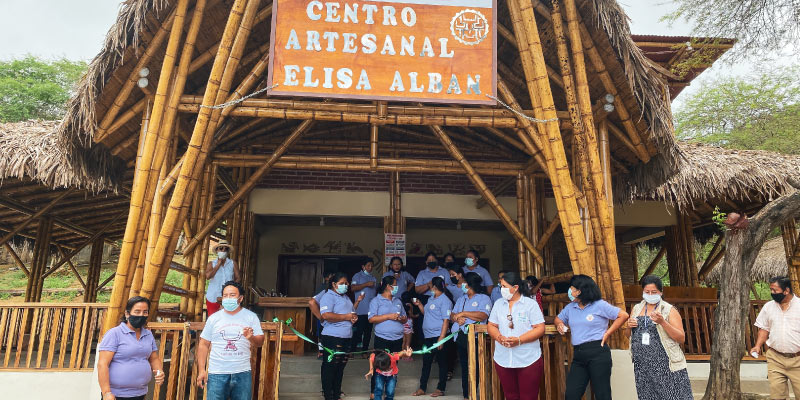 Toapanta is proud to be giving back to her community and putting her graduate degree to use as she leads projects that support community members while encouraging sustainability. She has also made an effort to focus her projects on entrepreneurships related to the environment as she says this helps the community, but in particular women.
"There was a lot of poverty before the pandemic and the pandemic made everything worse. This project really helps people, especially women," Toapanta said. "I want to devote my life to helping people in terms of conservation, sustainable management, and I think the chair represents that."
Learn more about the Environmental Conservation MS and how you can support the program  Learn more about the Ceiba Foundation for Tropical Conservation.