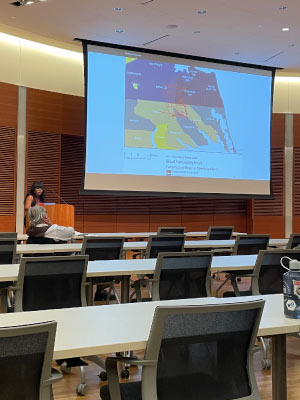 On November 2, the Nelson Institute's Everyone's Earth lecture series hosted Dr. Christy Hyman, assistant professor of human geography at Mississippi State University, where she spoke on the intersections of the social, political, and economic costs of enslaved freedom seekers and their journey to liberation.
Everyone's Earth: Conversations on Race and Environment is a lecture series conducted one or more times a year. The series highlights the intersection of diversity and environmental justice with the goal of raising public awareness around diversity and inclusion issues across the environmental spectrum.
Dean Paul Robbins welcomed attendees, and Gaylord A. Nelson Distinguished Chair Monica White introduced Hyman, whose research focuses on human and landscape resource exploration of African Americans in the antebellum era. Using Geographic Information Systems, Hyman examines the human experience and oppressive systems that threaten sustainable futures.
In her talk, Hyman discussed the ways enslaved people of the Antebellum Era interacted with and observed their landscape to predict a coming storm, an animal predator, or a slave militia. The lecture, entitled The Material Elements of Enslaved People's Mobility — The Way to Freedom, focused on the Black history of the Great Dismal Swamp located in southeastern Virginia and northeastern North Carolina.
If you missed this year's event, you can check out a recording of Hyman's talk. Learn more about Everyone's Earthand how you can support the lecture series.