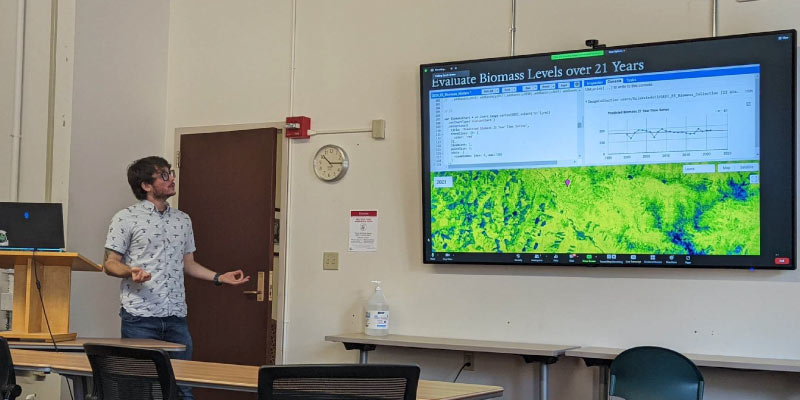 Recent graduate of the environmental observation informatics (EOI) MS program, David Kolodziejski found his niche in geographic information systems (GIS) and remote sensing after a long period of career exploration. His message to those unsure about what they want to pursue in their academics or career? Environmental observations informatics is for everyone, and anyone can do it.
Kolodziejski's high school and undergraduate career was a time of uncertainty. Not knowing what he wanted to study, Kolodziejski enrolled at Oakton Community College where he changed his major five times before finding his passion. After obtaining his associate degree, Kolodziejski enrolled at the University of Wisconsin Whitewater. There, he stumbled upon Environmental Challenges as an elective course, and the wheels started to turn.
"I was introduced to GIS and remote sensing, and it was the first time I ever thought to myself, 'Wow, this is really amazing and cool work, and I feel like I can make a big impact in this field.'"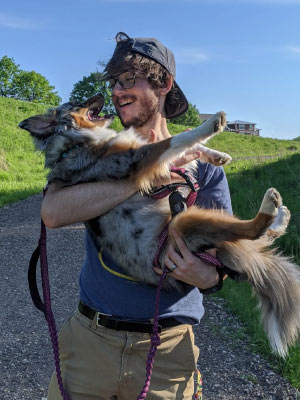 Since he was a kid, Kolodziejski has loved the environment and the outdoors. Despite his love for videogames, he always made a point to get outside for a hike or other outdoor activities. Growing up in a time of climate activism also helped expose him to the field.
"When I was in high school, there was a huge push to act on climate change and learn about how our actions have both direct and indirect consequences on the environment through economics, health, and public safety," he said.
"During that time, I always thought the answers were so simple," Kolodziejski recalled. "I was beside myself when I started learning about how difficult it was to address and find solutions for these issues. Rather than it being black and white, I quickly learned that climate change and environmental issues are a very grey area."
As Kolodziejski progressed in his Environmental Challenges class, he realized that he could use GIS and remote sensing as a tool to persuade others that they need to act on climate issues. He saw an opportunity to create models that show an objective problem to bring people together to fix problems.
After graduating with his bachelor's degree in mathematics, geography, and GIS from UW–Whitewater, Kolodziejski entered the workforce as a geospatial technician at Continental Mapping Consultants (CMC) (now Axim Geospatial). After nearly four years with CMC, he progressed into a role with the Wisconsin Department of Natural Resources (WDNR).
At the WDNR, Kolodziejski worked as a geographic information systems specialist to provide spatial analysis expertise and technical support for forestry, fire ecology, and LANDFIRE research projects, a national program that identifies wildfire behavior and fuel sources across the continental United States.
A year into his position with the WDNR, Kolodziejski was drawn to return to school to further his knowledge of GIS and the environment.
"There were a lot of challenging moments working at the Wisconsin DNR because I lacked that environmental knowledge." Kolodziejski recalled. "I could do all these amazing things with GIS and geospatial data, but I had a hard time communicating that with environmental scientists, forest managers, and ecologists. I realized that I needed to better understand how geospatial data plays into different parts of the environment and ultimately what stakeholders were looking for."
Soon after, Kolodziejski found himself in the EOI program at the Nelson Institute.
"I learned that the EOI program was a great fit for early to mid-career analysts wanting to learn more about geospatial data and how to use it to directly address environmental challenges and help create actionable solutions," Kolodziejski recalled. "To me it was a no brainer to do the program, it was a perfect fit for where I was in my career."
One class he found to be beneficial to his career goals was an advanced remote sensing course, where students used Python and Google Earth Engine to perform remote sensing analysis.
"I learned how to process satellite images, conduct machine learning models, and develop Google Earth Engine applications to use in various ways." Kolodziejski said. "It was a great class. We were given a lot of phenomenal examples of how to utilize Google Earth Engine, Python, and other applications in a way that was interesting and exciting. I look back at all the work I do now and think, 'Wow, I could not have done that a year ago.'"
In Kolodziejski's exit seminar project before completing the program in August of 2022, he worked with the Nature Conservancy to assess the temporal change of biomass across the emerald edge rainforest in the Pacific Northwest. The project used machine learning algorithms to predict biomass over a 20-year period.
"Everything I learned across the board in the EOI program went into those eight weeks working with the Nature Conservancy," Kolodziejski said. "All of the statistics, machine learning modeling, all the geospatial analysis really came into play."
Kolodziejski is still working with the Nature Conservancy, providing geospatial and modeling support. His partnership has been extended multiple times on this effort. What was supposed to be an eight-week project has now been extended through October of 2023.
In December of 2022, Kolodziejski started a position at Redcastle Resources supporting the US Forest Service National Health program through the USDA, working with the forest health assessment and applied science team. His work includes managing geospatial data layers that have an impact on insect and disease mapping implications on how national forests are protected. Kolodziejski works in collaboration with qualitative ecologists and remote sensing experts to aggregate environmental variables that could help advance predictions in other models.
"I feel really good with where I am now five years into my career, and I feel like I wouldn't be where I am now if it weren't for the EOI program," Kolodziejski said.
Learn more about the environmental observation informatics MS and how you can support the program.