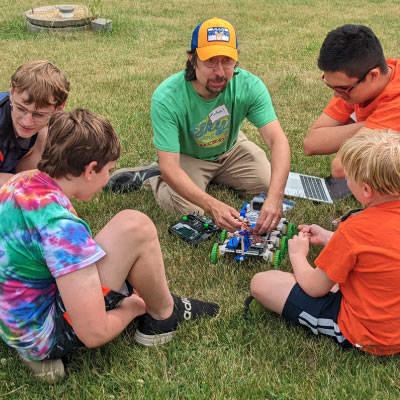 I would like to introduce myself as the new director of the Nelson Institute Center for Climatic Research (CCR). As a background, I received a PhD in atmospheric sciences from the University at Albany in 2002 and have since worked at CCR for 20 years. As a scientist III, I am the first academic staff member to hold the position of CCR director in its six-decade history. 
Over those 20 years, I have worked on a diverse set of research and outreach topics, including: regional climate modeling in the Midwest and Great Lakes Basin in support of dynamically downscaled climate change projections, land-atmosphere interactions including vegetation feedbacks on global monsoons, lake-effect snow, climate change impacts on aquatic and terrestrial ecosystems and wildlife, Middle Eastern dust storms, and K-12 climate education. 
My 20 years at CCR stretched across a third of CCR's history, giving me the honor to get to know and collaborate with all of CCR's prior directors, namely Reid Bryson, John Kutzbach, Zhengyu Liu, Jack Williams, and Dan Vimont. As we finally pull out of this dreadful pandemic and return to in-person center activities, I strive as CCR director to work relentlessly towards the following achievements:
I want CCR to grow, not just in the number of members and grants, but in the diversity of our faculty, staff, student, and administrative body and the breadth of our expertise to best support our state through the Wisconsin Idea.

I want CCR to become increasingly visible and known by the local to international communities as a premier leader in climate research, applications, education, and outreach.

I want CCR to increasingly become a close-knit family in an inviting, welcoming environment that embraces unique perspectives, backgrounds, and cultures. 
CCR is currently developing its five-year strategic plan, making this an optimal time to pave the way for our center's future direction. As the director, I welcome all feedback and insights in the development of this critical document to ensure that we prioritize the most important goals for our center and successfully achieve these goals. I look forward to the upcoming years as I have the honor to direct CCR and shape its growing legacy.
Michael Notaro
Director, Center for Climatic Research
---
Meet Michael Notaro
Climate Educator
As the principal investigator on a National Science Foundation (NSF) GEOPAths grant, Notaro has expanded his work in the area of climate education — particularly in encouraging diversity and supporting underrepresented K–12 and undergraduate students. He's a Wisconsin partner/trainer for NASA's Global Learning and Observations to Benefit the Environment (GLOBE) Program, which teaches students how to be citizen scientists and engage with their local environments. The grant also helped him support a one-of-a-kind internship for students in Beloit, Wisconsin, through the Welty Environment Center. This summer, Notaro also taught a course through UW–Madison's Summer Collegiate Experience program, a six-week, on-campus program for incoming first-generation students from underrepresented groups.
All Are Welcome Here
On campus, you can find Notaro at the corner of Dayton and Orchard Streets, in the Atmospheric, Oceanic and Space Sciences Building. He's currently working with SSEC and AOS to develop a code of conduct — "which hasn't existed before," he notes. The code of conduct will establish building policies aimed at "creating a welcoming environment that's free of harassment and bullying."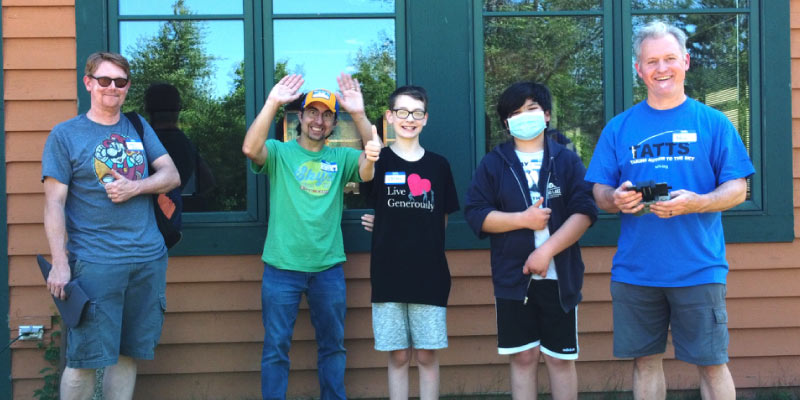 Embracing Neurodiversity
Much of Notaro's work can be traced back to a common theme: demolishing barriers to STEM. Most recently, he established a summer camp to encourage autistic youth to participate in the field. The camp — which is free for autistic youth — was held in Beloit this summer, with plans to expand to UW–Extension's Upham Woods next summer. "I think a lot of people see autism as a disorder or a disease you try to fix. That's not the case," Notaro says. "Neurodiversity is something we want to support." As a population, he explains, autistic students have a higher interest in STEM than neurotypical students. "But the number that actually get STEM degrees or jobs is much lower. There's a barrier there; they're not able to take the next step," Notaro says. "I'm trying to help facilitate that."