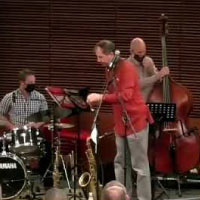 Climate change impacts were the focus of Nelson Institute Center for Climatic Research (CCR) associate director, Michael Notaro's presentation at the 2021 SoundWaves event. SoundWaves is a Wisconsin Institutes for Discovery  series that looks at the relationship between science and music. The theme of SoundWaves 2021 was "The Science and Music of Cities: Specimen New York." In alignment with the theme, Notaro presented "Climate Change in New York City: The Growing Storm," a 15-minute non-technical talk on climate change impacts within the city.
"I discussed projections of extreme heat and heat waves, increased precipitation, more extreme precipitation events and flooding, declining snowfall, sea-level rise and projected shrinking of Manhattan, and increased vulnerability of minority/low-income/elderly/disabled populations," Notaro said. "I ended my presentation with the statement, "The threat is real.  The science is clear.  The time to act is now.  We cannot allow the greatness of New York City to fall to the rising sea and devastation of a warming climate."'
The event, which took place on October 24, was led by University of Wisconsin-Madison School of Music professor Daniel Grabois and included presentations by Notaro, Civil and Environmental Engineering Vilas Distinguished Professor Hussain Bahia, professor of Law, Political Science, Public Affairs and Sociology and director, COWS Joel Rogers, and Robbie Webber of the State Smart Transportation Initiative.