From understanding the viral spillover risk of diseases like coronavirus to research on the health of great apes, Nelson Institute alumna Sarah H. Olson is at the forefront of some of today's most pressing environmental health concerns. A graduate of the Nelson Institute Environment and Resources and the Population Health PhD program, Olson currently works as the associate director of epidemiology for the Wildlife Conservation Society (WCS) Health Program, but her path into One Health was not always clear.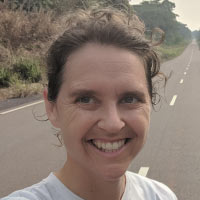 "Before coming to the Nelson Institute I was looking at different programs. I came from an undergraduate program with strong microbiology and I had spent a bit of time in the lab, but I came out unfulfilled and took off a couple of years to be in the Peace Corps in Ghana," Olson said. "I used that time to think about whether I wanted to take an individual medicine route, like going to medical school, or did I want to think along the lines of One Health? I happened to come across some of Jonathan Patz's work and was thrilled to have the opportunity to connect with him. He was with John Hopkins at the time, but told me that he was taking a position in Madison and thought I should apply so I could work with him in Madison."
Olson followed Patz's advice and decided to apply to the Nelson Institute. She said one of the main reasons she decided to come to Madison was the opportunity to work with Patz and the chance to complete a dual degree in environment and resources and population health.
"I just thought this was a unique space to get the best of both worlds and to get two really firm foundations while also getting to chart my own territory," Olson said. "You go down different paths and I didn't know what was going to be the right path, but when everything lined up at the Nelson Institute, it became clear it was the right place at the right time."
During her time at the Nelson Institute, Olson studied the connection between deforestation and malaria, which she said helped her understand different models and different tools and ultimately prepared her for her current job with WCS.
In her role at WCS, Olson supports the organization's mission to move One Health forward and promote the benefits of valuing nature.
"We're really pedal-down on moving One Health forward and trying to accelerate this approach that brings together public health, environment, wildlife trade, and the livestock sectors together and thinking about how we can live together sustainably on the planet," Olson said. "We know there is a connection between land use degradation, wildlife trade, and viral spillover risk right now and that's where much attention has been focused."
In particular, Olson was a co-author on the paper, "Coronavirus testing indicates transmission risk increases along wildlife supply chains for human consumption in Vietnam," which showed the ways that the wildlife trade can help to spread coronaviruses.
"We noticed that in the wild about two percent of rats will have coronavirus, but we tracked the detection at different points in the trade and it increased until the time it reached a restaurant when over 50 percent of rodents were positive for a coronavirus," Olson said. "It shows that bringing diverse populations into confined spaces where they spread feces and urine does what you would expect it to do. You're going to see a lot of viral transmission and we can use that information to inform policy."
In addition to this work, Olson also studies hammerhead bat health and spillover risks as well as great ape health.
"In general, WCS is doing a lot of exciting work in terms of helping countries understand their risk and how to mitigate it," Olson said. "We work in 60 countries and this provides opportunities to engage and build proposals with local communities. We are also working to understand how Indigenous People can be empowered to help with sustainable development."
With so many timely topics being studied by Olson and WCS, Nelson Institute affiliate and a professor in the Geography Department, Lisa Naughton and associate scientist and director of the Nelson Institute Center for Sustainability and the Global Environment (SAGE), Carol Barford reached out to Olson to invite her to be a part of the Weston Roundtable Series.
"Sarah Olson was at the top of our wish list for guest speakers in 2020 given her extensive field research on wildlife-transmitted diseases," said Naughton. "She's not only a cutting edge scientist, she's a skilled science communicator, as evidenced in work with students in my classes who were full of questions about the implications of COVID for wildlife conservation in the tropics."
Barford added, "Sarah's research spans the thorny human, animal and ecological dimensions of zoonoses, with empathy and commitment. In her Weston lecture we saw brief video of Sarah in the field taking a blood sample from a bat, which appeared to be breathing calmly. It was a powerful suggestion of the positive connections in Sarah's work that may combat the harms of habitat destruction."
For Olson, her presentation on November 19, 2020  "Taking Action to Protect the Health of All: Science and Conservation at Zoonotic Spillover Interfaces," was a full-circle moment that made her proud of her Nelson connection.
"It was a bit surreal to be a Weston lecturer," Olson said. "I remember my first Weston lecture at Madison and how impressed I was with the caliber of speakers and now this was my chance to be a speaker. It was a pleasure to be back."
Learn how you can support the Environment and Resources program.