In celebration of the Nelson Institute's 50th anniversary, the Lawry Land Ethic Wisconsin Distinguished Graduate Fellowship has been renamed Aldo Leopold Land Ethic Wisconsin Distinguished Graduate Fellowship. Established by alumnus Steven Lawry in 1999, the inaugural recipient of the award was Nelson Institute alumna Leela Hazzah, PhD '11 Land Resources, founder of the internationally acclaimed Lion Guardians.
Lawry is pleased that the award will honor Leopold, whose work has had a significant influence on his own thinking and career. An alumnus of the Nelson Institute doctoral program in Land Resources (now known as Environment and Resources), Lawry first studied Aldo Leopold's work while attending University of Wisconsin-Madison.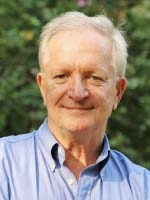 He began his studies in 1980 after working in Botswana from 1975 to 1979, first as a Peace Corps volunteer and then for the Swedish International Development Authority, helping to improve land use and land use governance practices in Botswana's Kalahari Desert region.
"It was during my time in Botswana that I became motivated and inspired to study land tenure and land reform," he said.
"I applied to study at the Nelson Institute because I was drawn to its interdisciplinary approach. I knew from my experience in Botswana that difficult issues of poverty and environment can't be addressed without understanding how social, economic and governance arrangements interact in different ecological contexts. In Botswana, as in much of Africa, control over pasturelands and forests had been vested in state authorities. Local communities lost the ability to work out solutions to complex problems on their own. Without the benefit of local knowledge and the right of communities to actively govern land use environmental and social outcomes were not good."
As a graduate student, Lawry held a research assistantship at the Nelson Institute's Land Tenure Center (LTC). After securing his doctorate, Lawry was appointed senior scientist at the LTC, and developed a research program on the relationships between tenure arrangements and natural resource management outcomes, with a focus on Sub-Saharan Africa countries. He became LTC Associate Director in charge of Africa research in 1990. In 1992, he left the university to join the Ford Foundation as program officer for Rural Poverty and Resources in South Africa and Namibia. He went on to head the Foundation's Middle East regional office in Cairo. He subsequently held positions at the Foundation's New York headquarters, was president of Antioch College, served as a senior fellow at the Harvard Kennedy School, and recently retired from the Center for International Forest Research, where he served as Director of Forests & Governance Research.
The Ford Foundation's initiative for matching staff charitable donations enabled Lawry to fund a Wisconsin Distinguished Graduate Fellowship award in 1999. The fellowship supports students whose research integrates elements of ecology, ethics, and culture to better understand stewardship of the environment. Lawry felt that the scholarship would help recruit top graduate students to the Nelson Institute, and especially students who wanted to build a 21st century legacy for Aldo Leopold's ideas on environmental stewardship. To date, recipients of the fellowship include: Leela Hazzah (2007-08), Gina Collignon (2011-12), and Gail Rosen (2013-14). Another fellowship will be awarded in spring 2020.