According to the Wisconsin Department of Agriculture and Consumer Protection (DATCP), Wisconsin is home to 64,793 farms on 14.3 million acres. Of those acres, it's estimated that about six percent are utilizing conservation agriculture methods such as cover cropping. Although this number is continuing to grow, it remains hard to measure and even harder to know exactly why some farmers are choosing to utilize these methods, while others are not. To gain a greater understanding of these challenges, Nelson Institute Environmental Observation and Informatics (EOI) alumna Alana Herro partnered with UW-Madison researchers and organizations throughout the state to test a new method for tracking conservation farming that links space observations with ground surveys.
The project was a part of Herro's graduate work with the Environmental Observation and Informatics (EOI) professional Master of Science degree, which integrates Earth observation technologies and big data analytics in one unique, 15-month platform that helps students to gain technical expertise and leadership skills. Herro joined the program in 2018 after a ten-year career in environmental public relations.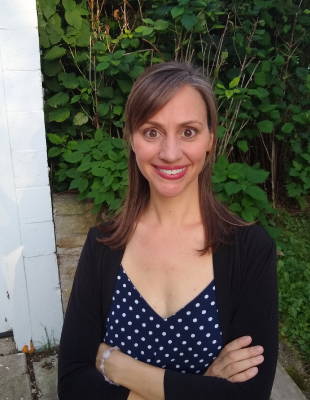 "I was looking to build my technological skills and become closer to the decision-making processes in the organizations I work for," Herro said of her decision to attend graduate school. "As I was thinking about which school to attend, I came upon a TEDxUWMadison talk by [Gaylord Nelson Distinguished] Professor Tracey Holloway, called Creating More On-Ramps for Science. In the talk she mentions that the field of science will benefit from getting more people of varied backgrounds involved. That was really the final push I needed to make this big change. As I continued my grad school search, I attended a webinar the EOI program was offering that Sarah Graves [the EOI Program Coordinator] was hosting. Right away, she gave complete care and attention to my questions and concerns. EOI faculty and staff even helped me to apply for a scholarship. Ultimately, the decision to enroll in EOI was a combination of factors: the technological learning offered, the helpful staff and faculty, and the welcoming, supportive attitude of everyone involved."
As a part of the EOI curriculum, the program connects each student with an organization that allows them to integrate their technical skills with a real-time, on-the ground project. In this case, the project involved connecting Herro with Forest & Wildlife Ecology and Nelson Institute Associate Professor Mutlu Ozdogan, Nelson Institute and Soil Science Professor Steve Ventura, departments across campus, and organizations throughout Wisconsin that could offer insight into conservation agriculture and satellite imaging. Such organizations included the NASA Wisconsin Space Grant Consortium, which helped to support Herro's work through  the Dr. Laurel Salton Clark Memorial Graduate & Professional Research Fellowship Award and the American Society of Photogrammetry and Remote Sensing (ASPRS), who supported Herro through the Ta Liang Award.
With the support of these awards and programs across Wisconsin, Herro was able to study conservation agriculture utilization, specifically as it relates to cover crops and no-till methods.
"Cover cropping and no-till or minimum tillage are conservation farming techniques that have numerous benefits for the environment but are not always adopted by farmers because of risks of reduced yield and/or reduced profits," shared Herro. "Precise and accurate methods of tracking conservation farming would improve the ability of researchers to maximize benefits and minimize risks."
With this in mind, Herro connected with Professor Ozdogan and UW-Madison graduate student Ryan Geygan who had developed an algorithm that tracks cover crop usage via satellite. Essentially, data from satellites is processed using the algorithm and a map is developed showing where cover crops are being utilized in Wisconsin. While the algorithm could be a game changer, Ozdogan and his team needed to test the accuracy of the algorithm. To meet this need, Herro developed a survey that asked farmers around Wisconsin to share their experiences with conservation farming practices as well as the locations of their farms that are utilizing cover crops. Herro then worked with Ozdogan to compare the results of this survey to the map of Wisconsin she developed using the algorithm. The accuracy of the algorithm was found to be 51 percent, and Herro says that the survey yielded a number of helpful results.
According to Herro, the big takeaways from the survey include:
95 percent of cover crop users said that cover crops either improved or had no impact on their profits
90 percent said cover crops either improved or had no impact on yield
 95 percent of no-till/minimum till respondents said that the technique either improved or had no impact on yield
While Herro says that the algorithm is still being perfected, the results of this study have allowed Professor Ventura and his colleague Soil Science Professor Matthew Ruark to gain a greater understanding of the feelings around cover crops, thereby allowing them to educate farmers about conservation agriculture in a way that speaks to the farmers' needs.
"This project was a great way to focus my GIS [Geographic Information Systems] skills and everything I learned in the EOI program," Herro said. "To have a project that had a cohesive theme that tied it all together was really helpful for me. I am hoping my career will lead me towards tackling these issues related to conservation farming and water quality."