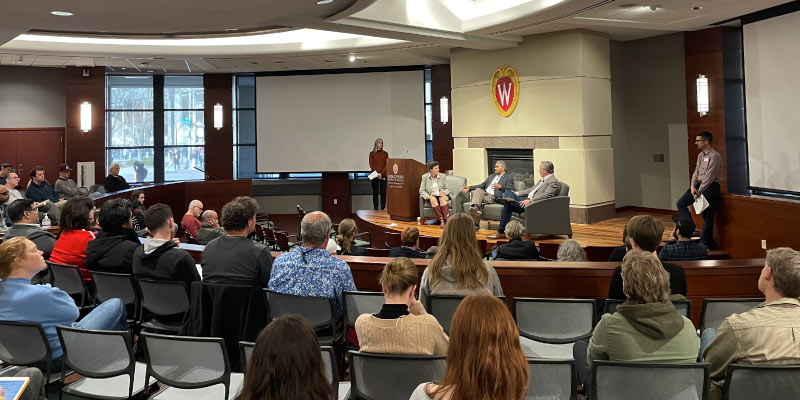 Reports suggest that switching from fossil fuels to batteries and electrification in the U.S. transportation, industrial, and commercial and residential sectors can reduce greenhouse gas emissions by 70 percent in just a few decades … but everything has its costs. On Thursday, March 23, three national experts came to the UW campus to discuss Batteries and Electrification: Is It Sustainable for the 2023 Sustainable Success Lecture Series. 
Batteries. "They are an energizing topic," said panelist Mathy Vathanaraj Stanislaus, followed by laughs from the crowd. This year's event, cohosted by UW–Madison's Nelson Institute for Environmental Studies and the Wisconsin School of Business' Grainger Center for Supply Chain Management, featured Eric Dresselhuys, a UW–Madison alumnus and CEO of ESS Tech, Inc., a company working to accelerate global decarbonization; Stanislaus, executive director and vice provost of Drexel University's Environmental Collaboratory institute and board member/advisor of the Global Battery Alliance and Responsible Battery Coalition; and Emily Pickrell, independent energy journalist and scholar and NGO journalist at the MacArthur Foundation. 
More than 100 members of the campus community joined the panel of experts for a moderated discussion and Q & A to discuss how electrification affects everything from climate change to national security. Miss the event? Watch a recording of the discussion.