Binks: MS in Water Resources Management (1991)
Judy: undergrad certificate in Environmental Studies (1989) and MS in Land Resources (1996)
For alumni Binks and Judy Colby-George, the Nelson Institute is where it all began. From their chance meeting during graduate school that resulted in love and marriage, to an academic journey that led to 25-plus years as successful private-sector environmental leaders, Binks and Judy are thankful for their Nelson Institute experience.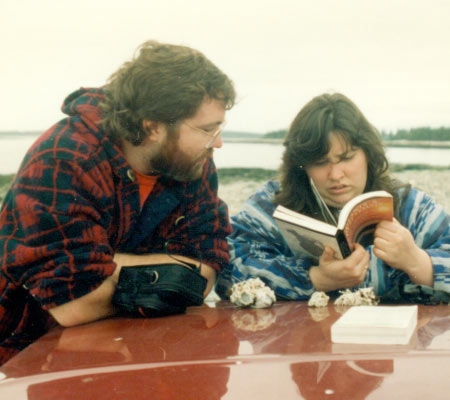 For Judy, her Nelson Institute experience began as an undergraduate student at the University of Wisconsin–Madison. While working toward a degree in geography, Judy learned about the Nelson Institute certificate in Environmental Studies. She was intrigued by the interdisciplinary nature of the program and decided to pursue the certificate before graduating with her bachelor's degree in 1989. The program was exactly what Judy was looking for, so she decided to apply to the Nelson Institute master's in Land Resources (now Environment and Resources) program. 
The Environment and Resources (ER) program offers opportunities for interdisciplinary graduate education and research, allowing each student to design a course of study that encourages self-direction and individual creativity.
"That's what drew me to it," Judy said. "At the end of my senior year, it never occurred to me that I should apply anywhere else for grad school."
Binks had a slightly different journey, having attended Carleton College in Northfield, Minnesota for his undergraduate degree in geology. Following graduation, Binks spent a year traveling the world. During this time, he experienced a range of cultures and environments, but in every location, he was reminded of the importance of water. 
"It's a finite resource, and you really need to manage it," Binks said. "And so, I decided that was what I wanted to go into. And, having grown up in Madison, I had done my time away and wanted to be home with my family. So, I applied to the Water Resources Management program and got in."
The Water Resources Management (WRM) program prepares students to understand community water challenges and interact with stakeholders. The program includes a practicum where graduate students take on a water resources management issue facing a local community. 
As newly admitted graduate students at the Nelson Institute, both Binks and Judy had the opportunity to attend a special welcome session that included a bus tour of Wisconsin. The trip was life changing. 
"They took everybody on a trip around Wisconsin to learn about important Wisconsin environmental issues and that's where we met," said Binks. "We met the first week of grad school."
That chance meeting blossomed into a friendship and eventually a marriage, but the couple also became close with other Nelson Institute graduate students. 
"We were super close," Judy said of the cohort. "We would meet at the Union, watch movies together, we took classes together and everything. So that was a nice core group."
Judy and Binks also connected with several of their professors, who helped them to hone their skills and identify a career path. 
Nelson Institute emeritus professors Cal DeWitt and Steve Ventura, were both close mentors for Judy who focused much of her work on Geographic Information Systems (GIS).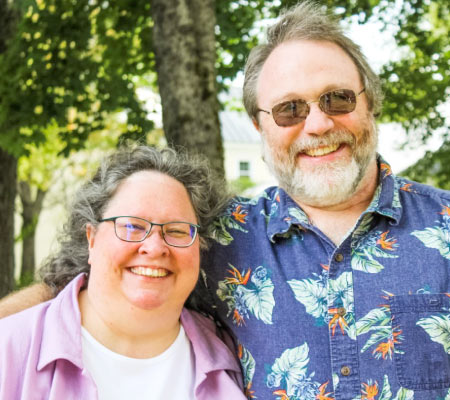 "Cal DeWitt was my advisor as an undergrad and I worked in his lab for three years," Judy shared. "And so of course, that was amazing. He's wonderful in every way. And then, when I was first discovering GIS, I did a project with Steve Ventura who became my advisor in grad school. And we did a project about creating agro-ecozones across Wisconsin using GIS data. It was just super exciting to me."
Ventura also has great memories of the projects he worked on with Judy and recalls Judy having a unique approach to GIS. 
"Judy was unique in two respects," Ventura shared. "She was comfortable with, maybe even interested in, digging into the wonky details of local land records. And she recognized with GIS that you could do well by doing good, a real entrepreneur motivated by the right things."
For Binks, the practicum portion of the WRM program was the most meaningful. 
"Our summer research was on the Lac Courte Oreilles land, putting together a water resources inventory," said Binks. "Judy, actually helped out quite a bit with the GIS."
Binks also extended his thanks to Jean Bahr, a UW-Madison professor emerita of hydrology and former program chair of the Nelson Institute's Water Resources Management Program, who served as his advisor and was helpful in his study of hydrogeology, especially modeling. 
"Binks was one of the WRM students I got to know early in my career as a faculty member at Madison," shared Bahr. "I remember him as one of several bright graduates from Carleton College whose commitment to the environment and water resources made me happy to have chosen a career at UW–Madison."
In 1991, Binks completed his WRM degree and made plans to move to Maine, where he had secured a job as a hydrogeologist with Wood Environment and Infrastructure, which was ABB Environmental Services at the time. While Judy was still completing her thesis, she and Binks were married. She had finished her course work and was working towards the completion of her thesis, which she could do from Maine. 
"We moved, got married, had our honeymoon, and started careers all within the space of two weeks," Judy said with a smile. 
Binks' new job as a hydrologist meant a great deal of travel, and as luck would have it, he was assigned early on to a project in Wisconsin at the Badger Ammunition Plant. 
"We were doing an investigation into the groundwater, both on and off of the plant," Binks said. "We did a lot of drilling, trying to figure out where the contamination was and where it might be flowing to."
During this time, Judy was in Maine finishing her thesis while also working as a receptionist at the company where Binks worked. After a short time with the company, she joined their data management committee, but eventually left and began working for a small land surveyor who had just gotten into GIS. She worked with that company for about ten years before starting her own GIS Consulting firm, Spatial Alternatives.  Today she has added a Landscape Architecture and Planning firm and merged the two companies to create Viewshed.  Judy has been involved with the Urban and Regional Information Systems Association since graduate school and has recently joined the board of that organization.
Meanwhile, Binks continued his work in locations around the world including Massachusetts, New York and Afghanistan for several years, but when he and Judy started a family, he wanted to be closer to home, so he began working in data analytics, a role he has grown in over the past few decades. 
Regardless of their role, or location, Binks and Judy said that the lessons learned during their time at the Nelson Institute remain at the heart of their work. 
"There's not a single day that goes by that I don't use part of what I learned there," Judy shared. "Whether it's how to help people think about big, sticky problems that are hard to solve or GIS, there's never a day that goes by that I'm not using that."
Binks also emphasized the ways in which his Nelson Institute degree helped him to prepare for the private sector. 
"You know, it is possible to be an Environmental Studies student and work in the environmental field in a commercial capacity and love it. I don't feel like I've surrendered who I was 30 years ago to continue being who I am today," Binks said. "I would say that coming out of Nelson, we have the advantage of being able to take all of the classes for being a hydrogeologist, for example, as well as law classes, and civil engineering classes, and things like that. I think it made us better candidates for getting into the commercial sector just because you do have that interdisciplinary background. You have been exposed to so many things." 
Judy echoed Binks' message, adding, "Being in the private sector doesn't mean that you have given up or that you've sold out or anything like that. I've always considered myself to be a person who is good at bridging things. And that's what Nelson taught me. It really prepared me for the role of being a consultant and working between groups and among different people and bringing together teams of people to solve problems. It's important to help people to be able to understand the complicated issues that exist in the world and bringing lots of different people together can make things better."
Learn more about the WRM and E&R programs and how you can support them.