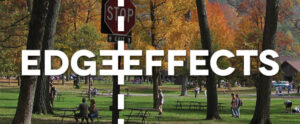 Exciting news for Edge Effects and the Center for Culture, History, and Environment (CHE). The Wisconsin Humanities Council has awarded CHE a grant to fund a new Edge Effects series (tentatively) entitled, "Land Cast: Stories from Wisconsin's Frontlines of Environmental Action." This project will be led by graduate associates Caroline Griffith and Clare Sullivan – with support from Edge Effects' editorial board, Edge Effects managing editor Richelle Wilson, Edge Effects faculty advisor Mario Ortiz-Robles, and CHE leadership. 
This podcast series, representing a new direction for Edge Effects, will offer insights from those on the frontlines of environmental action in Wisconsin – bringing to the fore critical issues that might otherwise not be made apparent. At CHE, we gather together scholars and students interested in working across disciplines to untangle the complex factors that have contributed to past environmental problems out of the belief that such understanding is critical to advancing just solutions in the future. This podcast series grows out of that premise. 
This project is funded in part by a grant from Wisconsin Humanities, with funds from the National Endowment for the Humanities.