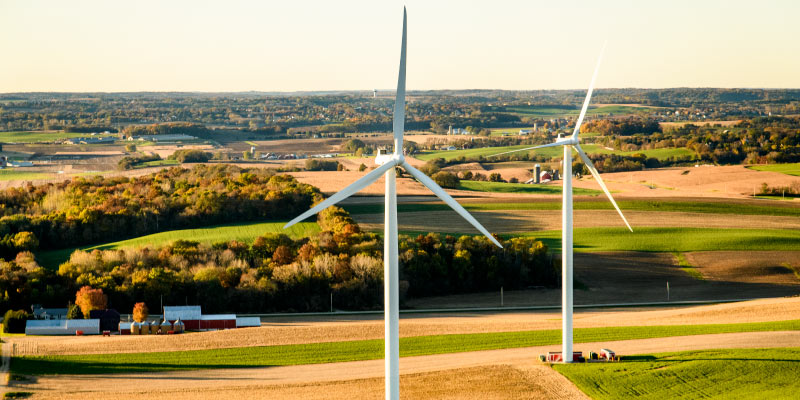 The Nelson Institute's Center for Climatic Research (CCR) will be partnering on a new initiative to support Wisconsin's rural communities. With $9.3 million in funding from the U.S. Department of Agriculture, UW–Madison will establish the Rural Partnership Institute, a combined effort among CCR, the College of Agricultural and Life Sciences (CALS), and the Division of Extension.
The Wisconsin Rural Partnership is part of a larger initiative to support rural communities across the country. Led by U.S. Senator Tammy Baldwin and with funds from the 2022 Agriculture Appropriations Bill, a total of $28 million is being divided among the UW, Auburn University, and the University of Vermont. Together, the three universities' individual work will comprise the Institute for Rural Partnerships. "This is the Wisconsin Idea in action," said Steve Ackerman, UW–Madison vice chancellor for research and graduate education who helped bring the opportunity to the UW.  
Of the UW's $9.3 million, CCR has been allocated $1.3 million to revitalize and expand the Wisconsin State Climatology Office, which has historically been housed in the Department of Atmospheric and Oceanic Sciences but has been largely unfunded for years.
"We're excited to be able to revitalize the state climatology office," says Michael Notaro, CCR's director. "It will allow that office to serve communities across the state in a more interactive way and by being more in touch with folks. That's the key."
"This will essentially put a weather station in everyone's backyard." — Dan Vimont
An additional $3 million of the UW's portion will go to the creation of the Wisconsin Environmental Mesonet. Mesonets are networks of weather and environmental monitoring stations that provide the public and forecasters with up-to-date data, including temperature, atmospheric pressure, and even soil moisture.
"Our state has a thin observational network compared to other states. The mesonet will expand our statewide weather data, including soil moisture which is critical for monitoring drought," says Dan Vimont, CCR researcher and professor of atmospheric and oceanic sciences. "This will essentially put a weather station in everyone's backyard."
Wisconsin currently has 14 stations, but the new funding will bring at least one mesonet station to each of Wisconsin's 72 counties. CCR, CALS, and Extension will work together to roll out and maintain the mesonet, and Nelson affiliate and professor of agronomy Chris Kucharik will lead its development.
"A much denser network allows us to get up-to-the-minute, real-time weather and soil environmental data that supports the livelihoods of rural farmers, land and water managers, and forestry decision-making," Kucharik told Wisconsin Public Radio. 
The UW's proposal for the funding came together relatively quickly, thanks in part to a previously published white paper that Vimont authored in 2020, outlining the need to fund the State Climatology Office and providing recommendations and examples. Now with its total funding, the Wisconsin Rural Partnership will be able to directly support rural communities through outreach efforts, as well as provide sophisticated yet accessible data to benefit the entire state. "I always say, 'That's so Nelson!' " jokes Vimont. "Bringing everyone together to make something more."