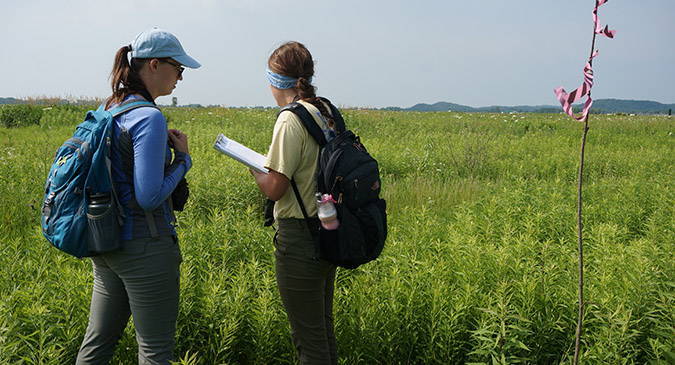 ENVIR ST 375
4-week session | June 6–29
Tuesday-Thursday, 9 a.m.–4 p.m.
3 credits
Instructor

Course Description
In the Anthropocene, the threat of change defines much of our ecological thinking. But how do we measure changes in the distribution or abundance of myriad species? Before we can understand why the world around us is changing, we first must measure if the components – the plant, invertebrate, vertebrate or other species and populations of that world – are static or not.
For example, have prairie plants of Wisconsin declined over the last century or in the last decade? How do you know? Do you measure plants in the same way when your timeline is 10 as opposed to 100 years? What bird species are increasing or decreasing and what do those changes tell you about the condition of their habitats? How do we know that Rusty-patched Bumblebees are rare?  Where do remnant bumblebee populations persist? And which bumblebee populations hold the greatest promise of recovery?
In this four-week course we will explore how to measure species abundance and distribution in vegetation, invertebrates and birds of prairie and savanna ecosystems. Though not exhaustive, this exposure to mensuration will enable students to understand most measurement systems as they apply to ecological change. With those tools students can then explore the changing world around us and begin to ask how that change may affect us.
Note: Class will be in the field most of the time rain or shine. Students will need to come prepared for field work.
Fulfills Environmental Studies

Field

Theme
UW Designations

Biological Science

Intermediate