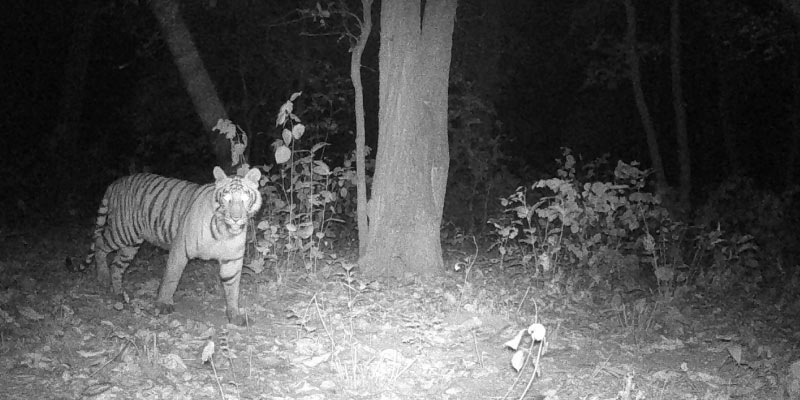 When Sam Helle was growing up in the middle of Milwaukee, she didn't expect to someday be a conservation biologist surveying tiger populations in the foothills of the Himalayas. She had always been drawn to animals, but, living in the city, didn't have much exposure to wildlife. "When I originally started school, I was pre-vet, but after a year I didn't think it was the right path for me," says Helle. She ended up transferring to the University of Minnesota, where a transfer officer recommended she major in fisheries, wildlife and conservation biology.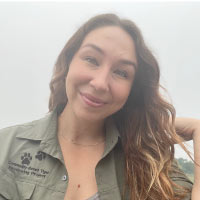 An introductory ecology class is what solidified Helle's future in conservation. Being raised in Milwaukee by a single, working mother, she thought the outdoors was reserved for a certain type of person and didn't feel like she fit the demographic. "Being in that class and learning about how intricately and beautifully our ecosystems are woven together helped me see that I was part of a bigger environmental system," Helle recalls. "The natural world was for me because I was inescapably part of it." After that, she dove headfirst into conservation. 
While working towards her bachelor's degree, Helle attended an undergraduate study program in Nepal with Professor Dave Smith and the National Trust for Nature Conservation. For five months, she and 11 other students lived near Chitwan National Park and practiced field techniques — such as tracking animals, identifying plants, and carrying out surveys — in the jungle. Coming from the city, this was a completely new world to Helle. She explains, "I was really interested in human-wildlife conflict mitigation because Nepal has a crazy landscape of tigers, rhinos, elephants, bears, leopards, hyenas, and wolves, and also people!" 
Intrigued by this, Helle focused her independent research around how people in Nepal had been impacted by living in close proximity to these animals. She and Smith set out to interview the local people on their experiences. Helle shares, "It was house one, day one, and I asked someone if they knew anyone who was attacked or killed by a tiger. They replied, 'Yes, my son,' and I just remember being in shock." At that point, Helle realized that even though she understood the biological components of conservation, she had no idea how to navigate its social aspects. "Hearing those words and understanding the reality of the situation, I realized I didn't know anything," she reflects. To Helle, this experience stressed the importance of learning Nepali to fluency and becoming trained in the social sciences to better understand the social-ecological systems of Nepal. 
"Being yourself is enough, and I wish more people would bring their true authentic selves to this mission."—Sam Helle

Once Helle earned her bachelor's, she worked towards a master's degree in wildlife and ecology management under Smith while continuing to study in Nepal. After completing her master's, she was granted a Fulbright Fellowship, which she used to travel back to Nepal and continue her research. She had been working in Nepal for around six years, and her colleagues started to inquire about her future plans. "My colleagues at the National Trust for Nature Conservation told me they needed surveys of tigers outside of protected areas, so at that point I started looking into a PhD program," Helle says. What drew her to the Nelson Institute was its interdisciplinary emphasis, valuing social and biological sciences equally. Helle explains, "As a wildlife conservationist, I have to focus on both sides because I study and work in these systems where you can't ignore one or the other."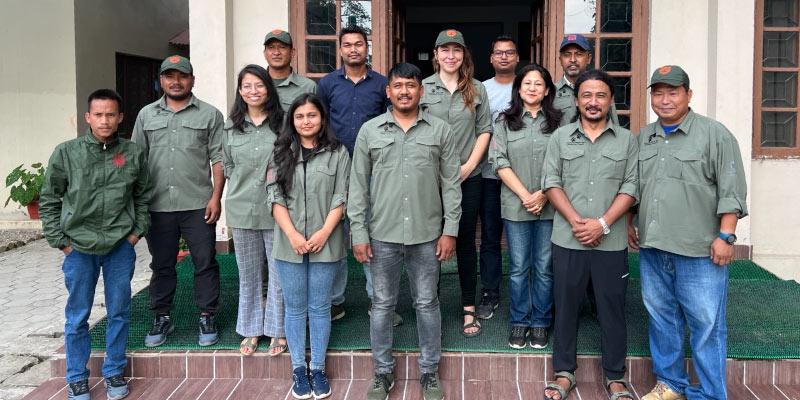 Tiger conservation in Nepal has been a huge success in the past few decades, with the population tripling since the 90s. Helle credits that to Nepal's Community Forestry program, where local people are managing forested spaces. "Over 35 percent of the population is involved in this," Helle claims, "and it has fundamentally increased tiger habitat." Because of the success of this program, tigers are no longer limited to living in protected areas — but not much is known about the tigers living in community-managed forests. 
To investigate the tiger populations in these forests, Helle and a team of researchers — calling themselves "Team Tiger" —  conducted a survey of the tiger population living in between two "tiger strongholds," Chitwan National Park and Bardiya National Park. Team Tiger traversed hundreds of miles though the foothills of Nepal while surveying tiger populations. Helle says she "can never talk enough about how difficult the terrain is," and has explained to many Wisconsinites that the foothills are not like the sledding hills they're used to, but actually "baby Himalayas."
Fortunately, Helle hasn't crossed paths with many tigers in the wild. In the 10 years she's been working in Nepal, she recalls only three or four times where she's encountered one. One morning, Helle was teaching a technician how to identify the difference between left and right paw prints when she started to hear alarm calls from nearby deer. "Immediately I knew there was a tiger around," Helle recounts. After she and her team had finished measuring the tracks, they walked back along the same path. "I look down and there's fresh tracks. Fresh!" she exclaims. "The tiger had completely avoided us. She knew we were there and went the complete opposite direction."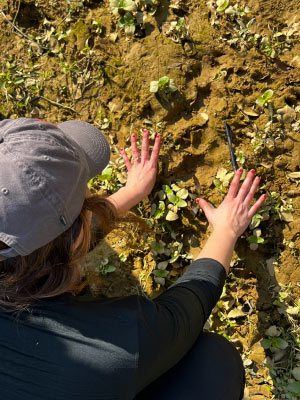 Because tigers have been hunted for hundreds of years, most are afraid of humans and try to avoid people, according to Helle. She explains, "They're very elusive and very shy. The hardest part of my work is trying to catch a tiger on camera or trying to track where they've been." Occasionally tigers do attack people, but it doesn't happen very frequently. Helle shares that one of her colleagues, Dr. Babu Ram Lamichhane, wrote a paper on tiger attacks and found that in nearly all of the cases, there was something physically wrong with the tiger that inhibited it from being able to catch normal prey. Other than those cases, tigers completely avoid humans.
Though tigers do try to avoid humans, it doesn't mean these cats live far away from mankind. Helle shares that a common misconception people have is that tigers and humans live in two separate, distinct areas. "In reality, most tigers are living in landscapes right alongside people," she clarifies, and claims that with the increasing world population, we're only going to see an uptick in the amount of people living in green spaces. However, she says that's not necessarily a bad thing. The Community Forestry program is meeting the needs of both the people and the wildlife, and Nepal is one of the few places in the world that's seeing more reforestation than deforestation. To Helle, supporting tiger conservation is supporting the local people living near the same forests. 
Why should people support tiger conservation? Helle says that tigers (along with other apex predators) have evolved for millions of years to become ecosystem regulators, meaning that they keep herbivore populations — and, consequently, all other plant and animal populations — at bay. When herbivore populations are too high, vegetation is depleted, affecting rivers, streams, lakes, clean water, clean air, and carbon storage. Consequently, Helle claims that investing in tiger conservation supports not only tiger populations, but populations of the species they live alongside (including other endangered species), as well as the millions of people who benefit from the ecosystem services that tigers provide. She explains, "there was a World Wildlife report done that shows forested landscapes that specifically protect tigers store more carbon than other regional forests, and they overlap several watersheds that provide water to 830 million people in South Asia. So, saving tigers is also saving yourself!" 
Throughout her journey in tiger conservation, Helle stresses the importance of science communication to help encourage others that they can, and should, be involved in conservation efforts. "I wish there was someone like me, a woman from the city working in large carnivore conservation, for little Sam to look up to," Helle shares. "There's this idea that someone has to look a certain way, come from a certain upbringing, or live a certain lifestyle to be involved in the nurturing of our planet, and that's simply not true. Being yourself is enough, and I wish more people would bring their true authentic selves to this mission."