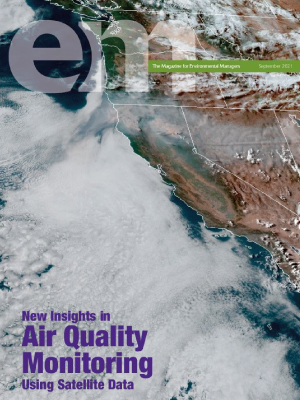 Satellite data provides a variety of air quality insight and information for city, county, and national level environmental managers. To support managers looking to utilize this data in decision-making and public outreach, University of Wisconsin-Madison NASA Health and Air Quality Applied Sciences team (HAQAST) members recently published an article in Environmental Managers magazine that offers a basic guide to utilizing satellite data for air quality management.
The article entitled, "The Four Things to Know about Satellite Data for Air Quality Management" was authored by Tracey Holloway, a Nelson Institute and Department of Atmospheric and Oceanic Sciences professor and the HAQAST lead as well as Jennifer (Jenny) Bratburd, the outreach manager for HAQAST.
The goal of HAQAST is to use NASA data and satellites to conduct research and to get the data into the hands of those who can use it to solve real-world public health and air quality problems. This article is one step towards reaching that goal.
"We contributed to this magazine to create an easy guide for managers to learn how to look at the data," shared Bratburd. "This is both fun and educational, especially as more and more states are incorporating data into their plans for air quality. So, this article helps people to be aware of this data and the other articles in the issue also highlight this and are authored by some of our collaborators at HAQAST."